Virtual Happy Hour #OnlyAtRoyce
Happy Hours are our tired mind and muscles' coveted breaths. Such offering is usually heard from restaurants and bars giving great discounts on food and drinks together with flattering lights and celebratory music – all attractive details we so long for. After all, we deserve to shake it off and let it loose after working so damn hard.
It was truly a breather to join the "Virtual Happy Hour #OnlyAtRoyce" activity two weeks ago, spearheaded by Idea Zentral in partnership with Royce Hotel and Casino. For a change, this mother had a few sips of Pink Moscato and did nothing but laugh and exchange pleasantries with friends from the blogging industry. Of course, the afternoon break was made even exciting because of the sumptuous food from Amare by Chef Chris and Choi Garden Clark.  
Cocktails and Conversations
A few days before our "Cocktails and Conversations," Idea Zentral sent us food to cook and prepare. Amare by Chef Chris, a world-class Italian restaurant, offered one of the best Italian sausages we've tasted. All participants of the virtual meet up cooked and presented their Salsiccia platter with great enthusiasm and creativity. Loads of dumplings were shared, too, courtesy of Choi Garden Clark, a well-known Chinese restaurant situated inside Royce. This mother particularly loved the siomai, which surprisingly went well with the Pink Moscato. 
Virtual Happy Hour
At the end of the Virtual Happy Hour, we all realized that we are all continuously adapting and adjusting to this new normal, just like Royce Hotel and Casino. That amidst all the COVID-19 brouhaha, Royce all the more ensures the safety of everyone who visits the hotel and casino. They make sure that health protocols are in place and are strictly observed. Aside from these, Royce also paves the way to keep everyone updated with what is happening via virtual activities. Indeed, a good way to keep in touch even when we are apart.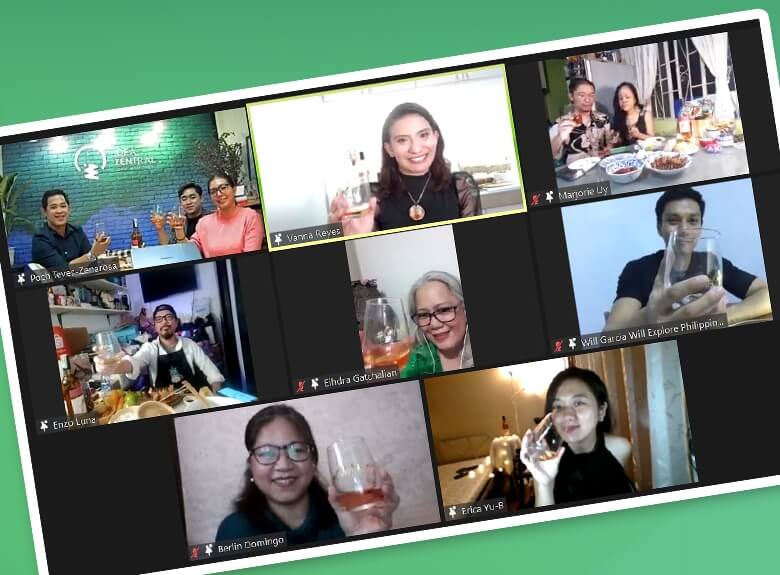 But more than the food and games, what I love best about the Virtual Happy Hour with Royce friends was the act of kamustahan itself. That despite the distance, Idea Zentral and Royce was able to make this mother feel listened to, cared about, and valued. And that concern is more than enough to inspire me to give work and motherhood my best until the next happy hour, may it be with Royce again or by myself. 
Again, thank you Idea Zentral and Royce Hotel and Casino for the thoughtfulness.