The Complete Guide to Dumpster Rentals: Everything You Need to Know and More
Renovation and construction projects can be both exciting and overwhelming. When you begin the project there is one thing that you know for sure. There is going to be waste and excess materials that need to be disposed of.
You are suddenly faced with a decision on how to get rid of this waste. Here is all the information you need about Dumpster Rentals.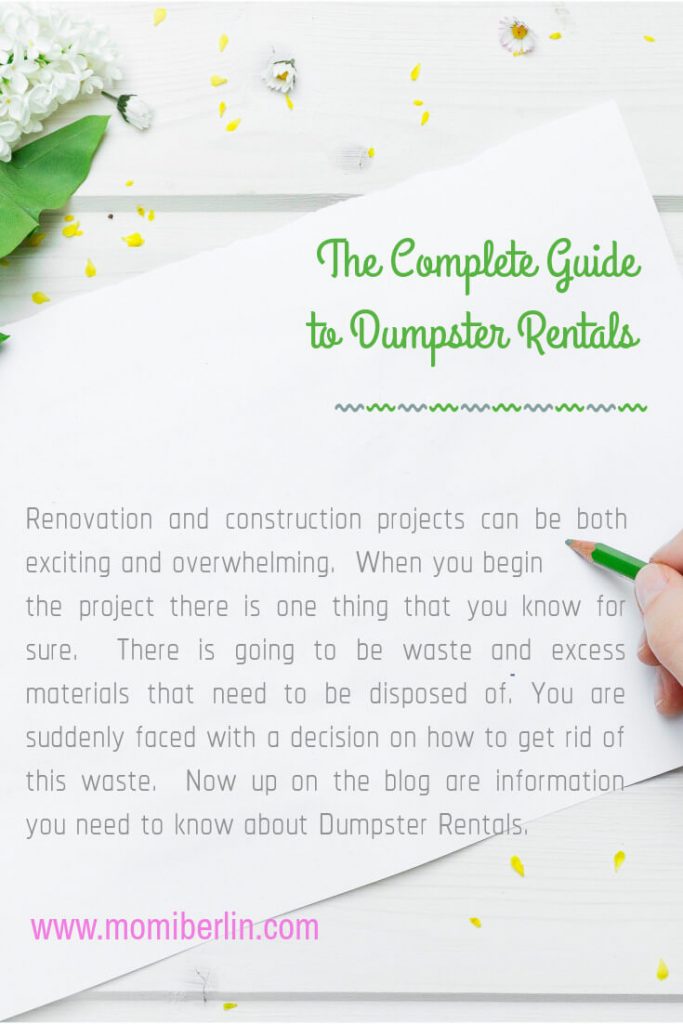 Rent a Dumpster or Hire a Junk Removal Service?
When you decide to undergo a project, you find yourself facing a decision on whether to hire a junk removal service or rent a dumpster. Both options come with advantages. The main deciding factor is going to be the type of project you are undergoing. Dumpster rentals are good for helping you remove and dispose of waste efficiently.
Here is what you need to know about the two services to decide what is right for you.
First, look at how long the project is going to take. This will help you determine if you need to rent a dumpster or hire a service. Dumpster rentals provide you with a disposable dumpster for a pre-determined amount of time. Junk removal services remove the waste in one trip. If you are working on a project that is going to take a long time, renting a dumpster can prevent you from having to pay for services multiple times or having junk piled up around the construction site.
The cost is another factor that must be considered when deciding between the two services. You could be responsible for getting a permit when you decide to rent a dumpster. Junk removal services usually set their price based on the number of times they come to remove waste from the site.
Another thing to consider is how much material you are using for the project.
If you a smaller number of large items that need disposal, junk removal may be realistic. However, if you expect large amounts of debris and a lot of larger material, dumpster rental may be the best decision. 
How Do I Choose a Dumpster Rental Service?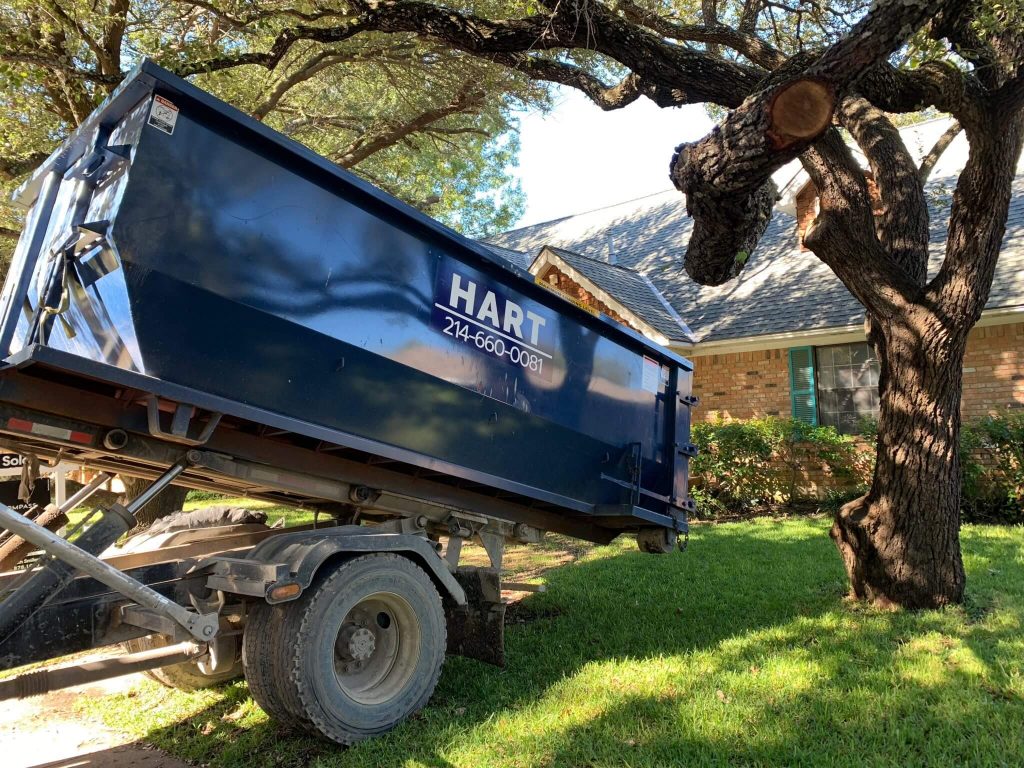 If you have determined that dumpster rental is the most efficient choice for your project, the next step is determining where to hire a dumpster from.
The company must offer highly rated services. There are several factors that you should think about when looking for the right company.
When you select a company in your area, you can be assured the materials will be handled carefully. It is also important to choose a company that utilizes responsible disposal procedures.
You want to make sure that you work with a company that provides pick up and drop off services for convenience. Companies offering services are going to ensure that you will have a fantastic experience when you use their company. They want your business. Many of them are being honest. However, some are not worth your time or money and will end up being a bigger headache than they are worth. For this reason, taking the time to do your research and find the company that is best for you and your needs will result in the best experience with your waste disposal company.
Make sure that you call several companies and ask for quotes. Ask for references from past customers and follow up with these references about their experience with the company. Ask your friends and relatives and look at online reviews. All of this will help you make an informed decision on the price that is average for your area and the reputation of the company you are considering renting from. 
How to Make the Process of Renting a Dumpster Easier
It does not matter what the job you are doing is. Whether you have decided to clean out your basement or have decided to do a large-scale commercial project, waste management is important to take into consideration when taking on projects that end with excessive trash and/or debris. You can have a roll-off dumpster delivered to you when you decide to take on a major renovation or construction project, taking a lot of stress off by removing the stress associated with managing the waste. Hart Waste & Dumpster Rental can help ensure your waste management needs are met. Here are some tips for simplifying the process of renting a dumpster for your project.
First, figure out what size you need and select the one that best fits your needs.
If you choose one that is too big, you are paying money that you could have saved. If it is too small, you will have to spend money on extra deliveries and hauls. A small demolition or project may require a dumpster as small as six yards. Larger projects or restoration jobs may need a twelve to sixteen-yard dumpster. The dumpster provider can help you determine what the best size for the project at hand is.
Once you have successfully decided on the size of the dumpster, the next step is to determine where the dumpster will be dropped off. If you are undergoing a remodeling project or residential cleanout; you want to have the dumpster as close to your home as you possibly can.
This minimizes the amount of walking while hauling debris to the dumpster. By minimizing the amount of walking being done with the debris and garbage, you are minimizing the risk associated with your project.
Now that you have the size of the dumpster and where you want it dropped off selected, it is time to schedule the delivery. You want to try and have the dumpster delivered a week or two before the scheduled project. If you need the dumpster now, there may be same-day delivery options available. You should be prepared to pay an extra fee, however, if you decide to go with the same day delivery option. You can contact the provider to schedule the date and time for the delivery of your dumpster to your home or the construction site. 
It is a Dumpster, how do I Keep It Clean? 
Renting a dumpster is convenient for disposing of waste and construction materials.
However, you may find that after a while there is a foul odor coming from the dumpster. No one wants their area to have a bad smell. Once the dumpster is filled, removing the odor is simple by following a few easy steps. Here is a look at how you can keep the dumpster clean and the foul smell at bay.
First, make sure that the inside of the dumpster is completely clean and clear of any debris or waste. When the dumpster is filled with debris, odors can linger inside. Make sure that anything causing the foul smell is removed.
You can consider scheduling a pickup with the local waste disposal company. Once they have disposed of the waste, you can begin the cleaning process.
If you want to make sure the dumpster is clean and there is no odor at all, use a mixture of water and bleach to wash the inside. Once everything is cleared from the inside, you can fill it around six inches full using clean water. Mix two cups of bleach to sanitize the inside of the dumpster. Let the solution sit for thirty minutes before draining.
After draining is complete rinse the dumpster out completely.
After the process of cleaning the inside of the dumpster is completed, the next thing you need to do is give the inside time to dry completely. When you allow the inside of the dumpster time to completely dry you are keeping bacteria and mold from forming inside the dumpster.
Using these easy steps can ensure that the dumpster remains clean during your rental period and you, your family, and your guests do not have to deal with any bad smells.  
Can I Reduce the Waste from My Project?
You may consider taking steps to reduce the overall waste generated by your project.
You can do this by exercising efficient disposal management. This improves the overall sustainability of the entire project and allows you to sustain resources. Renting a dumpster can help you properly dispose of materials. You should also pay attention to what you are throwing away.
Do not allow waste to pile up.
Instead, throw things away regularly and as soon as possible. This will prevent you from discarding resources and help ensure that what is being disposed of is an actual waste. The provider for your dumpster rental can also help provide tips on proper disposal and waste management techniques to help minimize waste generated by your project.  
Cleaning Up After the Project
There is going to be waste and debris regardless of how big, or small, your construction project is. To manage waste effectively, you should consider renting a dumpster. Roll-off dumpsters placed at the project site can help ensure that all the waste leftover from the job is efficiently disposed of. Post-construction cleanup involves more than just throwing away the trash. Here are some tips for cleaning up after your project.
First, avoid throwing everything away. Everything is not trash. Go through the waste and decide whether materials can be salvaged or used somehow in the future. Many materials can be recycled. You can save money by salvaging materials and you will be helping the environment; so, it is a double win.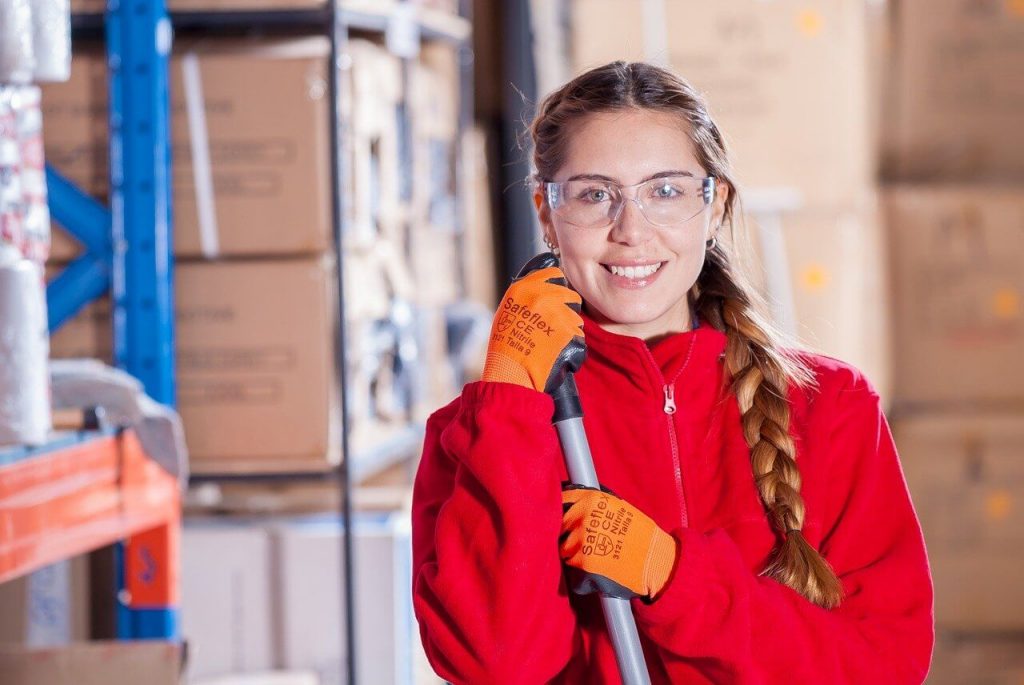 Next, look at cleaning the site. You want to make sure that the area is clean when you are done working on it. Make sure that you take the time to disinfect and wipe down all surfaces. Sweep and mop the floors. If there is any upholstery in your site, scrub it clean. You can hire a site cleaning company if you do not want to undergo the task yourself. This will allow you to focus your time and energy on other things.
Certain projects may require something called special remediation. These services may be needed before a homeowner or tenant can use the site. If fire damage was the reason the job took place, for example, upholstery and carpets will need to smoke and stains removed from them. If you find mold during your project, you will have to hire a mold remediation service to come in and disinfect the area. Coordinating with a remediation contractor can be helpful so that these services can be performed while the dumpster is still located on-site.