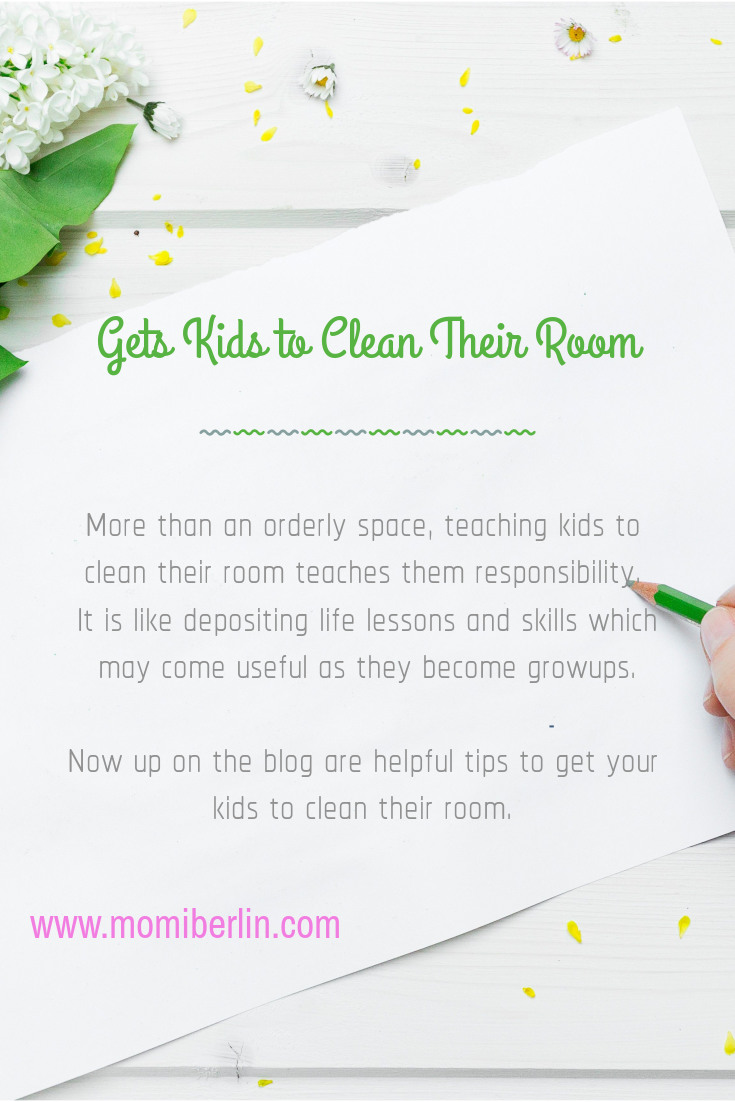 Get kids clean their room. How? Momi Berlin helps you with these useful tips.
Assign age-appropriate tasks
You may bark on your children to scrub the writings off the wall. But you remain unsatisfied. Perhaps because the little ones aren't at their proper age to do the assigned task.
To get what you expect from your children, assign age-appropriate chores. Patience, though, is very much appreciated as well especially for first-timers.
Be a good example
Kids are observant. They love to look how their parents do things. They also love to imitate. When they see you put your shoes on a shoe cabinet, for instance, most probably, they will do the same. The same thing when they see you bang that garage door, they will most probably follow your deed.  Set as a good example, then.
Give direction
A command to clean the room may seem too vague for children. Give specific instructions. Or better yet, show them how to do everything one by one. It wouldn't hurt, too, if you remind your youngsters to be observant and check how you do things. That way, you wouldn't repeatedly give instructions and reminders.
Give ownership
Give your children their own room, their own space. Reiterate that their room is their responsibility. Youngsters who take pride in their space are more likely to care for it. Allow them to decorate their room and manage how to keep it manageable. Just set clear limitation.
For teens given their own room, most parents are stunned to learn that their teenagers can be meticulously orderly when taking care of their belongings.
Help out
Especially when you are in the initial stage of introducing home cleaning, better show your children how to do it. Help them out so they may follow how it is done. Pitching in likewise makes the task a little easier.
Make a checklist
Kids tend to be playful. Some need a constant reminder. If it pains you to keep on reminding, make a listing of expected tasks to be done within the day or week. You may ask them to tick off completed chores.
You may also be a little creative and draw instead of jotting down tasks. Your drawings need not be flawless. Stick figure may do.
Give incentives
Incentives aren't bribes. Bribes are given before a task while incentives are rewarded for a job well done. Incentives, too, maybe in a form of weekend run and an ice cream trip. Or a movie date with your children.
You may tell your family that everyone will be helping in cleaning each room for a movie premiere ticket as well.
Make it a routine
Consistency makes everything easier.  Introduce to them that helping in maintaining the cleanliness of their room is a responsibility.  Make sure that on weekends, they clean their room before heading outside to play. That way, it becomes more than just a habit.  It establishes stability in life which they may even carry in their adult life.
Let it go
Despite constant reminder and nagging, there are some children – teens especially – who would just remain indifferent. Or so you thought. Sometimes, you just need to let go.
If you taught them well about cleanliness and orderliness, they probably might not be ready for it yet. Have faith in them that time will come they will do as they were told. Have faith in yourself, too, that you have taught them well.
If you can't manage to see their room in a mess, just don't open the door. That's the purpose of doors. Sometimes, they conceal what's on the other side.
Get kids to clean their room
Why bother teaching kids to clean their own room?  More than an orderly space, it teaches them responsibility.  The task also is like a coin bank wherein they deposit skills and life lessons which may become useful as they become grownups.
As you teach your youngsters, though, keep your expectations reasonable. Toddlers aren't expected to keep their room sparkling clean but with constant reminder, help, and guidance, they will grow up knowing the importance of a clean home. As they age, they will most likely appreciate the patience, understanding, and guidance you throw their way.
Remember, too, to be easy for both your kids and yourself. Time will come your house will be all quiet and perhaps clean. You may miss your little rascals messing around.