This mother remembers when her three boys attended school for the first time.  They weren't like the other kids who cried and begged their parents not to leave them.  My experience was pleasing as my three boys were all excited to meet new friends and finally learn ABC and 123.  Perhaps it helped that we homeschool a bit, building their enthusiasm about school.
As parents, though, we can manage our kids' anxieties during this period. Momi Berlin and Lamoiyan Corporation's Licealiz prepared five simple tips to help our kids attend school with a happy heart.   
Adjust sleeping schedule ahead of time
Most likely, the kids' body clock changed during summer break.  It is prudent that at least a week before the first day of school, adjust their sleeping schedule.  As a parent, promote and encourage them to minimize TV watching, gadget usage, and outdoor play.  It is important, too, to let them understand the need to sleep early for school. That way, we also help their body clock to adjust, preventing them from having a hard time waking up especially if their class is in the morning.
Prepare the night before
It's easier to go to school especially in the morning if our kids' things are already set a night before. As a parent, it's our duty to help our children in ironing their uniform, checking their backpacks, or preparing their baon at least a night before. It also lessens the preparation time needed in the morning if the items are all set beforehand. 
Send kids to school on the first few days
For school kids, especially the toddlers, the first day of school may be intimidating.  It is advisable to send them off to school personally and if possible, be with them in the first few minutes.  Surely, their anxiety going to a not so usual environment can be eased with someone familiar to them.  
Encourage kids to make friends
The best way to have new acquaintances is to make friends.  Encourage our youngsters to mingle with their classmates and if possible, befriend them.  A study from the University of Virginia in 2017 stressed that making friends is critical for children to enjoy school and eventually, learning.  Being in the company of friends alleviates their back to school blues and also gives them better mental health in times of problems like social anxiety. 
Protect kids from common ailments
Many refer to the school as the kids' second home.  They spend many hours there learning and being with classmates and teachers.  And in our absence, we cannot depend on all our children's needs from the teachers.  It is still best that as parents, we keep them well protected from possible colds and flu as well as the common school problem – head lice infestation. 
The Department of Education Health and Nutrition made a medical check-up recently.  The check-up recorded that 436,325 from the three million public school students had pediculosis or head lice infestation.  This makes head lice infestation one of the leading health problems in public schools in the country.  This also causes frequent absenteeism among public schools students.
Lamoiyan Corporation's Licealiz Head Lice Treatment Shampoo partners with industry experts and parents to promote the correct way of preventing and treating head lice infestation.  The partnership is with the Department of Education, University of the Philippines College of Public Health (UPCH), Drugstores Association of the Philippines (DSAP), and Mommy Bloggers Philippines through the Kilusang Kontra Kuto (movement against head lice).  From actual use and recording,  Licealiz effectively kills lice and nits after two weeks if used twice a week.  The special shampoo also prevents lice infestation from recurring if used once a week.   With the use of Licealiz, school kids are safe from pediculosis especially if they interact with other children. 
Easy Tips to Help Kids Love School
While the kids are young and have yet to explore on their own, it's the duty of the parents to guide them to a more enjoyable and healthier back to school season.  We hope you find the tips useful, and if so, we would love it if you help share this post to your friends.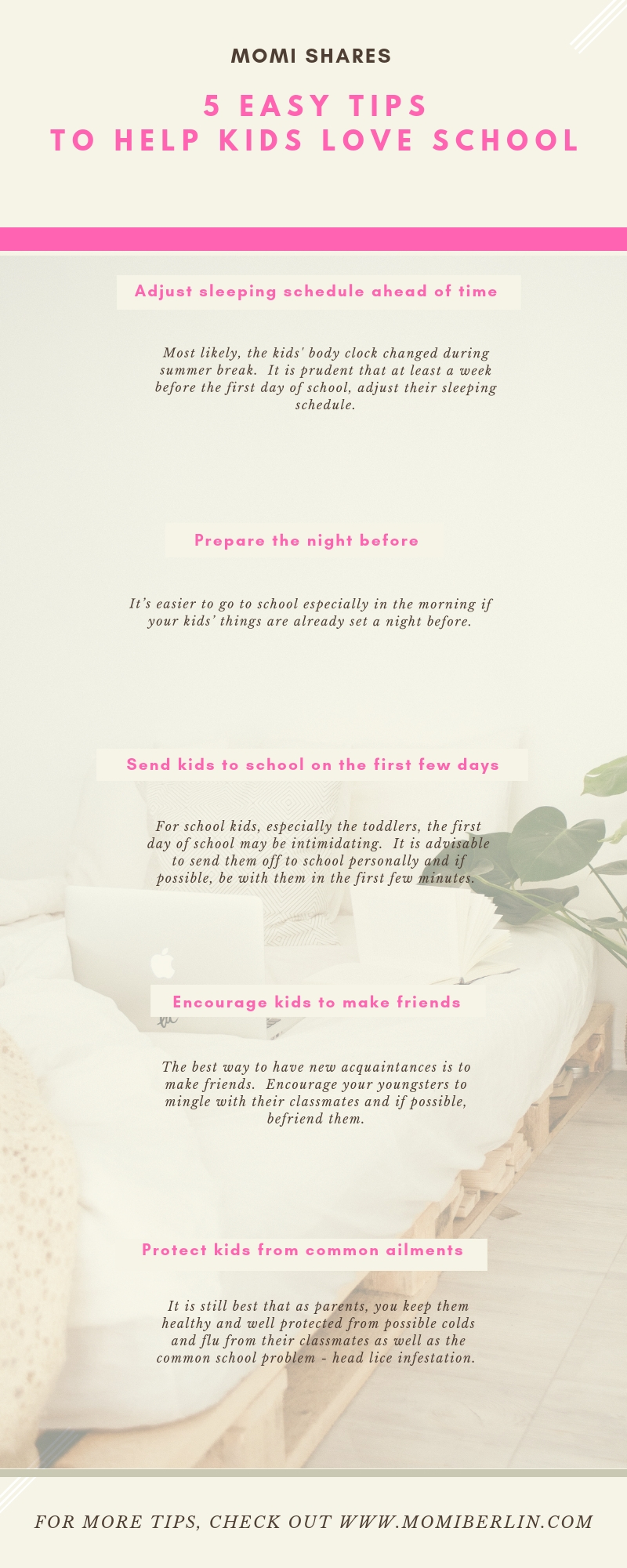 Momi Berlin Directory
Licealiz Head Lice Treatment Shampoo Facebook