Momi calls for help, let us debunk head lice myths and show sincere concern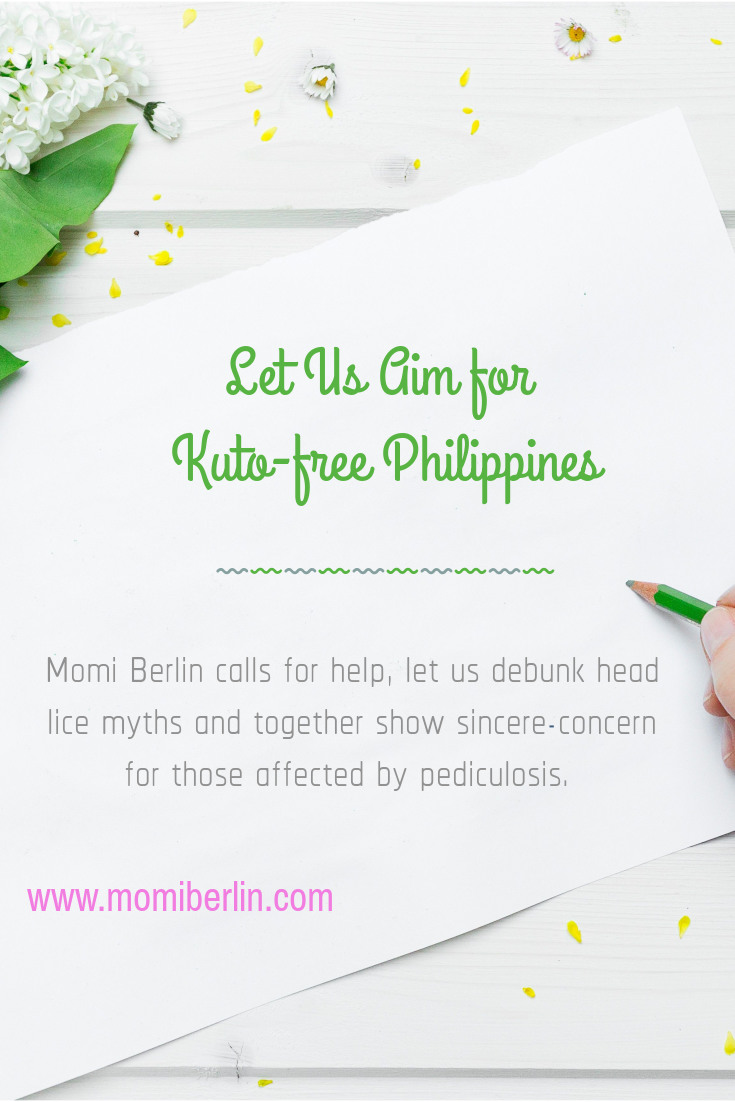 Have you ever shrugged shoulders on things that do not involve you? I did. After all, I was the least affected of those concerns.
It isn't just head lice
It was last year when I joined the Kilusang Kontra Kuto (KKK) activation program in one public school in Taguig. The event was spearheaded by Lamoiyan Corporation's Licealiz Head Lice Treatment Shampoo. I learned from that activity that head lice infestation is the second most common health problem in public schools in the Philippines. On the number one spot is tooth decay.
Though I got to see almost half of the school's population suffering from head lice infestation, that didn't push me to do my part other than just sharing what I have learned. We were also given samples of the Licealiz Head Lice Shampoo, and I just gave them away to Momi Berlin's followers. I just asked them why they need the Licealiz Head Lice Shampoo. Five individuals got two bottles each of the shampoo.
Then it hit me.
Pediculosis is a big problem
More than a hundred moms, sisters, and aunties shared their head lice stories. Some had such touching narratives I couldn't even imagine could happen in real life. Indeed, head lice infestation occurs. And it is real.
When I got an invite again from Lamoiyan to join the launch of their KKK year 3, I didn't think twice. Though none yet from my boys and family suffered from pediculosis or head lice infestation, I believe such a problem is also my battle.
Aiming for a kuto-free Philippines
I am one with Lamoiyan Corporation's fight to create a kuto-free Philippines. And as the company aims to make its impact bigger and reach wider, I am committed to spreading awareness about it. Because I believe, every single voice when put together can make a significant impact.
Aside from visiting public schools around the country and offering head lice treatment to students, Lamoiyan Corporation also debunks myths surrounding head lice. That way, even the students who are the most affected, know how head lice double in number in a few days only. They will be better equipped, too, to treat head lice. And one proper method is using a shampoo specifically for the treatment and prevention of head lice such as Licealiz Head Lice Treatment Shampoo.
Sincere concern and debunk head lice myths
Speaking of myths, many believe that kuto is caused by bad hygiene, only the poor gets head lice, and lice fly from one head to another. Debunking these myths not only correctly educates the people about pediculosis but also helps lessen the stigma associated with kuto. Having head lice isn't an illness but a social problem that should be addressed with great care, concern, and understanding.
Let us all do our share and aim for a kuto-free Philippines. Let us start by not being indifferent and discriminating those with head lice. On the other hand, let us show sincere concern and debunk those head lice myths.
Momi Berlin Directory
Licealiz Facebook