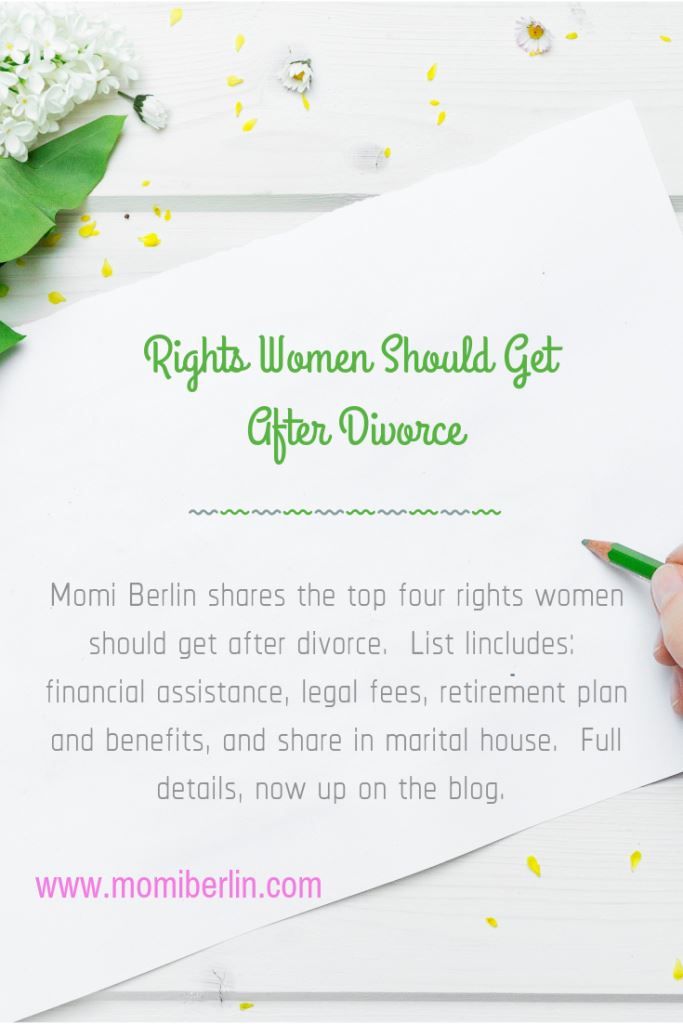 Marriage is a bond between two persons. They share love, care, respect, and life with one another. But sometimes, marriage ceases. When the marriage contract dissolves, it does not mean that all the responsibilities of both parties also vanish. They are still legally and morally bounded with each other.
One partner may try to escape from his duties, and the other one has to suffer. In such a case, you can consult the law as there are rules and regulations for the safety of rights, especially for women. Here is a list of some rights that women should receive after divorce:
Financial Assistance
Females need assistance during divorce in pending or after divorce. Women who remain in a more extended period in marriage are more favored for financial support. They need time to rehabilitate or lack the financial assistance given the low income compared to their husband. In such cases, they are allowed to avail financial aid from their spouse until the time they gain skills to increase their income or support themselves.
Legal Fees
If your husband is earning more then you and you are involved in divorce proceedings, then he is liable to pay your legal fees. It is not acceptable that he can afford the best attorney, and you cannot. When you have to select an attorney, you can consult anyone while discussing this provision. Your husband will pay your legal fees.
Some jurisdictions set aside a portion of your marital property to set off your legal fees. Otherwise, your husband is liable to do so.
Retirement Plan and Benefits
Retirement plans and Benefits are part of your marriage assets just like your house and other properties and investment that you both share. You can collect your part of the benefit from your husband.
Estimation and calculation of such benefits is a complicated procedure so you must leave it on your attorney who has the relevant skills and experience. We suggest you consult Wilmington NC Family Law Attorney if you want to get the most satisfactory and impressive services along with solutions to your problems.
Share in Marital House
If you, along with your partner, has purchased a house while in marriage, then you have the right to share one of its portions with your husband. This rule is applicable even if you have not contributed to the mortgage payments.
In case your husband has made payments with premarital funds for the house, and you have children, and you are the custodial parent, you can ask the court to award you the possession of the house.
If your husband is the sole owner of the house, you can request the court to decide not to sell the house until the divorce is not final.
Rights Women Should Get After Divorce
These are just some of the immediate rights you must know after your divorce was granted.  We wish you were able to fight for your rights.  But it is in our prayers, too, that your marriage will not lead to divorce.