National Book Store, our favorite book store, is bringing everything we need for the back-to-school season to one remarkable event, the Grand Back to School Fair.
Grand Back to School Fair at Glorietta 2
On May 24 to 26, 2019, from 10 am to 9 pm, the Activity Center at Glorietta 2 in Palm Drive, Makati City, will open its doors to all for their back-to-school needs. More than the school and office supplies available, there are workshop, live demo and fun games happening each day.
Grand Back to School Fair raffle prizes
Now, hear this! P90,000 worth of raffle prizes are up for grabs at the fair. There will be 30 winners of P1,000 worth of school supplies, six winners of P5,000 worth of NBS Gift Cards, and three winners of P10,000 worth of NBS Gift Cards.
Grand Back to School Fair special offers
We were one of the few who went to the Activity Center early morning of May 24. We want to shop with less crowd so we won't miss anything. And from the entrance, one could easily see Grab and Go packs and Budget Bundles. I love this zone because it helps shoppers save time and energy. With the Grab and Go pack, for instance, all the student's drawing needs are conveniently packed already. One needs not to go through each aisle to look for a pencil, eraser, and the likes. And for quick and easy shopping, one may opt for the Backpack to School for Grade to 3 at P345 and Grades 4 to 6 at P445.
NBS also has a special offer for those on a tight budget. For every P300 single-receipt purchase with an item tagged with an 'N' sticker, one could already get a backpack at P100. A lunch bag is also available for P75.
Shoppers who reached P3,000 single receipt purchase, on the other hand, will automatically receive a P100 NBS Gift Card.
Grand Back to School Fair supports underprivileged
Not only for this year's back to school but throughout the year, NBS has its Project Aral. Each shopper can give back to underprivileged children by donating Project Aral kits. The P30 kit contains two notebooks, two pencils, an eraser, and a sharpener. There is also a P60 kit containing the same items and a pair of slippers.
Grand Back to School Fair at all NBS branches
If Glorietta 2 is far from your place, fret not as all NBS branches have the Back to School Zone. I like this back to school zone very much as it makes it easy for shoppers to find what they need in just one area of the store. The red sub-zone is for convenience, offering the essential supplies as well as packs and bundles. The blue sub-zone is for quality, offering the top brands from all categories. There is also the green zone which is for value for money, offering items and deals for the budget-conscious shopper.
Grand Back to School Fair Checklist
But what I love most about NBS's back to school is its School Supplies Checklist available in both the stores and online. The lists consist of the usual school supplies needed by students at every level, from elementary to college. This signifies that truly, NBS is everyone's partner every step of the way.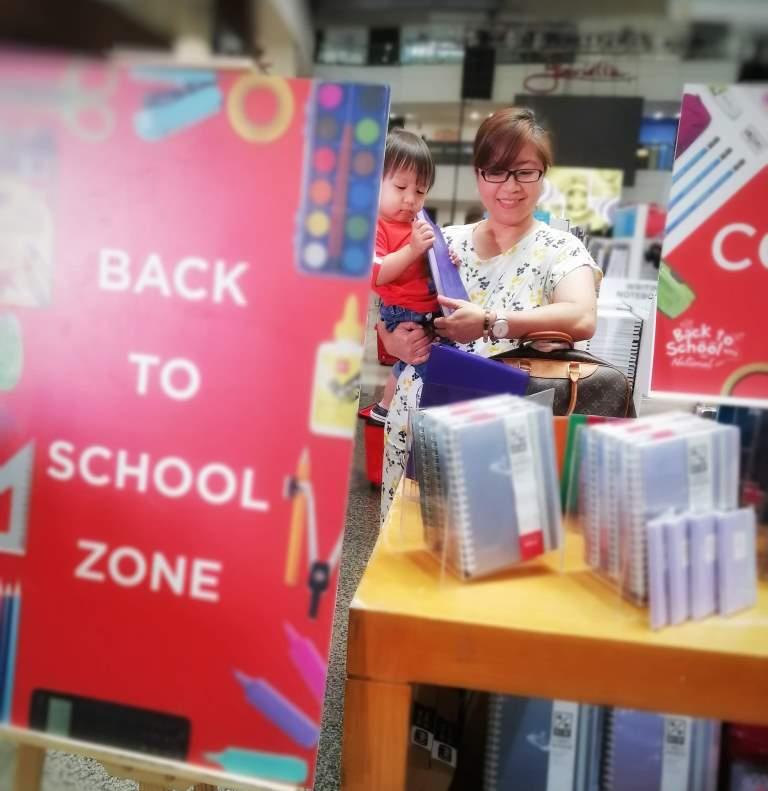 Have you shopped for your kids' back to school needs already? If not yet, you still have today until tomorrow for NBS Grand Back to School Fair at Glorietta 2 in Makati City. Or you could always drop by your favorite NBS branch anytime.
Momi Berlin Directory
National Book Store Facebook | Instagram | Twitter