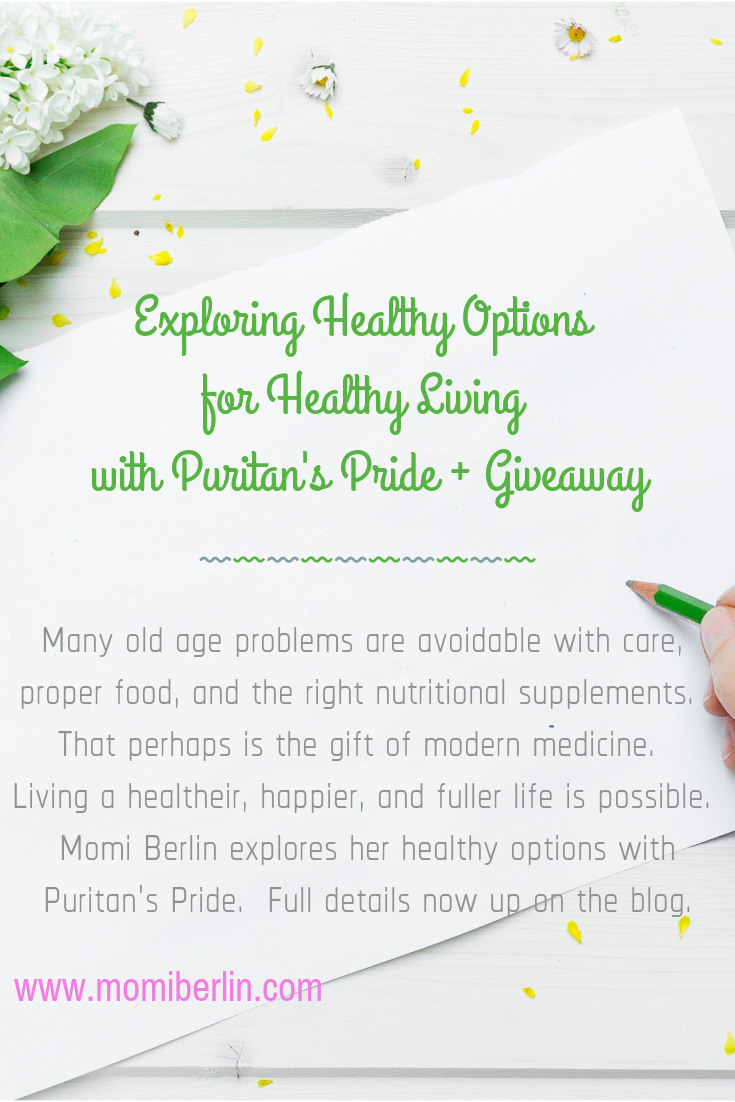 I don't take vitamins or any food supplement. This mother doesn't find the need to take one. But I always urge my three boys not to forget their vitamins and supplements. Quite conflicting.
Lately, though, I quickly feel tired, often forget schedules, and misplace things. Though an increase in age comes wisdom and perspective, there are also inevitable changes that happen; one is welcoming old age health problems. My husband advised me to start taking food supplements. He added that such supplements make up for what we lack in our regular diet. They are concentrated sources of nutrients and must be taken as a dietary top-up and not the only source of nutrition. That perhaps is the main misconception about vitamins and nutritional supplements. People think they are alternative remedies for diseases and health problems.
The timely collaboration for healthy living
Timely that Alphacommerce Corporation offered a collaboration with Momi Berlin. They will be providing healthy choices for me to start living healthily. Alphacommerce Corporation is an SEC-registered corporation engaged in the importation and distribution of health and wellness products. They are also the exclusive distributor of Puritan's Pride® Health Supplements in the Philippines.
From my research, Puritan's Pride® Health Supplements is the number one brand of discount vitamins and health supplements in the USA. They are also slowly becoming the prime choice of Filipinos when it comes to high quality imported supplements. There is no doubt then to accept the partnership and try the brand to help me with my old age issues. Before that, though, I sought the advice of my doctor. She knows the details of my medical history, thus is the proper person to consult in addressing my old age issues. She also reassured me of the decent reputation of Puritan's Pride® Health Supplements.
Old age concerns
I just reached 40 years old. I have noticed that my skin becomes slack. It hangs more loosely as I age. I could feel, too, that it gets thinner and even drier and less elastic. I could already see a few creases and lines on my skin.
Healthy choices to deal with old age concerns
Evening Primrose Oil
These concerns made me consider to take Evening Primrose Oil. A friend once related to me that she takes Evening Primrose Oil daily and it does wonders for her hair and skin.
I also read many testimonials that Evening Primrose Oil helps relief breast pain during nursing and menstruation. It also helps regulate mood swings.
Hydrolyzed Collagen
Aside from Evening Primrose Oil, Hydrolyzed Collagen is also good for the skin. It helps reduce joint pain caused by conditions like osteoarthritis. It also helps strengthen the joints, repair sun damage, and tone the skin.
Fenugreek
I would want to make sure there is an adequate level of milk for my two toddlers. I tandem feed them and sometimes, I doubt if they still receive the right amount of milk they need. With Fenugreek, which is found to boost breast milk production, I am confident to provide my boys with their needed milk.
I am yet to try all these supplements and will blog about the result about a month or maybe less. Again, I will take these dietary supplements not to replace a healthy and balanced diet. This mother wants to address specific old age issues bothering her. And she has high hopes in Puritan's Pride®.
Growing old is something I do not fear. In all honesty, I look forward to retiring with my boys all happy with their own family. But first, to reach that age, I must take care of myself, eat healthily, and take the needed food supplement to fill in the nutrients I needed the most. Many old age problems like what I experience are avoidable with care, proper food, and the right dietary supplement. And that perhaps is the gift of modern medicine. Living a healthier, happier, and fuller life is possible, thanks to nutritional supplements that genuinely deliver.
Exploring healthy options for healthy living
Who wants to join me to explore healthy options for healthy living? Puritan's Pride® is too generous to let our dear select followers experience the road to healthy life. They are giving away
Two bottles Hydrolyzed Collagen

Three bottles Evening Primrose

Two bottles Fenugreek
What to do? Send your entries through our quick giveaway. This is open to all Momi Berlin Philippine followers. The first raffle will run from March 1 to 15, and another set from March 16 to 31. We will announce the first four winners on March 18 and the second set of three winners on April 1.
 Like and follow Puritan's Pride Facebook Page
Like and follow Momi Berlin Facebook Page

Share this post and tag three friends

Comment here what dietary supplement you would love to take for your road to healthy living.  Do not forget to include the Facebook name you used in sharing this post.
Good luck and here's to wishing all that we are able to make healthy choices for healthy living.
Momi Berlin Directory
Puritan's Pride Philippines Website