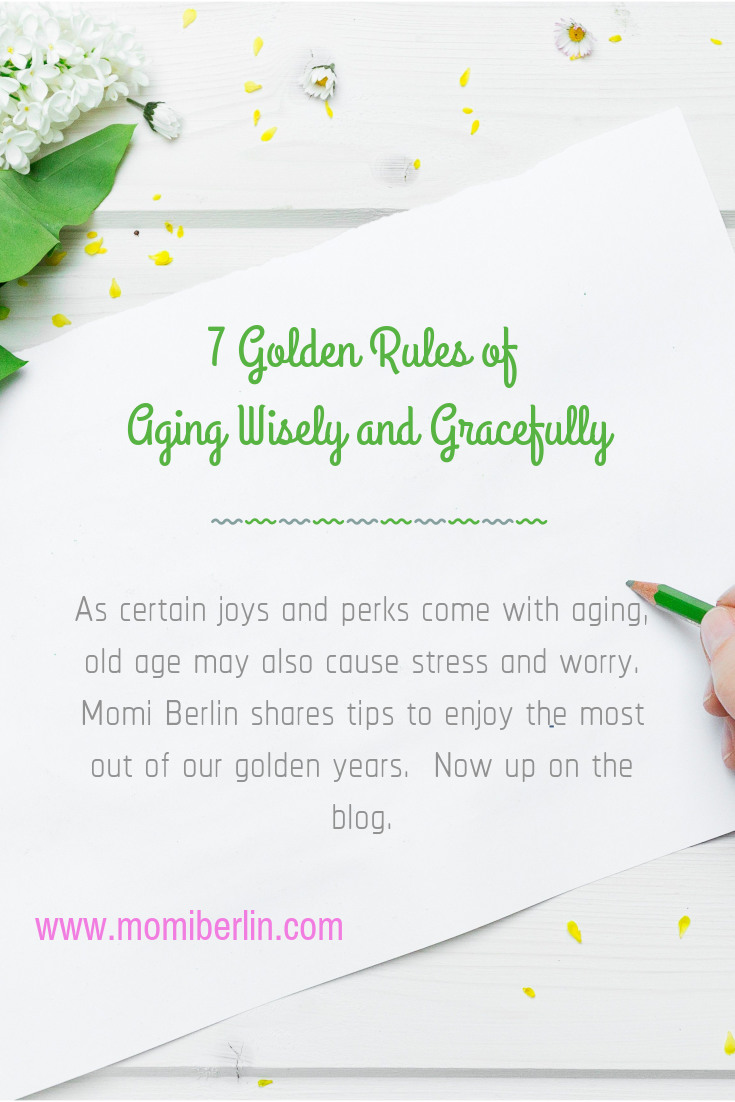 When my husband and I started to build our family, we left my parent's house.  Many say it is prudent for young couples to stand on their own and live independently.  I guess, being out of our elders' wings made us responsible and better parents for our children.  
About six months ago, though, we returned to my mother's place.  She has been dealing with a lot of stress, and it is prudent to have someone by her side.  I opted to be that person, and I brought my family with me. 
I have seen how my mom aged a lot, though she remains pretty and graceful.  She, however, moves slower than the usual and she complains certain illnesses quite often.
As certain joys and perks come with aging – financial stability and higher wisdom to name a few – old age may also become a source of worry and stress.  This happens especially if we don't fully embrace this season with acceptance, much more if we're clueless on how to enjoy ourselves when this season comes up in our midst. With this in mind, here are the seven golden rules of aging wisely and gracefully to enjoy the most out of your golden years according to So Sure Bladder Leakage Pad consultant, Phil-US registered dietitian-nutritionist Cheshire Que.
Enjoy the life season with positivity

 
Aging is inevitable.  It is a phase that everyone will go through that's why we need to accept it with gladness. Physiological changes accompany aging. Our bodies will not respond to our environment as they had in our younger years. Studies show that people who are positive and can manage stress well tend to be healthier.  They are also less prone to mental health illnesses, mental decline, and heart diseases. To achieve this, it is a wise move to avoid stress and negativity. Let go of anything that causes you stress.  It is better, too, to surround yourself only with the people that give you a sense of purpose. Take it one step at a time and learn to live in the moment. Don't over think about what may or may not happen in a few years.
Keep moving

 
Exercise is medicine. It prevents age-related illnesses by improving mobility, flexibility, strength, and blood circulation. Studies show that individuals who exercise are less likely to feel sluggish. They are more energetic than those who choose to sit at home. Exercise has also been proven to prevent depression and anxiety. It keeps you not only physically but also mentally healthy.
A study published in the Journal of Neurology and Clinical Practice shows that a low-intensity exercise for a total of two and a half hours a week works wonders for the brains.  Such work out helps improve a person's cognition, processing speed, and attention span, among others. When we reach our 40s, we need to start thinking about the muscles that we don't pay attention to, like our pelvic floor muscles. "Doing Kegels regularly will strengthen those muscles to prevent bladder leakage or incontinence issues later on," says Cheshire.
Nourish your body with nutrient-rich foods
Eat not just for pleasure but mainly for nourishment. This includes mindfully drinking water throughout the day. The sense of thirst may diminish as we age leaving us at risk of dehydration. Drinking water also helps flush out toxins that speed up aging. Minimally processed foods must be avoided.  It is prudent to opt for more whole foods from whole grains, vegetables, fruits, lean protein, and healthy fats. "When it comes to clean eating, enjoying a variety of food in moderation will ensure our bodies are well-nourished," said Cheshire. "This also means that the older population should not adhere to any fad diet. Doing so will only retrict them to certain types of food, which will only prevent them from taking in essential nutrients that they need," she added.
Practice sleep hygiene 
Sleeping hours may decrease as we age, but quality sleep is vital. It is during sleep when the body is most able to repair itself. Keep a regular sleeping pattern that is aligned with the body's circadian rhythm, also known as, body clock. This prevents hormonal imbalances that are associated with chronic illnesses. Have a downtime one hour before bedtime in a sleep-promoting environment. Such room must be quiet, cold and dark.
Nourish your mind and soul
To maintain mental acuity, keep the mind engaged. Listening to music, reading, doing art, cooking, and other hobbies do not just help keep up one's well-being. They also assist in maintaining the sharpness of mind. Likewise, nourishing the soul through spirituality gives wisdom and a sense of purpose in the golden years.
Visit your doctor regularly

 
To manage age-related illnesses and concerns, the role of a physician specializing in the care of mature and older adults is vital. Cheshire also added that "a regular trip to the doctor's office will ensure prevention and protection while maintaining the quality of life." As an added advice to children looking after aging parents or relatives, Cheshire mentioned as well never to embarrass them when we see changes in their bodies and with their behavior. "Instead, encourage them to open up about what they feel and speak up if they notice any changes in their body."
Take proper nutrient supplementation
Mature and older people are at risk of nutrient deficiencies which lead to decreased functionality and quality of life. Vitamin D, Calcium, Vitamin C, Omega 3, fiber and even amino acids may be some of the nutrients that need consideration.  "Always seek guidance and supervision of a physician and a dietitian, don't just buy something because of what you've heard or read. 
With the proper perspective and education on how to age in a healthy way, aging will not become an obstacle to one's goals. However, in a report published by US Center for Disease Control and Prevention, 50 percent of the older population is experiencing incontinence or the inability to control urinating, and women are particularly vulnerable. Those with incontinence leave an impact on them physically, socially, and mentally because the condition restricts their activities, thus substantially reducing their quality of life. Aside from proper medication, and possible surgical procedures for severe cases, an incontinence pad like So Sure Bladder Leakage Pad is a practical lifesaver for the sufferers: hugs securely but discreetly without the thickness of a diaper, 3x more absorbent than a regular pad, anti-bacterial with odor control features, and only made of breathable, skin-friendly cotton material! Additionally, it's unisex and available in two variants, 340 mm for light drips or spurts and 450 mm for burst or surges to ensure comfort and protection throughout the day.  Remember, a menstrual pad is not meant for urine leaks as it's not designed to hold a rapid urine flow.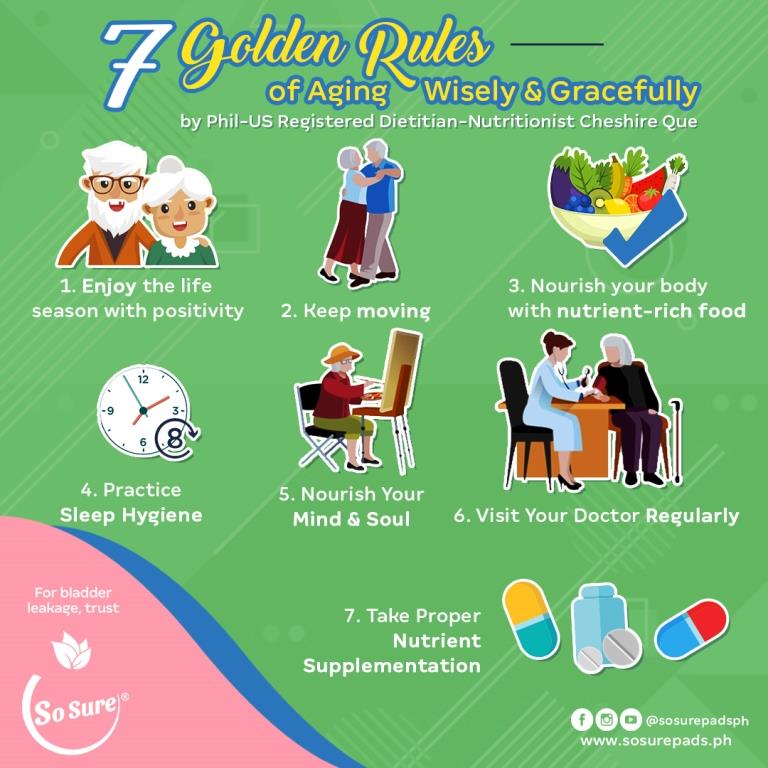 Age Wisely and Gracefully 
Don't let a medical condition or aging-related problems such as bladder leakage stop you from achieving all that you can. So Sure Bladder Leakage Pads are designed for optimum absorbency of bladder leakage without the bulky feel of an adult diaper.  They are available in Lazada and at all leading Mercury Drug outlets nationwide.
Momi Berlin Directory
So Sure Pads Website| Facebook | Instagram