Pinoy It Forward is the Filipino Spirit of sacrifice and hospitality with the concept of paying it forward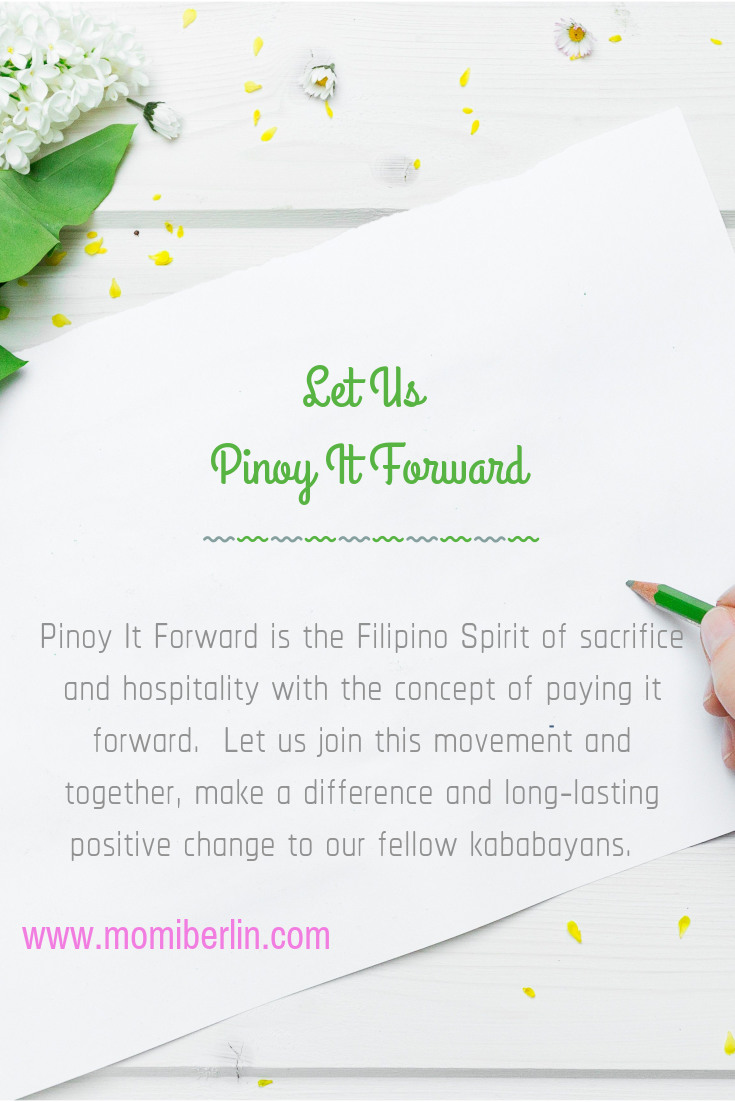 Filipinos are known for "Bayanihan."  Derived from the word "bayan" meaning nation, this Filipino custom showcases how Pinoys work and cooperate to achieve a certain goal.  To trace back, its concept started when town people would lend a hand to a family who will move into a new place.  They will carry with their bare hands the bahay kubo and relocate it. 
Even in this modern world of innovation and tough times, the spirit of Bayanihan still lives through.  All the more that there is still much that the people can do considering the technology and modern conveniences we have now.  
Bayanihan Spirit
A classic example of Filipino Bayanihan is when our kapwa kababayans help each other in times of natural disaster.  Every year, the Philippines faces calamities that displaces countless families across the country, along with the continuing poverty that leaves more homeless. Such is an opportunity for Filipinos to go out of their way and help their kababayans in need.  They always have a big heart in extending a helping hand to their fellows.  It is a beautiful Filipino mentality that makes us every Pinoy proud to be Pinoy. 
Though nowadays, we may rarely see the picture of carrying a bahay kubo and relocating it somewhere, the act itself has evolved into a modern way.  I have come across one movement where the same Filipino community spirit is very alive.  And the good thing about this movement is that they encourage everyone to be part of something significant in improving the lives of more Filipinos. 
#PinoyItForward
I am talking about #PinoyItForward Movement. It is a Vision Campaign in partnership with the non-profit Organization, Operation Blessing.  The goal of the group is to save families from poverty, hunger, and natural disasters all over the Philippines by building sustainable communities.  They aim to provide these families with dignified homes, skills and education, employment, medical treatment, sustainable energy, financial responsibility, and social awareness. And what is noble about this movement is that it likewise encourages everyone to be part in creating a long-lasting change to these people.  Pinoy It Forward medleys the generous Filipino Spirit of sacrifice and hospitality with the concept of paying it forward and putting someone else first. 
One Filipino Spirit
As the campaign is geared towards mobilizing the Filipino community all over the globe to join together to truly make a difference, Pinoy it Forward invites us to join for the same cause.  Either we give a small gift or spread the word of paying it forward, we have the chance to be the movement of change this nation has waited for. As Pinoy It Forward rallies, all it takes is one sacrifice, one Filipino Spirit.
Let us Pinoy it Forward.  Watch this video to know more.