Momi Shares easy and fun recipes for #MAYAHotcakeArt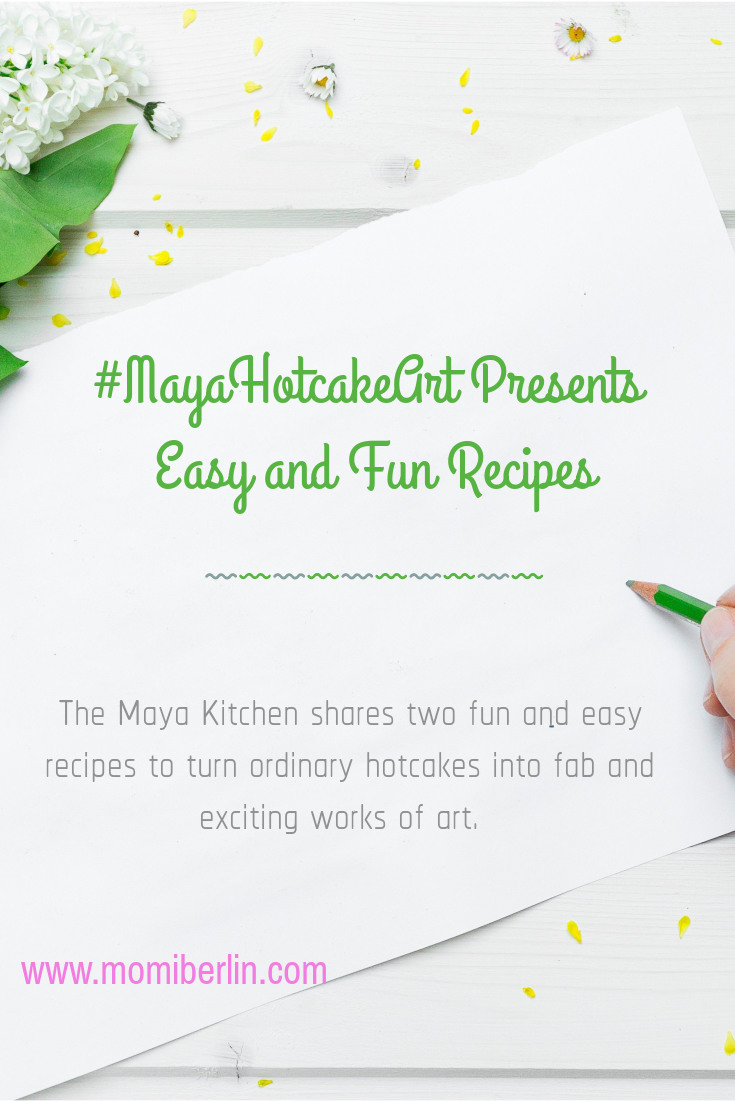 They're super easy to do at home, and you can win P20,000 worth of MAYA products if you try them!
We love hotcake! We always have MAYA Hotcake Mix at home and do pancakes, golden brown waffles, and muffins.  Everyone at home loves eating hotcakes for breakfast (and even for lunch and dinner!).   It is so easy to make, preparing them can be as much fun as eating them!  Even my boys can do cook pancakes themselves.  With a little imagination and a few additional ingredients, one can readily transform a typical breakfast staple into art.  From animal shapes to birthday cakes, the options are endless. 
Get ready to add more fun and flavor to your hotcakes with #MAYAHotcakeArt.  We will be sharing with you two quick and simple ideas, then feel free to dream up your design.  With MAYA, your hotcakes will be mouth-watering and delicious, no matter how you prepare them!
Cat Hotcake Art Hotcakes
There are so many animals that you can make out of hotcakes, this cute pussy cat included.
Use MAYA Hotcake Mix and cook an average-sized hotcake to make the head.  Cook another one and cut two small triangles to make the ears.

Assemble the hotcakes on the plate.

Use chocolate syrup to draw a face of the cat and other details.  You may also use whipped cream to highlight other face parts.
BIRTHDAY CAKE Hotcakes
Celebrate your birthday your way by reinventing the typical cake, and adding your toppings!
Whip up the MAYA Hotcake Mix and add candy sprinkles to the batter. Cook five MAYA hotcakes and stack them together.  Or cook as many as you want depending on how tall you would want your birthday cake to be.

Add a thin layer of cream cheese in between each hotcake as you stack them up.

Put a topping of whipped cream on top of the stack, and pour candy sprinkles over the pile of hotcakes.

Finish off with a dusting of confectioner's sugar.

Don't forget to put on top a birthday candle, too.
#MAYAHotcakeArt
Having fun with your hotcakes? Join the #MayaHotcakeArt contest to show off your work! All you need to do is follow Maya Hotcakes and More on Facebook and Instagram and post a photo of your Hotcake Art with the hashtag #MayaHotcakeArt. Don't forget to make sure that the post is public!
You can send in your entries from September 1 to October 31, 2018. The September winner will be announced on October 7, while the October winner will be revealed on November 7. Submissions will be judged based on creativity, visual appeal, and social media engagement. Two fortunate winners will score P20,000 worth of Maya products and a free pass to one of Maya Kitchen's lifestyle classes!
Whip that batter and join the #MAYAHotcakeArt now!
Momi Berlin Directory
Maya Hotcakes and More Facebook | Instagram | Twitter