I am one with most moms who believe that play contributes to the overall development of kids.  Through play, they become more resilient, socially intelligent, confident, and physically strong.  It is for this reason that I encourage my boys to play outside or with their toys.  We also provide them with stuff we believe would ignite their imagination and creativity.  During their growing years, I used to play with them, too.  That decision aided them to develop their social skills, process their emotions, and develop a stronger bond with their parents.
Johnson's® Active Kids Playcation
As a way to demonstrate its support for playtime, Johnson's® recently launched the Active Kids Playcation campaign.  This aims to encourage parents to spend more time with their children through active playtime.   They also installed an Active Kids Playcation playground at SM Southmall and soon to install in various malls.  The playground seeks to again be an appropriate venue for both parents and kids to bond through play.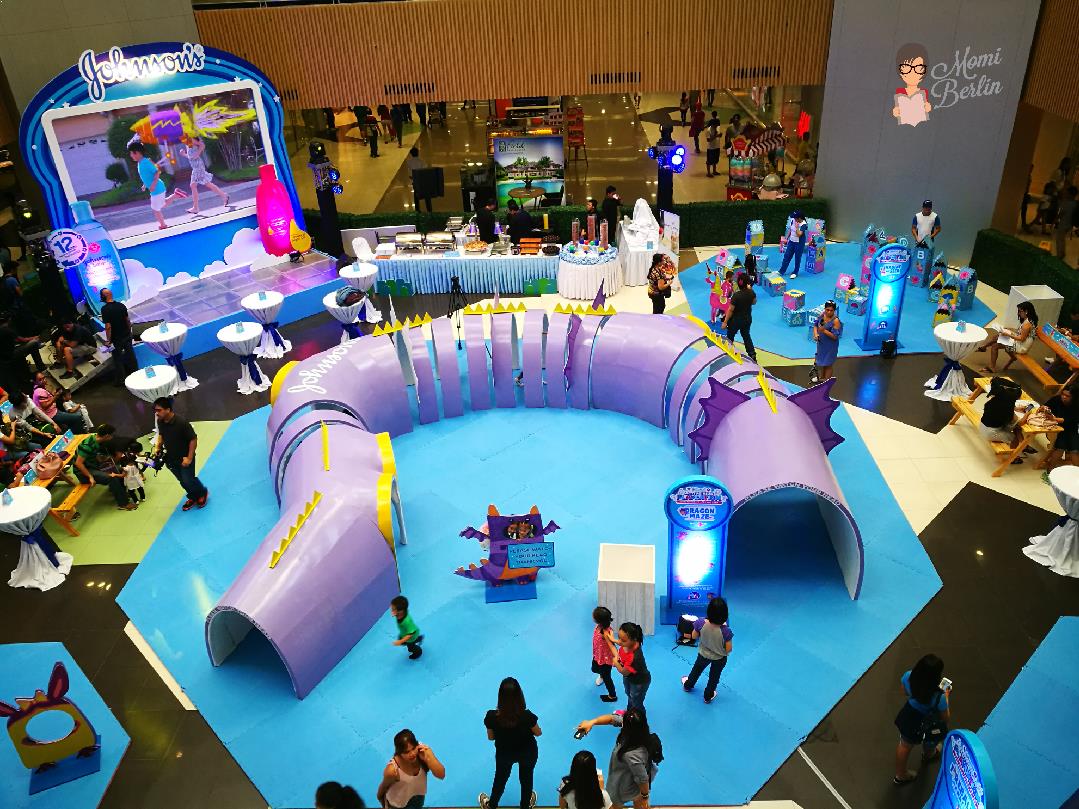 The Johnson's® Active Kids Playcation playground consists of different play pods.  During the launch, celebrity host Bettina Carlos and her adorable daughter Gummy oriented guests of the benefits of each play pods.
Johnson's® Active Kids Playcation playground
Imagine and Seek is a spacious play area for kids to use their imagination and thinking skills to replicate an image using just rubber mats.  The very imaginative Gummy was able to build a tent and a tower using rubber mats.  She even imagined the rubber mats as crackers!
Fireball Away challenges children's balance, agility, and cognitive skills by dodging fireballs to get to the other end of the platform without falling.
Dragon Maze motivates youngsters' to act and think fast as they collect hidden items inside the maze within a specific amount of time.
Little Builder's City is full of gigantic and soft beams of different sizes and shapes.  The beams encourage children to use their imagination and creativity to design their own fortresses.  The ever outspoken Gummy built a chair, seesaw, and a Rubix cube from the colorful beams available.
Johnson's Baby Active Fresh and Shiny Drops
Truly there is no doubt about the benefits imaginative play can give to a child's optimum development.  Thus, it is important as well for parents to take part in their kids' growth.  As much as possible, parents should provide the necessary props to aid their children's imaginative play.  Those stuff need not be expensive.  A simple cup and some buttons or paper clips would do. Plus, it would do no harm if parents join the fun, too, and bond with their kids.  If parents could encourage their tykes to play outdoors, it would surely be more helpful for kids to be physically strong and resilient.
Moms need not worry as well about sweat and odor after their kids play too much.  There is always Johnson's® Baby Active Fresh and Shiny Drops products to keep the children smelling fresh despite the summer sweat.
When my 11-year-old boy tried the Shampoo, I immediately noticed the scent.  The scent is not overpowering.  And even if my very active boy started to sweat, his hair still smells nice.  I may say the product is mild as well and leaves my son's hair soft all day.
Active Kids Playcation extended
Sweating is normal, especially in kids.  Body odor in kids is not as apparent as it is in grown-ups.  A little smell from their clothes and hair especially after a physical activity is tolerable.  And this mom can all the more tolerate longer playtime since she discovered Johnson's® Baby Active Fresh and Shiny Drops products.  Again, when my boy used it, his hair does not emit any rancid smell even after his scooter game.
It is less than a month and my grade six will return to school.  I encourage him all the more to engage with the outdoors.  Climb a tree if he can, hunt for bugs, and drive his scooter.  I am saying this not to test how this newest Johnson's product would fair but because I always believe play is important to healthy brain development.  And again, my boys only have until this school break to enjoy the outdoors.
Momi Berlin Directory