Gratitude makes sense of our past, brings peace for today, and creates a vision for tomorrow.
Melody Beattie
It all started with GRATITUDE
I joined a Fun Fest recently and it was indeed a pleasurable event.  The purpose of the feast started as an expression of gratitude to their patrons.  And year after year, they continue and look forward to more fun fest for their clients.  These consumers are, after all, who made them successful and thriving for 11 years now.
The Super8 Funfest
The merriment I recently joined was Super8 Funfest.  It is an annual event that brings together key business partners and loyal customers to celebrate gratitude. For this year's event, the Funfest showcased exciting shopping deals, fantastic entertainment numbers, and thrilling raffle prizes and freebies.  Spectators and shoppers were amazed by the different booth designs as Super8 presented Bida Ka Sa Savings Serye.  And what made the event truly memorable and worth visiting was the chance to win gadgets, appliances, Super8 gift certificates, motorcycles and a brand new Toyota Avanza!
This biggest savings serye to hit primetime shopping recently concluded with a big bang at the World Trade Center in Pasay City.  The first two days were exclusive to Super8 Rewards Cardholders and the third day was open to the public.  During the three-day event, guests and shoppers truly had fun not just shopping but watching their favorite artists entertain them.  A few who graced the event were television and movie personalities Richard Yap, Alden Richards, Heart Evangelista, and Angeline Quinto.
The Super8 Mobile App
It was also during the event that Super8 launched its mobile App for their customers to download on their smartphones. The mobile app makes it convenient for patrons to know exclusive rewards and discounts, check their rewards points, and get updates on exclusive promos.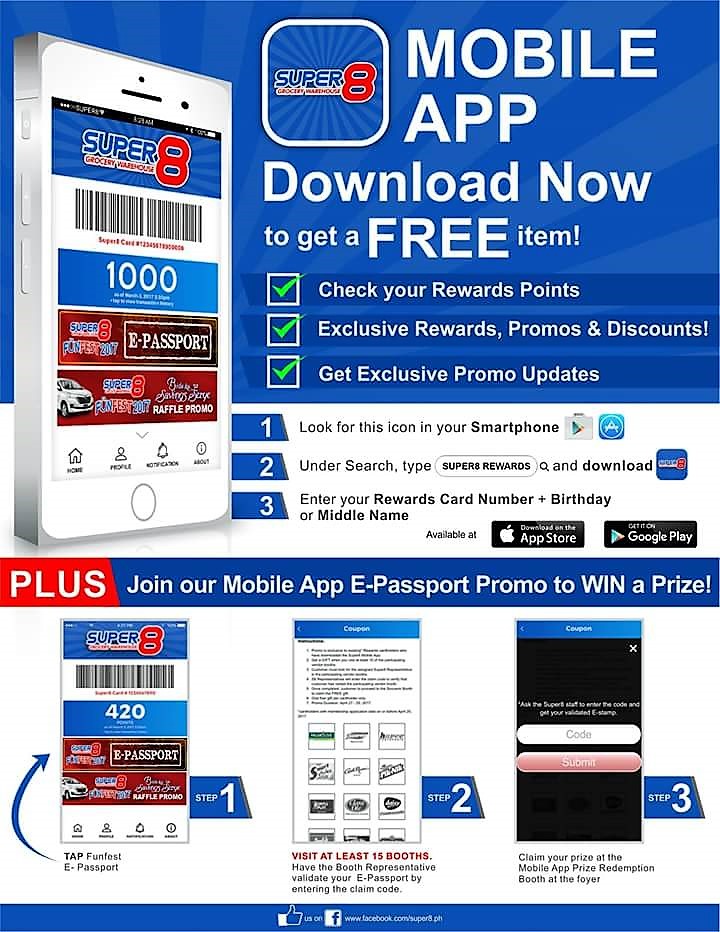 The Super8 thrust
The Super8 management introduced the FunFest six years ago and since then made it an annual event.  Then they came up with the mobile app this year.  They made all these and plan to launch more, including putting up more Super8 warehouse stores because again of one reason –
SERVICE
Super8 thrust is service.  They first and foremost built this chain of grocery warehouse store to provide retailers and value seekers a wide assortment of quality products at wholesale prices with excellent service.  More than big savings, they offer accessibility and convenience.  To date, Super8 has about 60 branches within Metro Manila, South Luzon, and Central Luzon.  And in the next three years, more branches are up to serve more patrons and value seekers.  Super8 Chief Executive Officer Mr. Alvin Lim said in a statement that almost 80 percent of their customers are sari-sari store owners.  And with Super8's undeniably low prices, surely these sari-sari owners will earn more than ever.
And why is it again Super8 wants those customers to earn more?  It is because GRATITUDE is Super8's core value and SERVICE is their thrust.