When there's a will, there's a way.
My little man and I have been watching a lot of children stories on YouTube lately.  Even my 11-year-old son would sit down beside us every time we watch.  More than enjoying the colorful imagery, the stories are quite engaging as well.
This morning, we saw The Thirsty Crow.  And the story reminded me of my then nearly two-year old Second Son.  At a very tender age, his distinct character was very evident.  He is one determined and bold lad.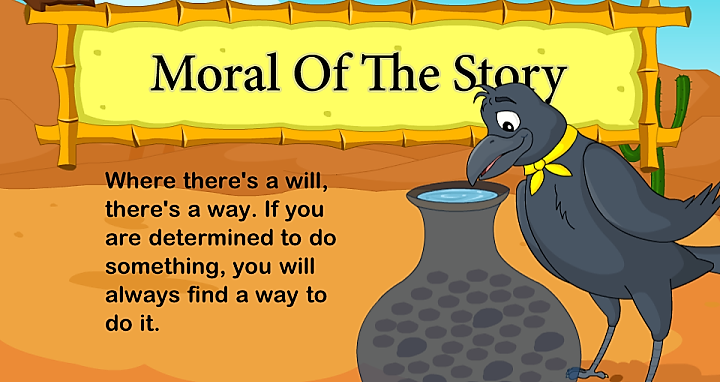 One hot day, a thirsty crow flew all over the fields looking for water. For a long time, he could not find any. He felt very weak, almost lost all hope. Suddenly, he saw a water jug below the tree. He flew straight down to see if there was any water inside. Yes, he could see some water inside the jug!
The crow tried to push his head into the jug. Sadly, he found that the neck of the jug was too narrow. Then he tried to push the jug to tilt for the water to flow out but the jug was too heavy.
The crow thought hard for a while. Then looking around it, he saw some pebbles. he suddenly had a good idea. he started picking up the pebbles one by one, dropping each into the jug. As more and more pebbles filled the jug, the water level kept rising. Soon it was high enough for the crow to drink. His plan had worked!
The Daring Second Son
Our second son was nearly two years old that time.  Unlike Firstborn, he seldom complains and cries.  He would do things on his own, and we would just be amazed by his ability to resolve even such complex problems.
One day, my husband and I were just stunned seeing our son beside us.  We left him in his crib.  Husband carried the little boy back to his crib.  We were busy then with some home renovations.
After a few minutes, the little tot was again beside us giggling.  We both went to the crib and discovered that he would climb out of his crib by stacking up all pillows and toys to escape.
Since then, we removed the big pillows and left his bolster pillows and a few toys instead.  Days went by, and everything seemed manageable.  Until one day, the young adventurer was able to escape from his crib again.  This time, he made a hole out of the small mesh holes to escape.  His crib was made of soft materials and breathable mesh.
The Thirsty Crow and the Daring Second Son
Both the crow and our second son thought and worked hard to find a solution to their problems.  Our little one was able to figure out how to climb right out of his crib and thought of a way to escape again.  He showed persistence and determination, the very same characters the thirsty crow displayed.
When there's a will, there's a way
We fetched Firstborn and Second Son from school as today is exam day.  Our Big Bunso greeted his big brother with a big mischievous grin.  "You pulled a jailbreak, kuya Second Son!  Momma narrated how you escaped from your crib a number of times."