Note:  This was written last August 18, 2012.  We still have our family free wall up to this day.  And I look forward to seeing our fourth son write and tack something on our free wall, too.   (Pardon the low-quality camera used).
The exchange of notes and special messages within our house has been abundantly pouring.   This mother then decided to buy a cork board. She imagined writing special messages for the whole family to see.   Also, call it overacting but I would always want my boys to communicate with their parents.  I have seen a number of kids their age who begin to keep secrets from their folks. I would want my children to feel that even with the age gap, we have a special connection and as always, they can approach us for anything.
More than communicating to them our LOVE, I want them to feel HEARD.  I fear to read on their Facebook wall page their angst and frustrations.  I would rather prefer to read it in our family free wall — this is how we call our cork board.  But more than disappointments and sadness, I also urge the boys to write, draw or pin anything they would want to share with the whole family.  And I started it with writing down my daily reminder to them–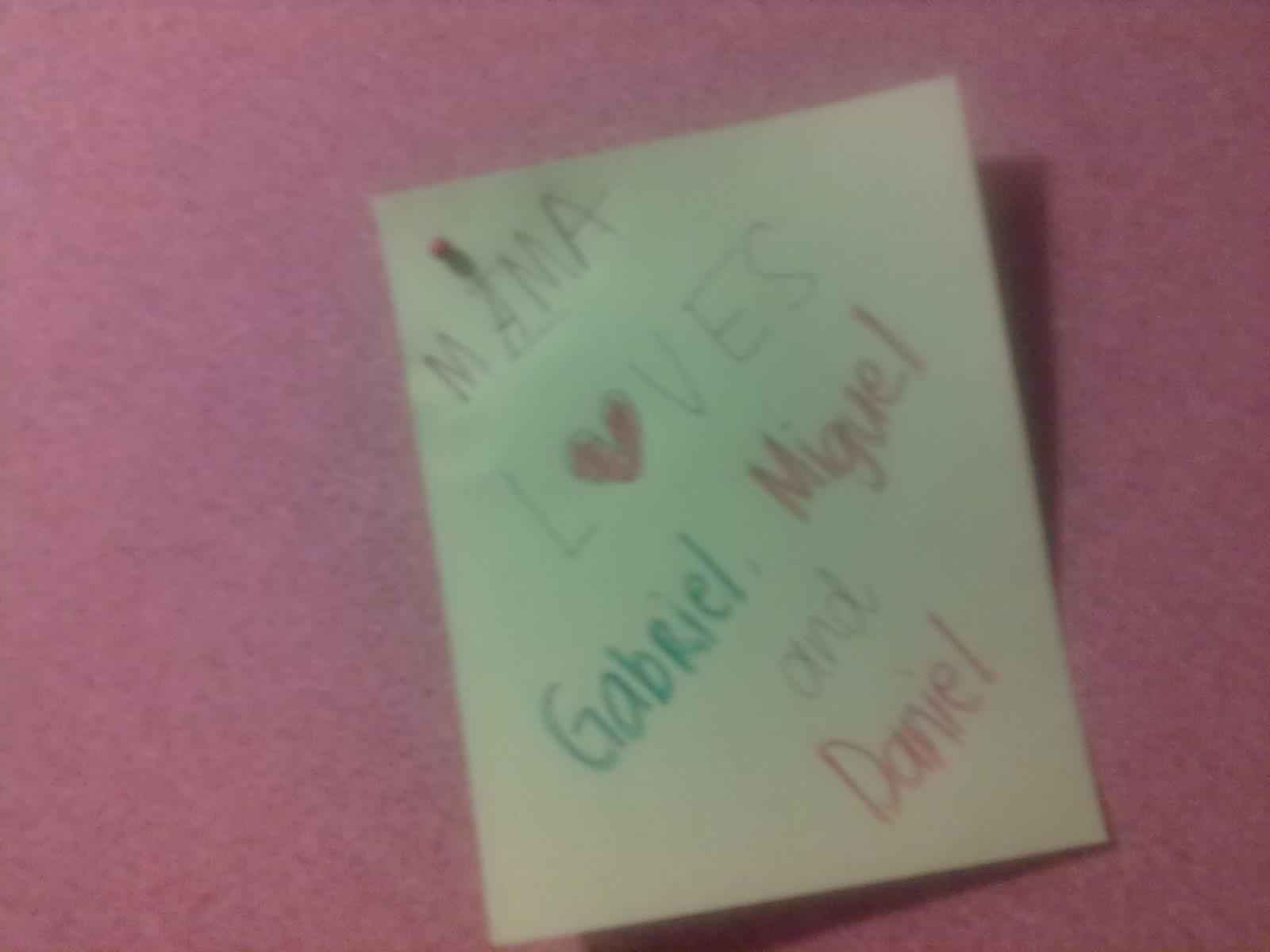 I would want the kids to share their feelings — may it be of fear or happiness.  I would want to confirm their emotions, understand their struggle, and most importantly, let them know that I will always be by their side.
Our Firstborn — being so playful and carefree — shared his social networking status with us.  I did not mind at all.  At least he was confident that his parents would be interested even in things like that.
Second son, who got sick that week, might have been too conscious of his weight loss. I told him that he has to eat to regain his strength.  He started to watch his weight and recorded it everyday.  His two other brothers followed.
It can't be disregarded that I value the boys' schooling as well.  We have the kids' school calendar posted on our wall.  As agreed, they have to jot down their school activities — may it be just a simple quiz or project submission.
The free wall has been up for almost two weeks now.  And so far, the little boys are enjoying posting anything from household bills to school reminders, and even pictures. It has been our means to read important notes and messages.
Our Family Free Wall
Certainly, my kids love surprises.  And I believe almost any kid love to be surprised. And it doesn't take real hard to make them happy. A simple love message or note would do.  It encourages them more to do good in school, in their playing or in any of their dealings.  And more than anything, they know that they belong to a family who loves and cares for them so much.
How about you, how do you communicate at home aside from regular conversation?  Would love to hear them, please.