Let your heart be your compass.
I love this line very much.  Perhaps it truly hits home.  And it is the reminder that kept a little princess named Sara and his wealthy, and renowned adventurer-father Captain Crewe survive those months of being away from each other.   After some heartbreaks, the two reunite.  Their deep love for one another is what keeps them hopeful.  The same love I have for stage plays that pushes me to watch despite the distance and time.
REP stages grand musical A Little Princess
Repertory Philippines (REP) winds down its 49th year with the charming, touching, and entertaining  A Little Princess.   The costumes, props, setting and backdrops, choreography, and acting are exceptional.  My Big Bunso joins me that night, and he is in awe most of the time.  He particularly admires the powerful voice and perfect acting of the charming Felicity Kyle Napuli.  Napuli plays the petite scullery maid Becky.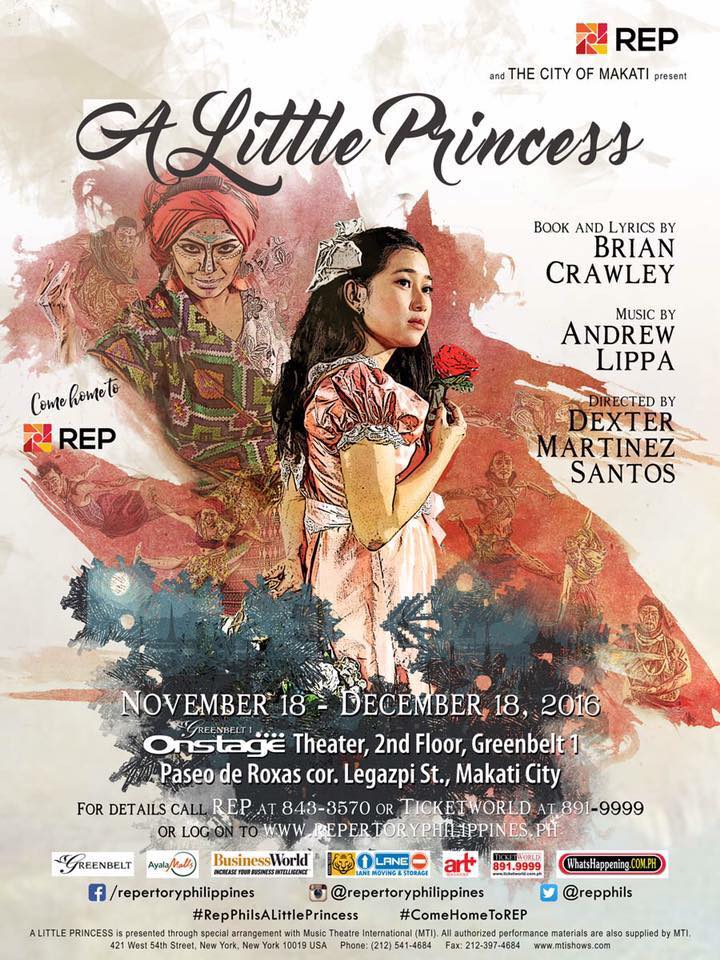 Everyone's favorite Sara Ang Munting Prinsesa
Yes!  You are right!  A Little Princess is the story of Sara sent to a boarding school in London by her father as the latter explored Timbuktu.  Written by Francis Hodgson Burnett, this remains one of the top 50 classic books ever produced.  Life at the boarding school is made harder because of the wicked old headmistress Miss Minchin and the envious Lavinia. The same story we all fell in love with when a Tagalized anime version was shown on a local TV years ago.  And the very same story – Sara, Ang Munting Prinsesa-  that made Camille Pratts and Angelica Panganiban rose to fame.
I guess what makes the story a favorite among the Filipinos is the plot itself.  Even though circumstances in school is terrible, Sara uses her powerful imagination and transforms the gloomy boarding school into a place of magic and joy.  She gains friends in the process, Becky included.  Her other friends are the lovely teacher Amelia and some students like Lottie and Ermengarde.
The second act starts with news reported that Captain Crew died on his journey and was stripped of his fortune.  Sara loses her privilege as the unofficial princess of the school and is forced by Miss Minchin to work as a servant.  Sara manages to rise above all the hardship.  She remains kind and loving.
A heartwarming musical
With such poignant story that resonates with any audience, charming characters played by a brilliant mix of veterans and upcoming young theater actors, and lively and colorful musical numbers, REP's A Little Princess is a terrific musical that teaches the young and young at heart the real value of kindness, love, and laughter.  Highly respected theater director Dexter Santos directs and choreographs.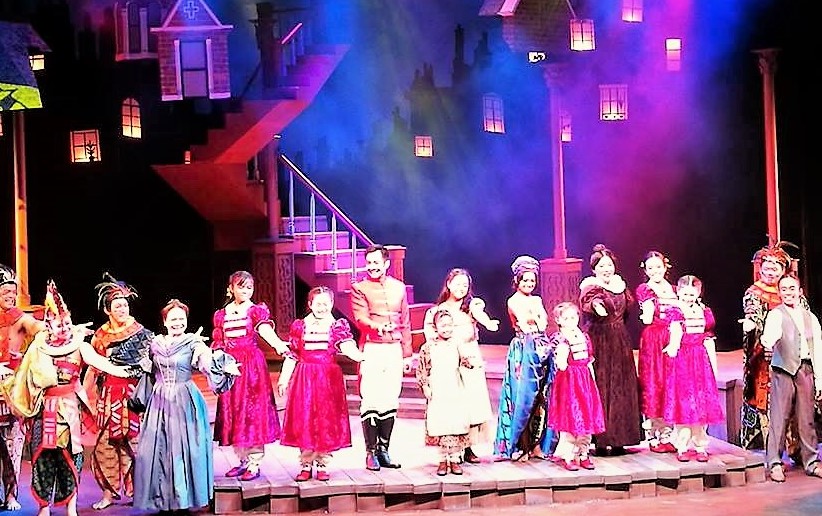 Let your heart be your compass
A Little Princess will run from November 18 to December 18, 2016.  Be enchanted and watch the play.  Join REP as it closes the year with music, dance, great optimism, and love.  As the curtain closes, you will surely feel a smile on your face.  Because you will always be reminded that when lost, your heart will surely be your compass to let you find the way.
Momi Berlin's Directory
Repertory Philippines Website | Facebook | Instagram | Twitter