All my four boys take vitamins regularly.  As a mother, I always see to it to religiously allot budget for vitamin and food supplement as well as pediatrician visits and emergency funding for hospitalization and medicine expenses.  These take 15% off my husband's monthly pay.
And because we are blessed with four kids, sometimes the15% budget for our monthly medical needs is not enough. The kuyas would sometimes skip vaccine schedules but never their food supplements.
Though nothing will take the place of eating a good and healthy meal, I believe taking food supplement and vitamins can even help my kids maintain a better level of health.   There are times as well that they stay late at night, eat junk food and even skip meals so all the more that they need food supplement and vitamins to fill in the nutritional gap.
Now, imagine this momi's wide smile when she received a few bottles of Nutri10 Plus Syrup from Wert Philippines, Inc. She computed right away and smiled even more when she learned that she need not buy their usual food supplement for a month.  And it is great savings for her. Thank you!
Nutri10 Plus Syrup is a food supplement for kids 1-12 years old.  Recommended dosage is 2.5ml for 1-9 years old and 5ml for kids 10-12 years old or as recommended by their health care practitioner.  And when I checked on the label, the active ingredients my boys would get from taking Nutri10 Plus Syrup are:
CGF (Chlorella Growth Factor)
Taurine
Lysine
Vitamin A
Vitamin D
Vitamin E
Vitamin B1
Vitamin B2
Vitamin B3
Vitamin B6
Vitamin B12
Vitamin C
Zinc
As I inspected each box, my boys gathered around me and checked on the bottles, too.  I felt like their Science and Health teacher when they excitedly relayed to me the importance of each vitamin and mineral.   My eldest animatedly said CGF promises height enhancement then jokingly uttered our Big Bunso needs CGF to grow tall.  Taurine, on the other hand, though viewed as a natural energy booster also promises to make one smart while Lysine is a common appetite and growth enhancer.
The Big Bunso obviously wouldn't want to be left behind.  He readily shared that Vitamin A is essential for the immune system to fight infections and keeps the eyes and skin moist.  He added that those with Vitamin A deficiency have poor eye sight, scaly skin, brittle hair and nails, poor growth and poor immunity.  He even told me that I may be Vitamin A deficient as I am anemic.
I thought I had enough when Second son came in and enumerated the health benefits of Vitamin Bs.  He told us that Vitamin Bs help the body produce energy and form red blood cells.  He also mentioned about metabolism, energy, nervous system and  many more and I was not able to absorb everything.  But I am one proud momi for having kids who value education and information so much.
We were about to wrap up and prepare for dinner when my Big Bunso asked if I will try Nutri10 Plus Syrup as well.  I told him no because the food supplement is only for kids and not for moms like me.  He whispered that he reviewed the label again and read Nutri10 Plus Syrup has zinc.  And the mineral zinc has been proven to control acne.  I've got some acne marks that's why.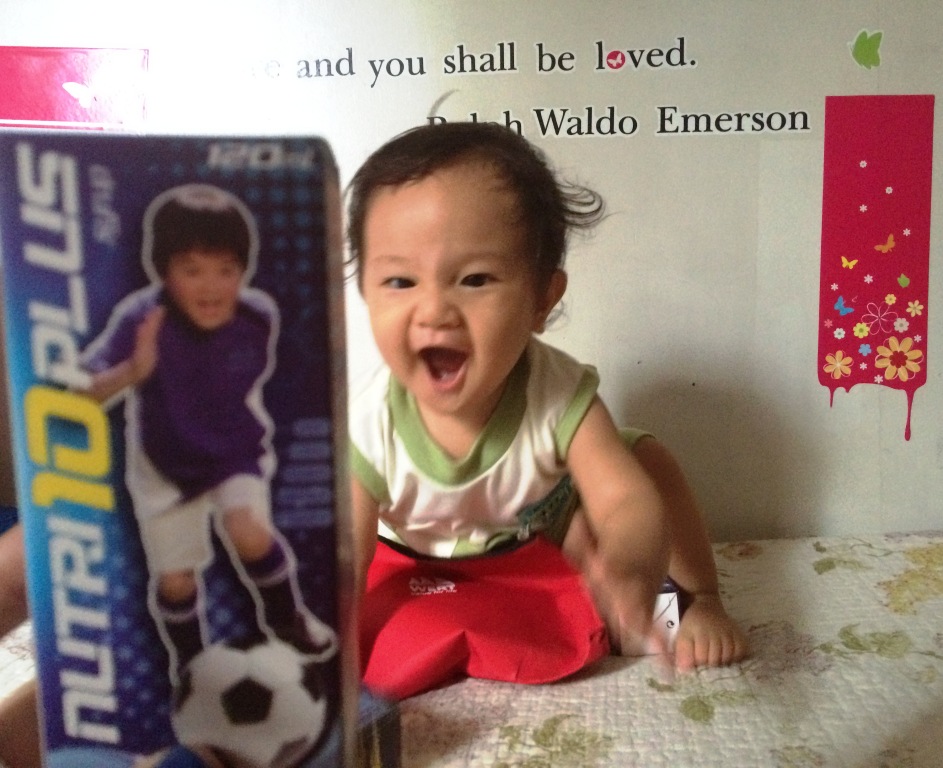 Tomorrow morning, my boys will try Nutri10 Plus Syrup.  And I will share with you soon if there is any effect on their appetite and also positive effect on their active lifestyle.  If yes, I will switch to Nutri10 Plus Syrup.
Momi Berlin's Directory
Nutri10 Plus Facebook