I met two passionate  individuals in a week.  One was a blacksmith who though not literally forges metal to make a fine sword but passionately aims to shape the minds of the kabataan.  And the other is a goldsmith who passionately designs jewellery for Manila's most affluent society.  Both are respectable individuals who show great know-how on their respective careers. 

This is the story of the goldsmith I met.  His story is as sparkling as his creations.  And his ideas … as brilliant as the diamonds he design.  I must admit, I admire his philosophy.
His family owns a bakery business, but he wants to be a graphic artist.  So during one assessment day in college, he was presented with two options — dental technician or goldsmith.  He chose the latter.  And up to this time, he still feels he made the right decision.  Otherwise, no Hans Brumann sparkling masterpieces may have made every party of expatriate wives and Manila's doyennes so flatteringly fabulous.
His collections aren't for the minimalist type alone.  Most of his works bare thoughtfully brave colors with a distinct allure for elegance.  These are the same pieces that most affluent and important people in trade and politics would want to have.  He has built his clientele and still manages to keep  a faithful customer built on word of mouth.
the artist's way
Deciding to be a goldsmith and not a dental technician, Brumann started as an apprentice in Zurich, Switzerland (from 1957 to 1961).  He learned stone setting, designing, goldsmithing, and engraving.    "It was during my apprentice years that I really pursued to know the basic or else I will make mistakes after," Brumann recalls.
From Zurich, he traveled to Geneva and Germany to further hone his skills in jewellery.  Then he met Andrew Grima, a designer famous for his modern British royal jewellery.  "I learned to love jewellery from him," says Brumann of Andrew Grima.  It was also in Germany that he fully appreciated the history of jewellery design.
a step closer to fame
It was in 1967 and still in Germany when he saw an ad in the newspaper–  an opportunity to be a jewellery designer in Manila.   He travelled to the Philippines and applied at the La Estrella del Norte.  He easily earned the trust of both his Swiss boss and clients.  Unfortunately, after four years of good business in La Estrella del Norte, the company had to close shop.  This led Hans Brumann to open his own line of jewellery.
The closing of La Estrella del Norte didn't push Brumann to go back to Switzerland.  He stayed in the Philippines because he enjoyed working with Filipino women.  "They always go with the design," as how he describes his Filipino clients– mostly the prominent women of the society.  So in 1978, through the presidential decree of Marcos, he became a Filipino citizen and established his own line.
Initially, he made his Mandaluyong residence as  his headquarters. In 1983, he bought his own space in Legazpi Village in Makati where up to this date, serves as Hans Brumann's studio.  His other fabulous masterpieces may be seen at Shangri La hotel Makati and Rockwell Center.
He decribes his business growth as rather slow.  "And it is indeed my intention to grow slowly," he stresses.  "Putting up a company is easier than closing it," he adds.   He even proudly says that from merely seven staff, he now has close to thirty with still some of the original people working with him.
He also discloses that in his jewellery business, he takes risks everytime.  He buys stones  without much guarantee that these may be sold readily.  But with a solid clientele base and a design so distinctly Hans Brumann, there is no doubt that his collection would remain a mainstay in the party scene and be forever a hot piece to covet.
Truly, he understands women's fascination for all things bright and shiny.
his design philosophy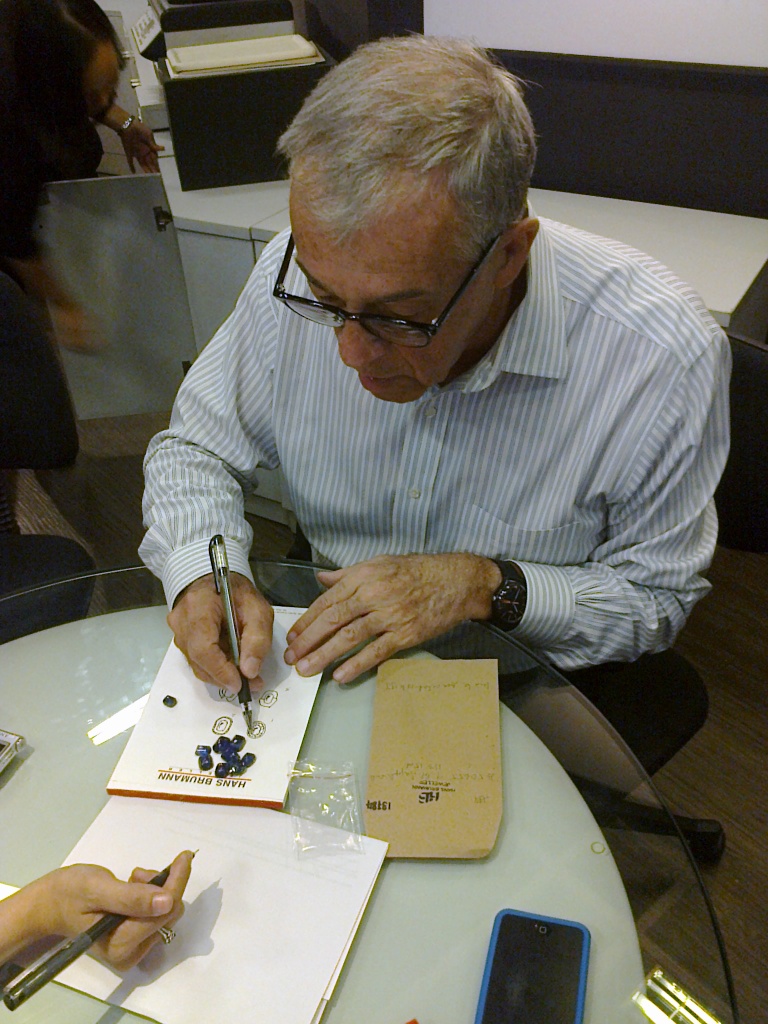 Brumann reveals that in designing, he starts with the stone first.  He gets ideas from stones and makes a few sketches using a pen and a paper.  "I put the stone in the center, where the design reveals itself," the famous jeweller says thoughtfully.
He is also found in contrasting colors –  combining amethyst with garnet and gold and silver, for instance – which often produce good and recognizable results.
Another value Brumann holds dear is loving the business.  "The business is very much me," he says.  Indeed, there's no mistaking a Hans Brumann piece.  It's because Brumann has created his own style that would surely be remembered and will shine brightly even beyond his lifetime.
Asked how does he see himself five years from now.   "Same as today."   But how about another five years, he discloses sadly, "that's the time I close down.  I have been in the business for 46 years and I have been almost around the globe.  The sad part is, I haven't seen somebody looking after the business the way I do.  The collections are very me." Baumann though still continues to enrich his practice. In addition to jewellery, he also sculpts and his few abstract creations of kamagong wood with metal and stones are indeed very unique yet thoughtfully crafted.
What started in 1978 as an exclusive shop that dealt more on made-to-order jewellery pieces fully grown to a name most of Manila's élite and foreign expatriates would want to have.  His work is truly distinctive – a reflection of his own unblemished taste and standards.  "Jewellery is not a fashion fad.  Each piece should be created to last a lifetime," Hans Brumann thoughtfully notes.  And even if he retires in the next ten years or so, his sparkling masterpieces would always be a part of Philippines' gleaming society.
* This interview was made last July 2013.  I missed meeting new faces and inspiration thus decided to repost this.  It was like meeting Mr. Hans Brumann for the first time again.  I wonder how his business is now so I checked and found out it is still very much sparkling just like his creations. More power, Mr. Hans Brumann.