More narratives, jokes and statements from my boys many years ago.
THE -NAPPER STORY
January 3, 2011
Bunso started with "who's this game" and everyone fired his own tricky or funny question.
Husband's turn came and his simple question was "who stole cars without permission?"
Bunso hurriedly answered, "CARnapper!  Now is my turn. I answered papa's question correctly."
"Who gets plants?" was bunso's question.
Everyone taught the answer might be a character from Plants vs Zombies.  We've named almost all the zombies from the famous game and yet no one still got it right.
Bunso naughtily said, "no body knows! It's just an easy question.  And the answer is PLANTnapper!"
Everyone had a good laugh.
"Who stole goats?" was my tricky question.
It was second son who answered KIDnapper.  He added a little trivia explaining that kidnapper happens to take away young boys and girls as well without their permission.
"Who detains an old person for ransom," came second son's turn.  Everyone kept silent, and seemed to be in deep thinking.
"ADULTnapper!"  second son reluctantly said.  Then flashed his best 'naughty boy' grin.
—
May 17, 2011
Bunso:  Naisip ko lang  (meaning I dreamt of).  I fell from our balcony, and I landed not UPSIDE DOWN (his exact words) but like this (forms just like surfing with legs apart and his two arms stretched).  Then I said, good thing I did not hurt myself (with matching right hand wiping the sweat off his forehead).
* The time when my boy refers dream as naiisip ko.  And he would imitate cartoon characters, that hand wiping sweat off his forehead included).
—
HEAVY BRAIN
May 26, 2011
last night
I asked bunso to turn off the light.
Bunso:  Mama, I can't.  My head is heavy.  I can't stand up.
Momi:  (worried)  You feeling ill, Bunso?
Bunso:  No, I am just sleepy.  My head is so heavy because my brain is heavy.  My brain is heavy because I am intelligent.
—
June 10, 2011
I reported for work today.  And with no househelp to look after my boys, I asked the kind help of our relative-neighbor to look after my boys.  To minimize their burden, I brought with me my Bunso.
While walking towards our office building-
Bunso:  Is your office building high, mama?
Momi:  Yes.
Bunso:  At what floor are you?
Momi:  18th floor.
Bunso:  (eyes grew big and wide)  18th.  wow!  It is indeed so high!
Momi:  Oh yes.  So high indeed.  You will see it once we're there.
Bunso:  Do you have elevators, too?
Momi: Yes.  We have.
Bunso:  Whow!
Momi:  There, there's our building (while pointing to the highest building along One San Miguel Ave).
Bunso: Whow! So many windows. (He is counting the windows from afar.)  30 windows and more!
—
EIFFEL TOWER
June 11, 2011
We shopped for the boys' school needs last Sunday. While waiting for a ride home, Bunso pointed to the giant transmitter of ABC5
Bunso: Eiffel Tower!
—
Yesterday, after office, Bunso and I went to National Bookstore Shangrila. There were a number of makeshift floor to ceiling Eiffel Tower designs.
Bunso: Wow! Eiffel Tower. Wow! Yun pa. Ang daming Eiffel Tower!
—
This morning, I covered the kids' school books and notebooks with clear plastic sheet.
Bunso browsed through his Geography book and chance upon a drawing of-
Bunso: Eiffel Tower!
—
We went to SM The block and there was an exhibit of very creative set of landmarks made of lego blocks.  And part of the exhibit was Paris' Eiffel tower.  Bunso was just so excited he can't help but ask his mother to take a photo of him with the Eiffel tower on his background.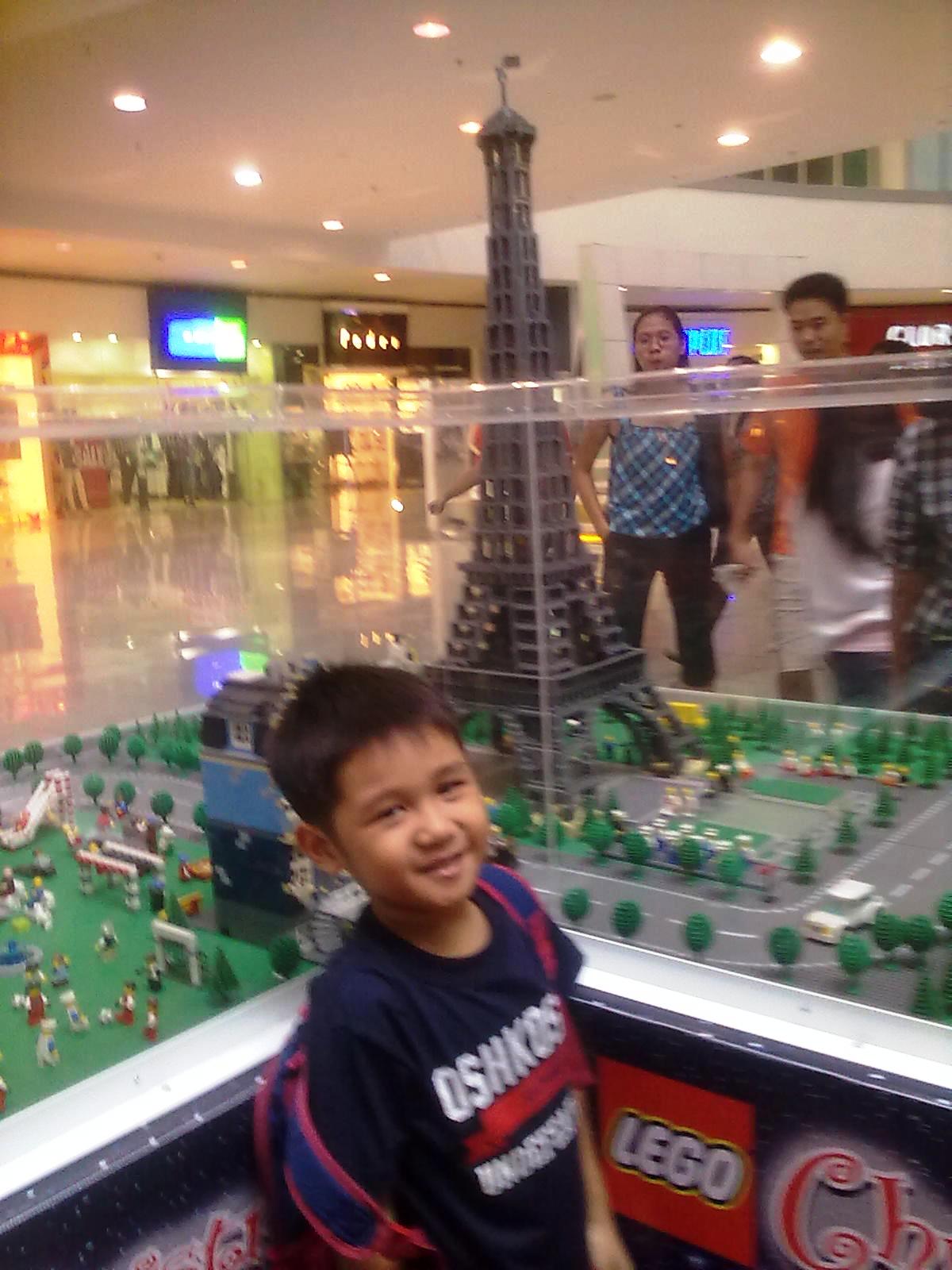 —
THE TEACHER WITH A LONG NAME
June 23, 2011
Wednesday after class
Momi: How was school, Bunso?
Bunso:  Fine.
Momi:  What did you do?
Bunso:  We studied.
Momi:  Yes, of course.  What I want to know is what activities and lessons you learned today?
Bunso:  Teacher with the long name (that is how he calls his teacher) asked me to write my name on my paper and draw so many straight lines.  I did it perfectly and told her I know it already.  She does not need to ask me next time.
Saturday morning during the parent-teacher orientation
Momi:  How was Bunso's first three days in school, teacher?
Teacher with the long name:  Oh, momi!  Bunso can easily identify his books and follow directions.   I told the class to get their writing book and your son got it correctly from his bag.  I also asked them to write their names on a piece of paper, and Bunso can write, very legibly pa.  He also mentioned to me that he learned of writing legibly from his previous school, and  told me never ask him again to write his name.
And that confirms all.
—
Momi:  Bunso, kindly open the door please.  Our internet speed is fluctuating. There is no air inside our house.*
*because this mother believes that broadband internet service travels via air.
Bunso:  Do you want me to open the electric fant?  The electric fant will surely produce that needed air.  (Electric fan to his has a "t" thus electic fant.)
—
I AM CYCLOPS
June 26, 2011
Bunso:   Mama, why does Kuya Second son looks different?  He looks ugly with his eyeglasses on.
Second son:  No, Bunso. I am Cyclops and I have laser on my eyes.  I will laser all enemies and that includes you.
—
THE RED CHAIR
June 30, 2011
Bunso: Mama, I was asked by the teacher with the long name to stay at the red chair.
Momi:  Where is the red chair located?
Bunso:  The red chair is beside the teacher's table.  And the teacher's table is just very near the blackboard.
Momi:  Why did she ask you to sit on the red chair?
Bunso:  Because my fat classmate irritates me.  He keeps talking and talking.  I told teacher I can't concentrate because that fat classmate was too noisy.  Then she asked me to sit on the red chair instead so I could concentrate.
Momi:  (is thinking otherwise.  I need to make a call to the teacher with the long name).
–—
MOMI is A WORKING GIRL
July 6, 2011
Yesterday evening, we were doing the assignments of the boys.  Bunso handed over his Science book and turned the pages to lesson 6.
Bunso:  Mama, I now know how to call you.
momi:  What is it then, Bunso?
Bunso:  you are a working girl (pointed to the drawing of a girl in a corporate suit). Then time will come you will be a grandmother like her (pointed to the drawing of an old woman below the working girl).
—
THE TOY KEEPER
July 11, 2011
I saw second son playing with his Kuya's Optimus Prime.  Went near him and saw the masking tape wrapped over Optimus Prime's wings.
Momi:  What happened to Optimus Prime?
Second son:  Kuya broke Optimus Prime's wings.  I wrapped it with a sticky tape so the parts will be glued together.
Momi:  Why didn't Kuya fix that toy?
Second son: He told me he does not want to play with Optimus Prime anymore so I just fixed it myself.  I will take care of him from now on.
—
FOR THE BRILLIANT BOY
July 22, 2011
My five-year old Advanced Casa boy perfected all his mastery exams.  And he demanded for a quick reward.  He didn't wait for me to go home.  He asked ninang (who was looking after them that day) to text me and that I buy a box of Jollibee chicken crunchers.
—
—
OMG!
April 17, 2011
On our way to Trinoma to meet a dear friend, second son is  singing.
Momi:  What is the title of that song?
Second son:  Pray.
Momi:  May I hear it again?  Kindly sing loudly, please.
Second son:   (singing while skipping)
Momi:  From what cartoon program?
Second son:  Not cartoon program.  It's from MTV
Momi:  MTV?
Second son:  Yes. MTV.  We watch MTV everyday before lunch.
Momi:  Who sings pray?
Second son:  Justin Bieber.
Momi:  (OMG. felt I am the most out-dated mother in the whole universe.)
—