I stepped inside the theater ready to relax and give the biggest laugh I could.  It was Friday and was about to watch one of the finest comedy musicals by Repertory Philippines, Stepping Out The Musical.  Though I know my chuckles were louder than all the others, I gave a few whimper, too.  The personal stories of each character told through their lines and the lyrics of the songs they sang were all so true-to-life.  Each character's heart-rending tale had me in tears.
The theater curtains opened inside the dull tap dance studio of Mavis, the eternally patient instructor, joined by the cranky old pianist Mrs. Fraser and eight novice students of different backgrounds.  Each scene was focused on one to two characters and the audience were led to learn about the characters' lives and eventually feel  the joy and heartache that each brought to the class.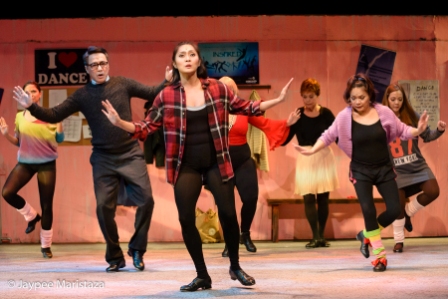 Each character as well had his own reasons for joining the class and making a point to come every Thursday to learn a couple of dance steps,  chat with dance classmates, perhaps forget something or in the case of Andy, learn about rhythm and coordination.
The steps and routines turned out to be just the background as the real focus of the play was into the relationships and interactions of the ten very different characters.
I just love how this play written by Richard Harris was adapted to our generation.  I also commend Rose Borromeo for her clever choreography.  And applauses, please, for the brilliant director Jaime del Mundo.  The three were able to pull off a tough trick of fitting in an assortment of actors to dance and sing at the same time.
As striking as the actors' movement on stage were their powerful voices.  Their hearty signing communicated their  mood, personality, and even ideas.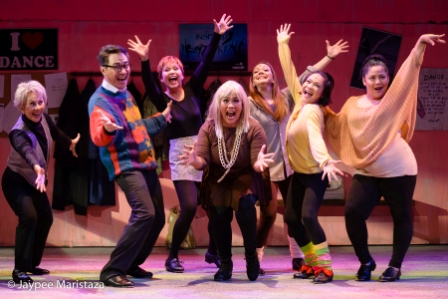 A favorite was the "Never Feel The Same Again" scene of Andy and Geoffrey (Raymund Concepcion). Their performance dazzled me as their facial expressions, gestures, and voices confirmed that they were suffering and grieving.  Up on stage, they were feeling alone and sobbing their hearts out.  Simply brilliant.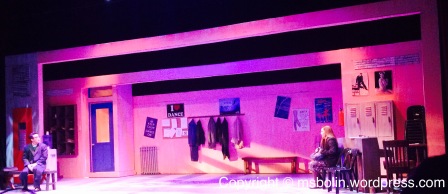 Featured actors in this lively musical comedy are veteran Repertory performers, many of whom have won theatrical awards, like Bituin Escalante, Joy Virata, Sheila Francisco, and Natalie Everett. Playing the roles of the other students are  Christine Flores, EJ Villacorta, Raymund Concepcion, Cara Barredo, David Shawn Delgado, Sarah Facuri and Angela Padilla, the instructor.
Though the title of the play was a giveaway, still the ending was worth seeing.  The eight distinct individuals with just as distinct motivations were able to step out of their comfort zones, grew into confident performers, and formed a strong bond of friendship. And their newfound self-confidence would be their guide to hopefully change their lives forever.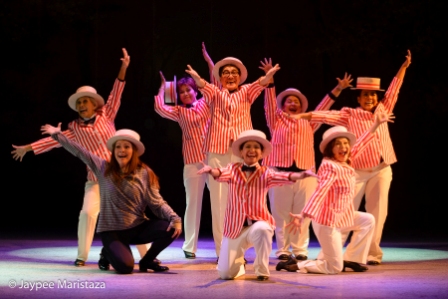 Aside from the outstanding stage actors, I was impressed with the brilliance of musical director Ejay Yatco. Repertory Philippines President and CEO Mindy Barredo Perez-Rubio's statement about the genius musician was not an understatement — watching Ejay Yatco play is a performance in itself.  He magically fused the dancing and singing into one musical play.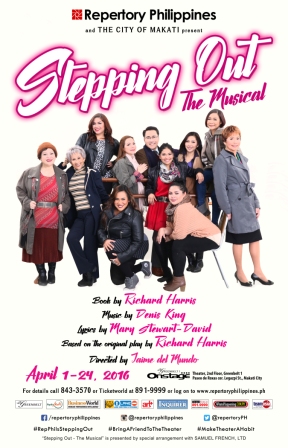 STEPPING OUT THE MUSICAL plays at the Onstage Theater in Greenbelt 1 on Paseo de Roxas from April 1 to 24 on Fridays at 8:00 pm, Saturdays at 3:30 pm and 8:00 pm, and Sundays at 3:30 pm. Tickets are available at TicketWorld (891-9999) or at the Repertory office (843-3570) For more information visit www.repertoryphiippines.ph. 
If there's one thing I truly appreciate about my more than two hours stay inside the theater, it was that nothing is more exciting and thrilling
 than live performance.  And I plan to make theater watching a social habit.  And should you prefer, too, don't forget to bring a friend.