"You can create your own lovely treasures."
Said Ms. Melody Manalaysay and I just nodded matter of factly. Call it low self-esteem but looking at her wonderful crafting creations, I cannot imagine how a housewife like me can create something beautiful like hers in just one session. I may want to believe I still can if it's a series of art workshop.
Somehow, though, looking at our work, I may say we made  pretty decent flowers and key chains for starters.
My 10-year old boy and I attended a three-hour clay play activity last Friday at The Crafters Marketplace. The charming studio is located inside the Rustan's Grocery at Shangrila-la Mall in Mandaluyong. Surely no one will miss the place because of the beautiful black and white doodling on the wall.
Through the patient guiding hands of Ms. Melody Manalaysay, this mother together with her fellow mom bloggers and their children was able to learn how to handcraft some unique accessories. All of these were made from polymer clay.
Looking at the  sample works, one may say that these are a true labor of an outstanding artist.   Aside from patience, anyone who wants to make clay art as a hobby would be needing some creativity and skills. He should also possess high attention to details and focus on finishing his goal.  And that day, I guess all mommy attendees plus their little chikitings (children) as help, were able to create their own masterpieces because they were all eyes and ears to the well-accomplished teacher.
But more than listening attentively to the instructor, it was the participants' attitude to explore new things and try something different that helped them create such beautiful polymer clay accessories.
Ms. Melody taught us through a live demonstration. She was so generous to share with us her talent and even her own things. She not only imparted tried and tested technique but also discoveries like what kind of clay to buy and not. Our seasoned trainer, by the way, is one of the leading clay artists in the country and is the artist behind the shop Crafting Time which she co-managed with her mom Lomie.
The first clay art Ms. Melody taught us was how to create a polymer clay flower.  For the materials, we were provided with the following:
Six easy steps to follow:
1. Slice the clay into thin strips. Why? To easily flatten the clay.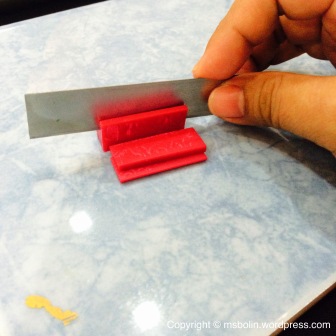 2. Flatten the clay using a rolling pin until tender.  Or one may opt to use a pasta machine for an easier and quicker way.
3. Once soft and elastic, form a log. Then divide it into several pieces (pieces should be about the same size). Each piece will become the petal of the flower. Don't forget to cut a larger piece then flatten it. This will be the base of the petals.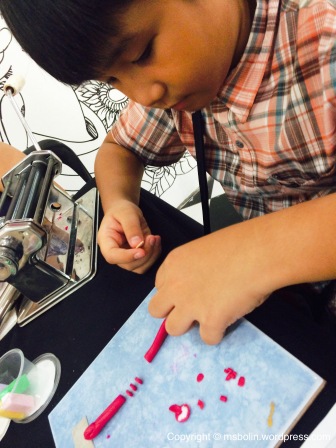 4. Flatten the small cut pieces one by one. Hold the petal and using a toothpick, gently fold the other side forming a semi rosebud. The edges should not overlap. Option: one may etch lines into the petals using a knitting thread.
5. Lay the petals one by one until the whole base is covered with them. One may opt to put another set of petals above the first layer then put a small rounded clay on the middle (preferably of a different color).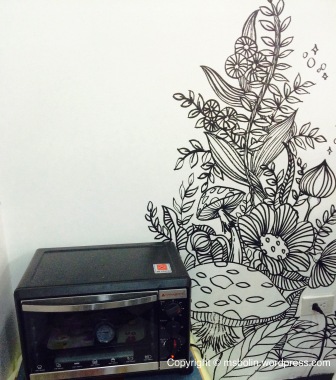 6. Put finished product on a tray then bake for about 15-20 minutes.  And tada!
Ms. Melody also shared with us some mini receptacles containing shiny-shimmering powder she called as mica powder which when patted softly on our hand-crafted accessories will add glitter or color on them.
We certainly had fun.  And I may say we all did feel good about ourselves because we were able to do something we are not familiar in the first place.  I, for one, realized that every individual has his own magic in his hands.  He should not be afraid to explore.   We have seen our first creations and all of us were convinced that we could do better than the previous ones.  So on our next attempt to create key chains, we explored.   Indeed experience is the best teacher.
While waiting for our finished products, we were led to The Crafters Marketplace stall and I tell you– everything in there are so adorable.   I would want to buy them all!  Seriously. Everything is so gorgeous from the earrings to the necklaces. All the bracelets are so lovely to look at and no one would instantly think that they are made of clay. There are also small jewelry boxes and even business card holders. I must say each is one-of-a-kind.  No two items flaunt the same design. And looking deeper in each masterpiece, very evident was the passion put into it. Each, in fact, got its own personality and story to tell.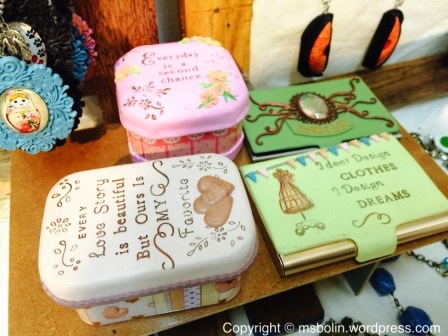 We enjoyed the short class and I am even thinking of enrolling myself and my boys in some of The Crafters Marketplace's summer art workshops. Their studio in itself is a breath of fresh air — truly pleasantly different. The owners Ms. Sunshine Asuncion-See and Ms. Alma Borruel-Ramirez are very accommodating and approachable. I came babywearing my seven-month-old boy and Ms. Alma was more than willing to babysit my little man!
So if you and your kids are still looking for something to  do this summer but do not prefer to get you sweating, enroll at The Crafters Marketplace's workshops or  Kiddie Art Camp.  Their classes are going to be real fun.   For the Clay Art activity, for instance, be prepared to roll up your sleeves and to do some kneading.  There might be times you will feel it's kinda tough, but definitely, it would be all fun!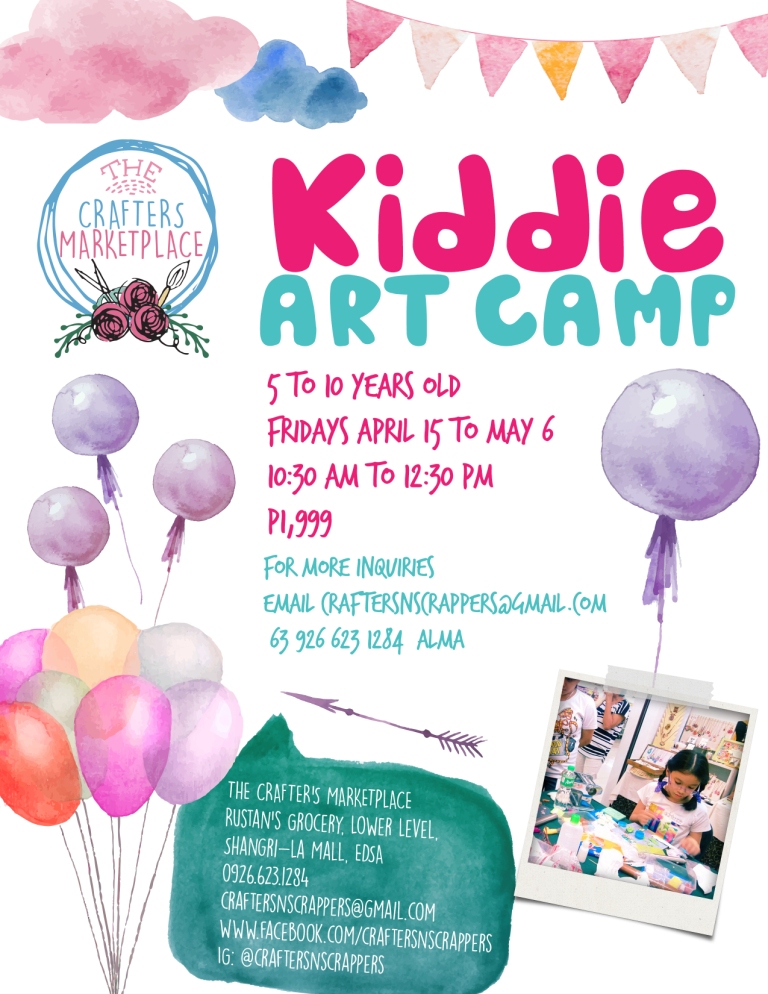 Interested?  Call The Crafters Marketplace now!
When we left the studio, my son happily told me, "I cannot believe I made something like that out of clay!" And I smiled at him.  I was thinking the same.