Project time!
I cannot remember anymore if I was the giddy kind of girl every time we had school projects before.
What I am certain is that I am more excited than my boys when they have projects for submission.
I love art and I love helping my boys with their projects. Before, I would volunteer to do the project myself but thank God for outspoken boys, they pointed out I should only help them should they ask for it.
For my grade four's HELE project, he and his classmates were required to submit a paper mache savings bank. And since I seldom leave the house because I always have to bring the little boy with me, I asked husband to buy a plastic piggy bank. It is the most common piggy bank I could ever think of which is often visible in any toy shops or even at nearby palengke.
Husband must be that busy he kept on forgetting to buy one and my 10-year old son was getting a little anxious. He respects and values deadlines.
With nothing much at home to use as our mold, husband recommended that we use one of his empty wine bottles instead. Though with some hesitations, big Bunso complied.
To make the paper savings bank , we need the following materials: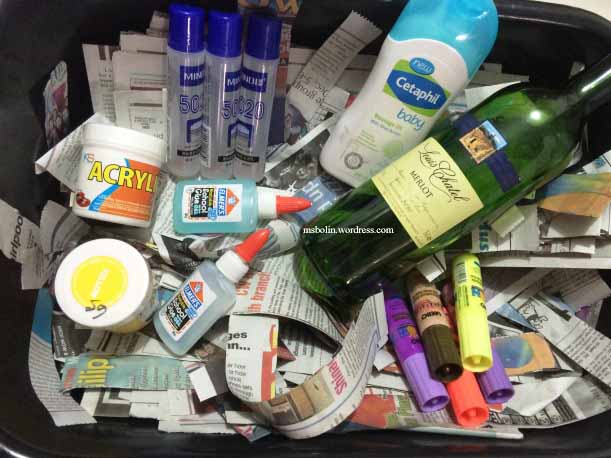 And now for the procedure:
1. Cut old newspaper into thin long strips.
2. The book says to wax the whole part of the mold. We use baby oil instead. Purpose: for the paper not to stick to the mold; otherwise, it would be difficult to separate the mold from the paper.
3. Lay the thin strips of paper over the surface of the mold until thickly covered. One should smooth it out using fingers. Purpose: to avoid creases and bumps as one needs a smooth surface for painting and decorating.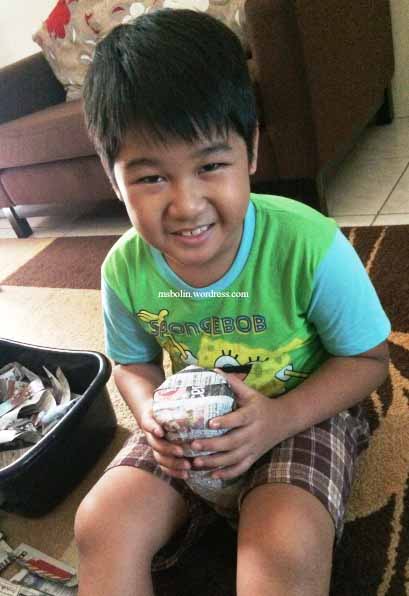 4. Once fully covered, let it dry overnight. It is very important to leave it untouched until the next day.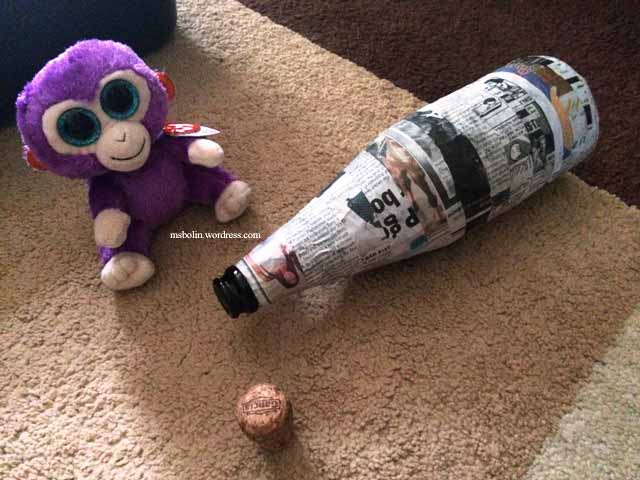 5. Once the paper is completely dry, remove it from the mold by cutting the paper bottle into half.
6. Supposedly, one needs to paste another layer of paper on the joined parts and let it dry again for about three to four hours. Instead, we use masking tape to join the parts together. That way, we need not wait for long hours to dry the paper bottle.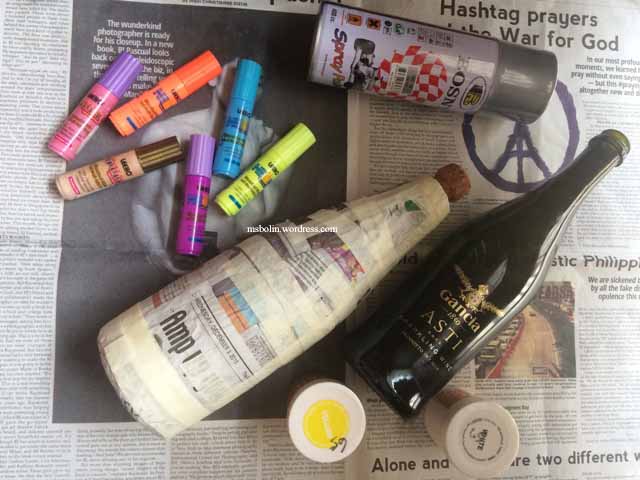 7. Use spray paint to cover the paper bottle. Wait for a few minutes for it to dry.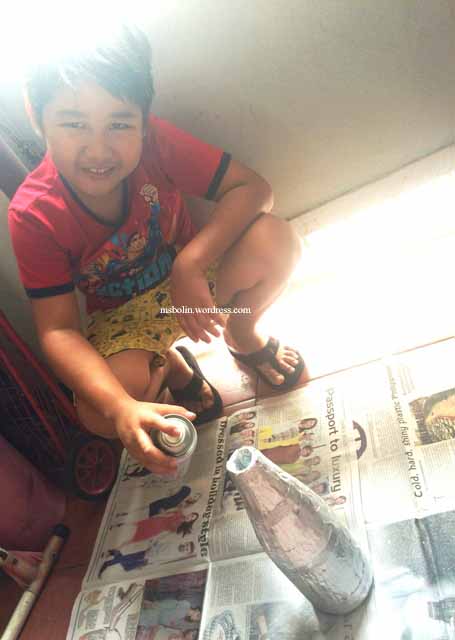 8. While waiting for the paper to dry, I asked big Bunso to draw in a piece of paper his design. We also searched for inspiration in the internet.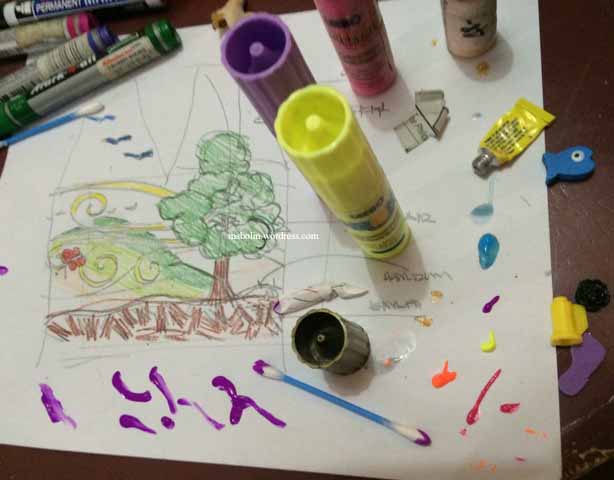 9. My son made an outline on his bottle. Soon, he use the paint to make the drawings visible and vibrant. He also made use of some of our craft materials.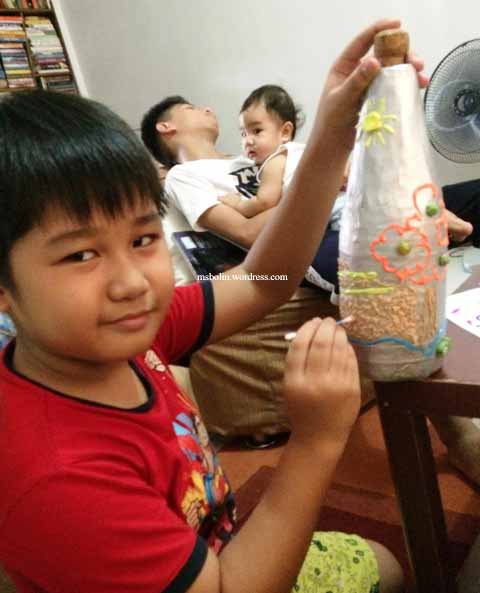 10. After painting, let the paper bottle dry overnight.
We did not attempt to make a hole for the coins. I told Big Bunso he could use the mouth of the bottle as the hole where he would slip the coins and paper bills. After placing his coins or paper bills, he could always cover the mouth again with the wine bottle cork.
Last Tuesday, Big Bunso left the small house very excited as he would want to show to his teacher his paper savings bank. And when he returned from school that same day, he relayed to me that most of his classmates were amazed. He further detailed that most of his classmates used basketball as their mold.
This weekend, Big Bunso is scheduled to make some bookmarks as a requirement for his English subject. And I know that he will not wait for Saturday anymore. He will be home by 4:15pm today and after his quick merienda, I am sure he will start with his bookmark project na.
So until next project time!