The Benefits of Maynilad Paperless Billing Program
For the nth time, we were surprised with the sudden disconnection order for our water services. But we weren't able to receive our billing nor any disconnection notice before.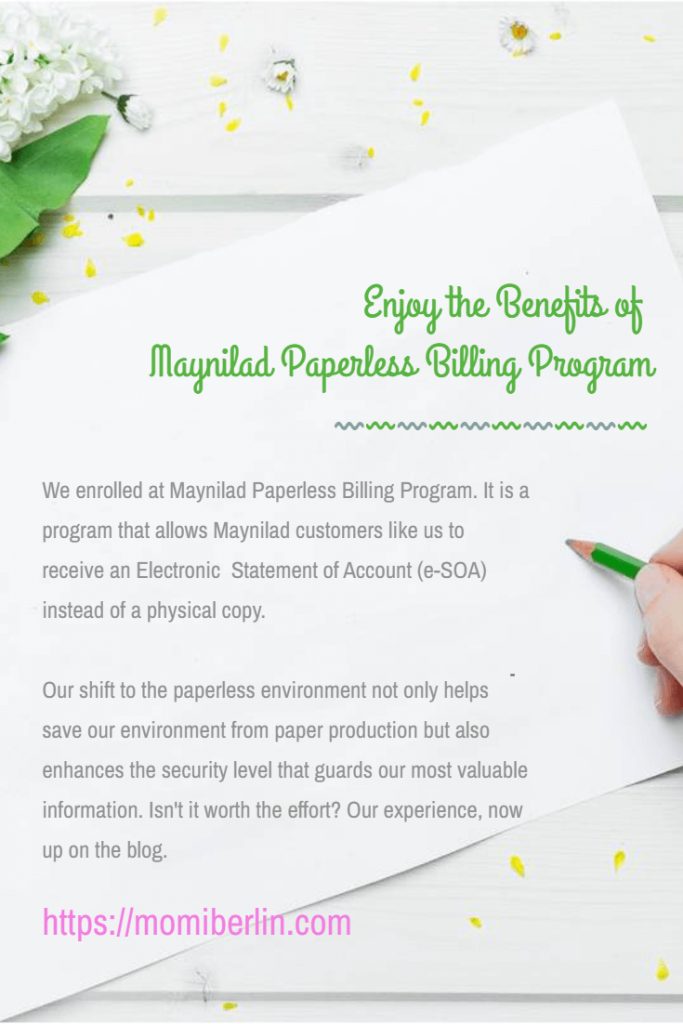 Perhaps it's because we are renting, and most likely, our Maynilad billing landed on the wrong house number. It happened many times. Our neighbor knocks on our door to hand over our billing and ask if we got theirs.
What is Maynilad Paperless Billing Program?
It is for this reason that we enrolled at Maynilad Paperless Billing Program. It is a program that allows Maynilad customers like us to receive an Electronic Statement of Account (e-SOA) instead of a physical copy.
This kind of billing doesn't disappoint us. We are able to stay organized, reduce clutter and most especially gain access to our bill at any time of the day.
For this month, we got our billing through our email address. We also got notifications and reminders through text messages. And for the first time in many years, we were able to pay our dues on time. How convenient!
Allow us to share with you the benefits of enrolling in Maynilad's Paperless Billing Program.
What are the benefits of the Maynilad Paperless Billing Program?
Now that we can acquire our statement of account (SOA) through email, text message, and through Maynilad's My Water Bill portal, it eliminates the need for any physical contact with the meter reader. This then prevents us from possible COVID-19 transmission.
Easy access to SOA
With our electronic-SOA readily available via email and text message, we have easy access to it any time and anywhere. As a result, we can monitor and even track previous e-SOAs easier and more conveniently. This convenience also helps us be conscious of our water consumption and make adjustments if we need to save even for a little.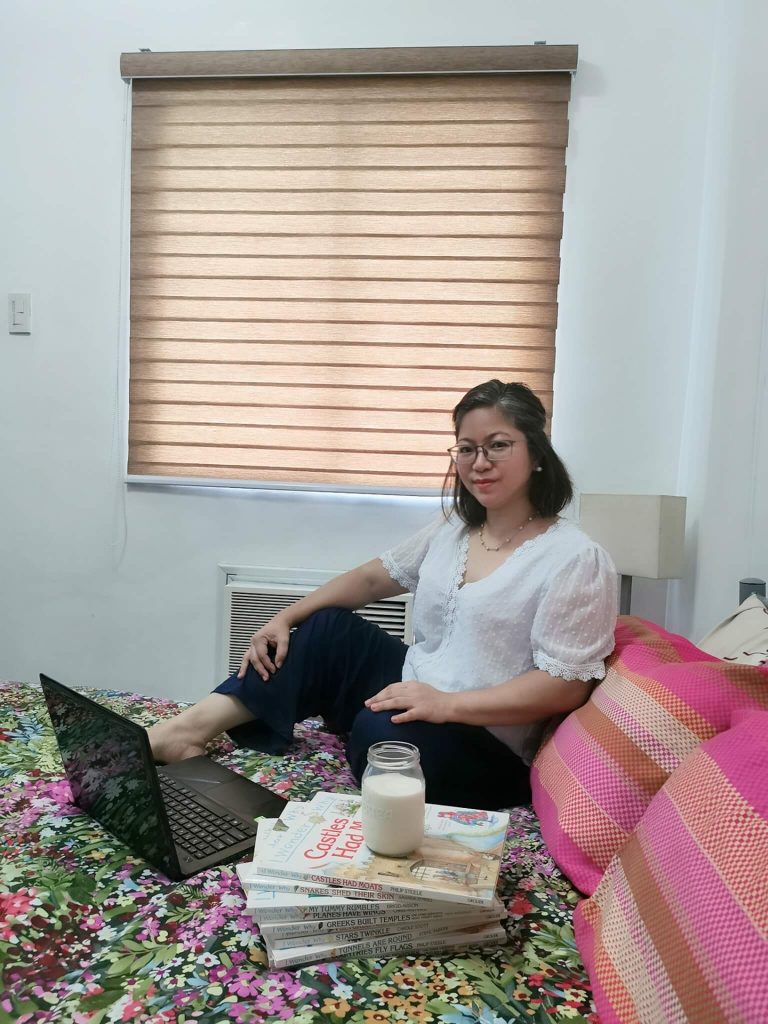 Never miss our bill
We have mentioned many times we didn't receive our water bill. Now that we have signed up at Maynilad's Paperless Billing Program, we can receive notification, view our e-SOA, and schedule our payment. We need to make sure, though, that the email address we provided is up-to-date. The notification includes our account number, the amount we need to settle, and the due date.
To add, imagine if we accidentally throw out our billing statement. It's gone forever! But with Maynilad's Paperless Billing Program, we have multiple backups. 
Reduces paper consumption
With the Maynilad's Paperless Billing Program, imagine the remarkable decrease in the amount of paper used for printing! And more than reducing paper production, a paperless environment may also mean less energy consumption and a healthier environment for us.
Secure sensitive information
Before, there were a lot of times our billing didn't reach our house. It is most likely other people may see our details and water consumption. But with our billing safely sent via our mailbox, we are assured of data security and privacy. Also, all data and information collected from us during enrollment are subject to Maynilad's Data Privacy Policy. Visit the link to know more about the privacy policy. 
Who can enroll in Maynilad's Paperless Billing Program?
No worries if you are like us who only rent a place. We can register as an occupant, or the house' owner may also enroll in the program. Only one enrollee per account will be allowed, though.
To enroll, you just need to create a My Water Bill portal account first as this is where you can access the e-SOA, including the bills for the past 12 months.
Here are the steps to create a My Water Bill portal account:
Enter your Contract Account Number (CAN).
Nominate a password (The password should be between 6 to 20 characters with at least one (1) uppercase and lowercase letter, and one (1) numeric digit).
Set security questions to secure your account.
Select your personal image.
Input your contact information.
Once you have a portal account, you can now enroll to Maynilad's Paperless Billing portal by typing MAYNILAD<space>ON<space>PAPERLESS<space>CONTRACT ACCOUNT NUMBER and sending it to 09191626000.
We need to make sure, though, that the mobile number we used for the enrollment is the same mobile number registered in the My Water Bill online portal account.
The activation will take effect on the following reading schedule after our application has been approved. This means that we will start receiving the e-SOA in the next billing cycle or one month after our application is approved. Again, once our application for the Maynilad Paperless Billing Program is activated, we will not receive a hard copy of our water bill anymore.
Enjoy the benefits of the Maynilad Paperless Billing Program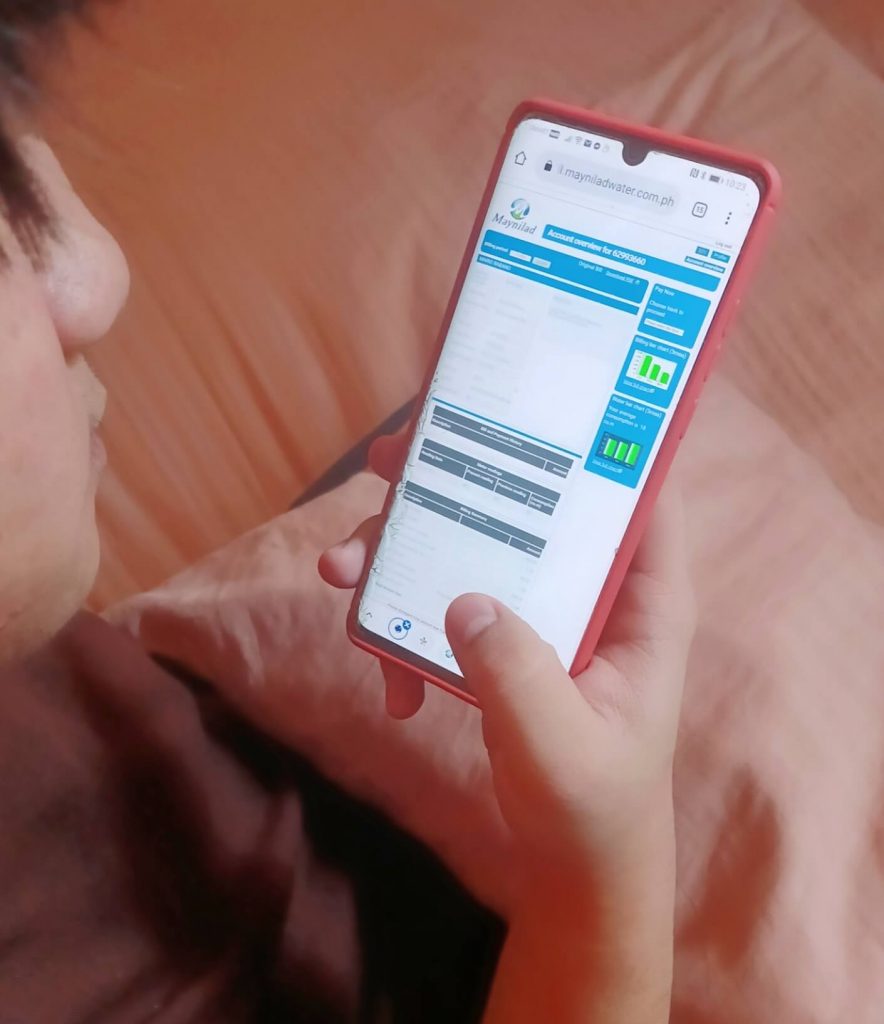 Our shift to the paperless environment not only helps save our environment from paper production but also enhances the security level that guards our most valuable information. Isn't it worth the effort?
Go paperless now. Enrol at the Maynilad Paperless Billing Program now.