AQUOS celebrates 20th anniversary and continues to be a loyal companion for life.
SHARP recently launched in the Philippines its new flagship Audio Visual products, AQUOS THE SCENES 8K, in time with the company's celebration of its 20th anniversary. This latest state-of-the-art technology provides new dimensions of immersive experience in everyone's living space. The AQUOS THE SCENES 8K series debuts in two product categories: TV and Soundbar.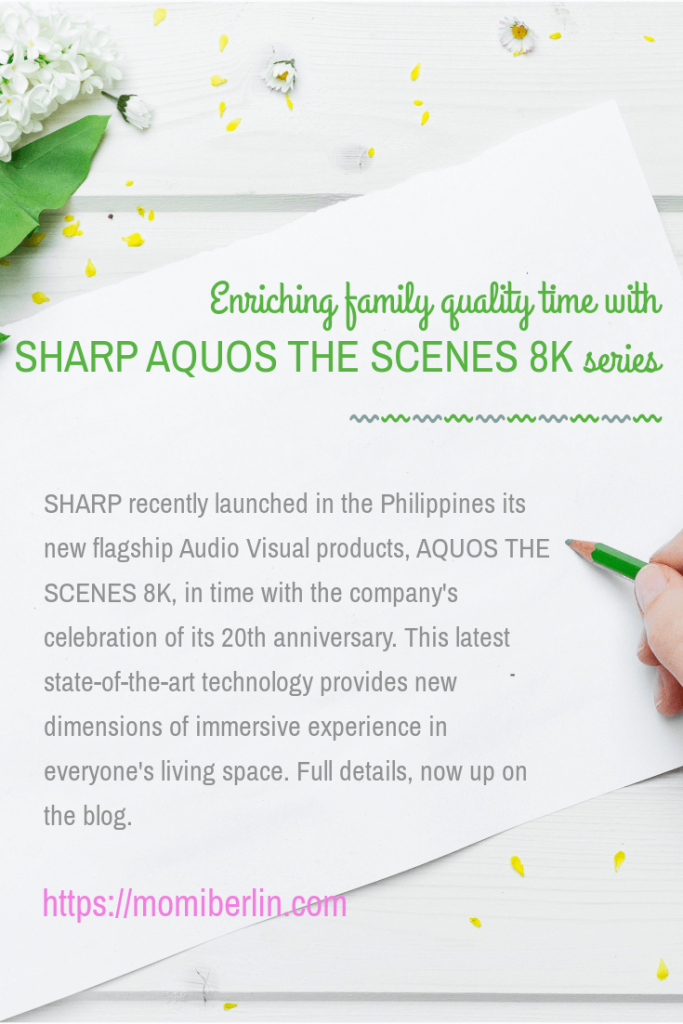 AQUOS is an original coined word, combining AQUA and QUALITY. It has been existing since 2001 as the symbol of 'New standard home used TV for 21st century.' In 2000, SHARP declared grand resolution to change all CRT TVs in Japan to LCD TVs in 5years. After 20 years, TVs all around the world are replaced with LCD TV. It was also during that time when Sharp launched many world's first TVs and achieved 50 million units accumulated sales in 2020.
Sharp Philippines President and General Manager Kazuo Kito said in a statement that "Sharp sets its business vision as 'changing the World with 8K+5G.' We aim to continuously introduce new services and products that meet the expectations of our customers. And our move to introduce 8K TV is a milestone, making Sharp set the new standard for home entertainment after COVID-19 century.
Mr. Kito recalled that when they first introduced the AQUOS brand LCD TV in 2001, it brought a new lifestyle to every customer's living space. After all, it was the start when everyone experienced for the first time a thin and sophisticated television design. "SHARP promises AQUOS THE SCENES 8K will bring the next level of immersive experience to customers' living room through its overwhelming images and sound. 
As social distancing required individuals to go out less, it then pushes families to enjoy more quality time with their members. And the AQUOS THE SCENES 8K will definitely enrich everyone's life scenes with their family at home. The unit creates an exciting experience of overwhelming images and sound effects that changes every home into a theatre. A few notable features of AQUOS THE SCENES 8K are Home-cinema scene, Music-live scene, and Latergram scene. To add, the Android TVTM gives everyone a smarter, easier way to get more from the TV.
AQUOS THE SCENES 8K expands its lineup to TV (DW1X series, 60-/70-inch) and Soundbar (C22CX1 series). Both are designed under the same design concept: Neo-Minimalism. The designers think minimalism feels like 'something is missing from the decor and add 'Thoughtful design for everyone on top of Minimalist beauty. 
Find out more about Neo Minimalist Design
AQUOS THE SCENES 8K TV: DW1X series features first made-in-Japan, Deep Chroma Display Pro 8K. Customers can feel the experience of traveling around the World from home with an increasing 8K videos provided on YouTube. Moreover, your movie experience will be further elevated to the next level with the new HDR Enhanced+ (patent pending). DW1X series gives you the feeling of being there. Furthermore, the DW1X series will feature various intelligent functions that enrich customers' lives more fun and convenient.
AQUOS THE SCENES Soundbar: C22CX1 series features OPSODIS technology, which creates 360-degree immersive sound from sources such as cinema, TV, and video games. With the simple set-up of a soundbar and sub-woofer, it provides realistic reproduction of any soundscape. Without the need for rear speakers, you will experience scenes such as a helicopter in battle hovering around you, with the surrounding sound coming from above, below, left and right, and from behind you. This uniqueness won the 'Innovation Award' from VGP 2021 in Japan. The sophisticated design also won Germany's 2021 Red dot Award and 2021 IF Design Award.
AQUOS THE SCENES 8K TV: DW1X series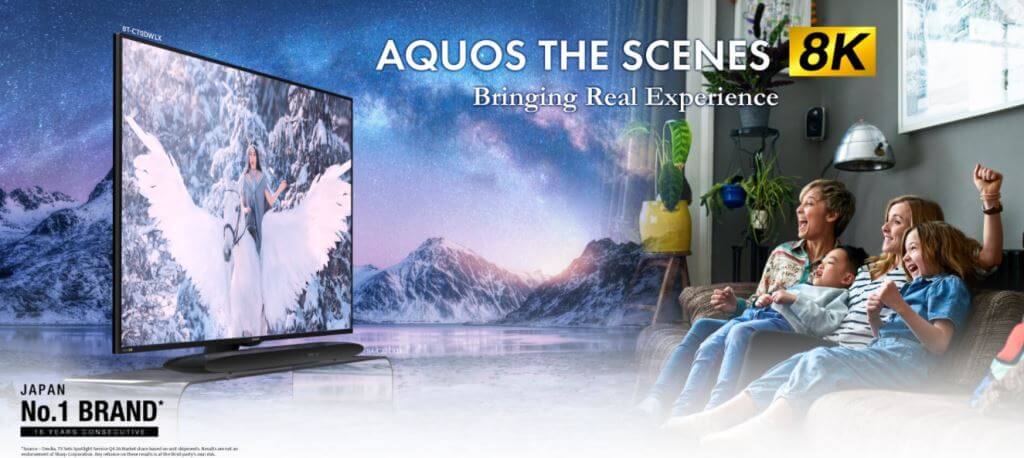 Picture quality that gives you the feeling of being there
As the flagship model in the AQUOS lineup, the DW1 is packed with key features for families seeking premium visual experiences at homes. This model provides 8K Ultra-High Definition (8K UHD) resolution and is available in 60- and 70-inch options.
Combined with the newly developed Deep Chroma Display Pro and Z2 Revelation Processor, DW1 will turn your living room into a theater room. 'My team in Japan collaborates with Japan R&D Malaysia R&D team. By matching Japan's best technology over local needs' said Shigeru Kojima, Head of ASEAN, Taiwan, MEA & Oceania TV R&D.
Deep Chroma Display Pro
Achieves a color gamut that exceeds 100%* of the digital cinema color gamut standard and 167% of the screen brightness compared to the conventional model. In addition, the Colour area is widened by two elements.
HDR Enhanced+ powered by Z2 Revelation Processor
Sharp's proprietary processing (patent pending) allows you to experience realistic and deep images.
Nowadays, content brightness is diversified, but it does not always display the contrast comfortably. HDR Enhanced+ optimizes middle tones, where people can easily perceive the difference, by maximizing the amount of light by detecting darker and brighter areas and driving its backlight by areas.
*Effective not only for HDR but also for SDR (non-HDR).
8K contents on YouTube
You can enjoy the beautiful journey around the World through an 8K large screen. YouTube is one of the streaming video platforms which provides 8K contents.
DW1X series adopts the latest AV1 format adopted for their 8K streaming.
AQUOS 8K Contents Downloader 
The app allows customers to enhance the entertainment of 8K, only for AQUOS THE SCENES 8K. With this app, 8K videos*3 shot by smartphone is wirelessly shared and displayed to DW1X via Google Drive*4 with ease. Also, you can share 8K photos/videos from outside of your home.
By shooting and uploading data to Google Drive from a smartphone, 8K photos and videos are downloaded*4 to inserted USB pen drive of the TV*5, without losing resolution. After downloading, TV presents your family photo album as all the data are kept in the USB.  
SHARP COCORO ALBUM
After the scheduled running change, more fun features to enjoy your 8K photos are coming to AQUOS THE SCENES 8K TV.
SHARP COCORO ALBUM performs AI recognition and automatic classification of the family members, places, and time to create memory folders. You can share fun memories with your family in the living room with the large screen.
Entertainment features 
Android TV makes it easier to get more from your TV. Choose from 400,000+ movies and shows from across streaming services. Ask Google to control your TV, get recommendations of what to watch, dim the lights, and more with your voice. Cast photos, videos, and music from smart devices to your TV with Chromecast built-in™.
Also, it helps to get your job done by mirroring work PC to your living room TV. Google Duo supports remote meetings with friends. All VOD services are on your hands, YouTube, Netflix, Amazon Prime, Disney+, and more VODs are available. 
AQUOS THE SCENES SOUNDBAR: C22CX1series
 The sound quality that gives you the feeling of being there
The C22CX1 series soundbar home theatre system uses OPSODIS technology which accurately simulates many three-dimensional audio formats commonly used in TV, cinema, and gaming. OPSODIS simulates how humans perceive sound in a natural environment. The unique stereophonic reproduction technology controls the time difference of the sound, allowing the listener to experience a natural stereophonic sound that reaches the left and right ears directly. Customers can further enhance the immersive experience by connecting this soundbar to AQUOS THE SCENES 8K TV.
'OPSODIS can reproduce 360-degree immersive sound even without special sources nor rear speakers,' said Shigeru Okubo, Head of Audio R&D. 'By simulating how humans perceive sound and applying original speaker layout theory, the audience will not sense the existence of speakers. Instead, the feeling of being on the scene is achieved.
 OPSODIS is a three-dimensional audio technology jointly developed by Kajima Corporation and the University of Southampton. Kajima Technical Research Institute has a wealth of experience in architectural acoustics, such as concert halls and music studios. The Institute of Sound and Vibration Research at the University of Southampton is a world leader in acoustics and conducts cutting-edge research in many areas of the field.
Momi Berlin Directory
SHARP AQUOS THE SCENES 8K series