The Maya Kitchen-tested Noche Buena Recipes
It is Christmas in a few more weeks. My mom and I are planning our Noche Buena already, listing possible handa and the ingredients we will be needing.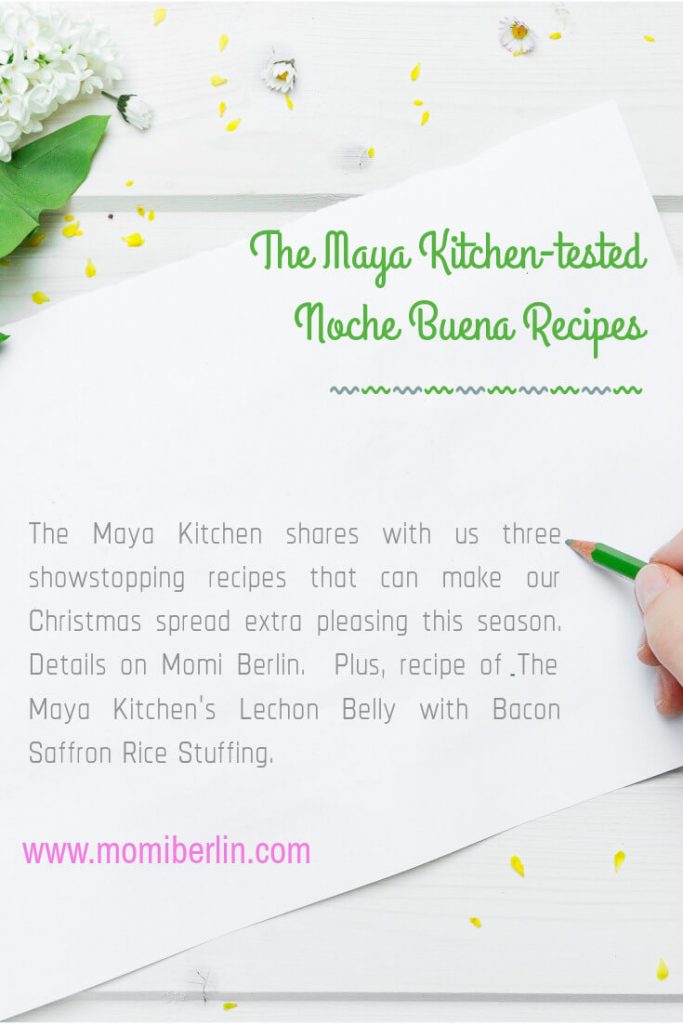 Timely that our forever reliable The Maya Kitchen shares with us three showstopping recipes that can make our Christmas spread extra pleasing this season.  
Marseille Seafood Soup
We plan to serve Marseille Seafood Soup to start the Noche Buena on a sweet note.  This light and flavorful French soup is versatile, that we can tweak it with any seafood the boys may want. Love the Maya Kitchen's take, which comes out with a cheery ochre color from the saffron powder.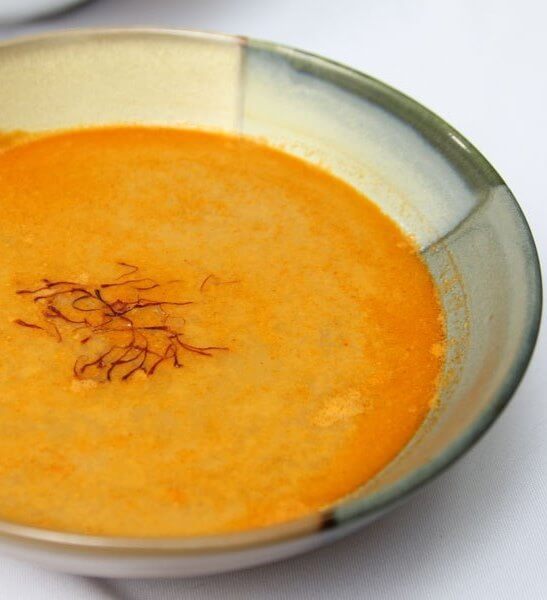 Lechon Belly with Bacon Saffron Rice Stuffing
Mom and I both agreed we would be serving lechon this year. However, ordering a whole lechon seems too much for a single household; thus we are thinking of replicating the Lechon Belly with Bacon Saffron Rice Stuffing of The Maya Kitchen. Maya Kitchen's take combines the irresistible crispiness of lechon and the juicy tenderness of pork belly. Love, too, that there are some earthy and sweet saffron rice stuffing surprise to make the lechon extra irresistible.
INGREDIENTS
2.5-3 kilos boneless whole pork belly slab
2-3 tablespoons rock salt, enough for rubbing
2 tablespoons garlic, finely chopped
1 teaspoon ground black pepper
1 ½ tablespoons freshly pan roasted black peppercorns, crushed
Rice Stuffing:
¼ cup olive oil
200 grams picnic bacon, cut into small cubes
2 pieces medium-sized onions, finely chopped
1 tablespoon garlic, finely chopped
5 cups cooked rice (sticky or Japanese rice)
2-3 small sachets saffron powder
1 teaspoon salt
2 tablespoons curly parsley, finely chopped
zest of 1 lemon
annatto oil (heat up ¼ cup annatto seeds in 1/3 cup olive oil)
INSTRUCTIONS
In a large tray, lay flat the pork belly skin side down then prick or cut all the meat portion using the tip of a sharp knife then season or rub the meat on both sides with rock salt, garlic, ground pepper and freshly pan roasted crushed whole black peppercorns.
Place and chill in the refrigerator 1 to 2 hours without cover. Remove seasoned belly from the refrigerator and sew up both ends of the belly using an over-sized needle with the use of butcher's twine or any kitchen twine until it looks like a body of a "lechon".
Place again inside the refrigerator until ready for stuffing.
To make rice stuffing:
Heat oil in a pan and pan fry bacon until golden brown.
Add in onions and garlic and pan and sauté until aromatic.
Toss in cooked rice and give a few stir until the rice is fully covered with the sautéed ingredients.
Season with saffron powder, salt, parsley and zest of lemon.
Continue mixing the rice until the lemon is aromatic.
Turn off heat and cool the rice. Set aside for later use.
To assemble: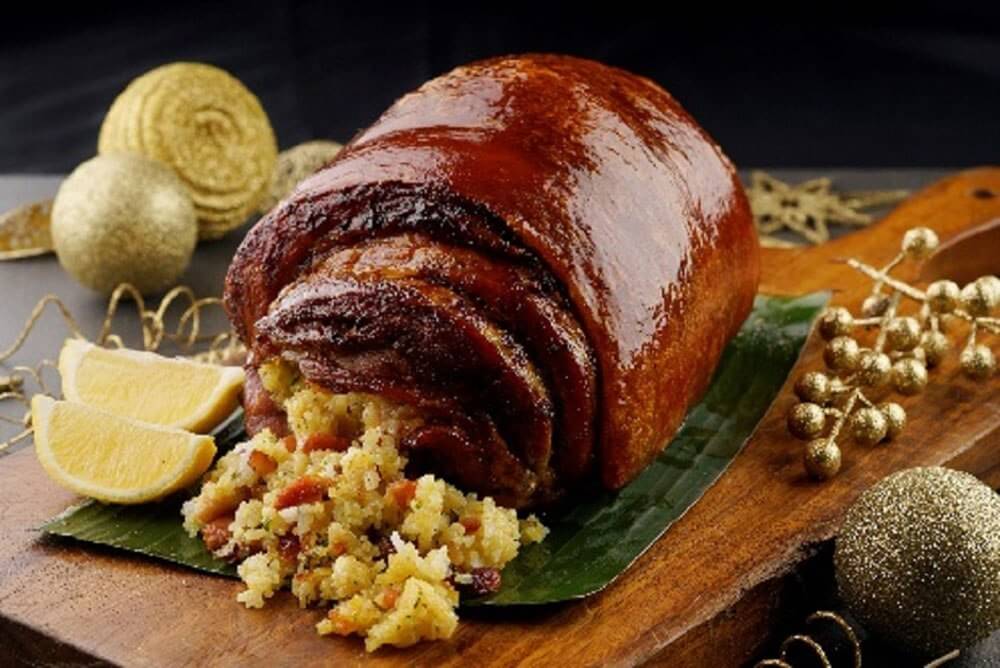 Get the sewn pork belly and stuffed with the prepared bacon saffron rice stuffing.
Enclose both ends of the stuffed pork belly with foil and cover the entire top of the pork belly with foil.
Arrange in a roasting pan and roast in a preheated oven 350°F/177°C for about an hour then turn up heat to 375°F/190°C removing the foil on both ends, every 30 minutes' brush belly with prepared annatto oil.
After an hour turn up heat again to 400°F/204°C and continue roasting until the skin of the pork belly gives a crackling sound when knocked.
Remove belly lechon from the oven and rest for 10 to 15 minutes before chopping.
RECIPE NOTES
Yield: 10-15 servings
Mini Bibingka
We love bibingka and glad the boys got used to us having bibingka at home. To cap off our Noche Buena, the Mini Bibingka of The Maya Kitchen is undoubtedly perfect. But instead of the traditional ones, we will be a little adventurous in the kitchen and make our bibingka with ube, buko pandan, coffee, or chocolate flavors. Topping it with leche flan for that sweet, creamy finish and even a slice of salted egg for that savory kick are added options.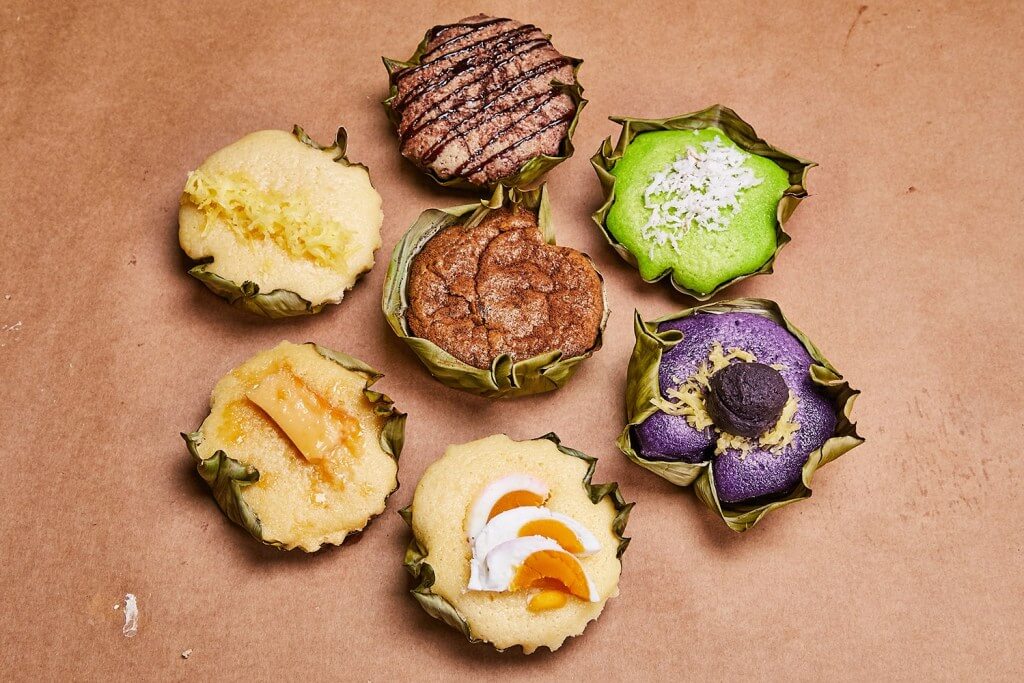 Looking at our initial list, we may say that our Noche Buena spread will be a bit more meaningful. We haven't tried cooking Lechon Belly, for one, so the preparation would indeed be quite an experience. But more than the new experience, it is once again joining my mom in the kitchen that will make this Noche Buena preparation worth everything. And it would be a double treat for this mother if her children will join in the fun, too, in the kitchen.
Momi Berlin Directory