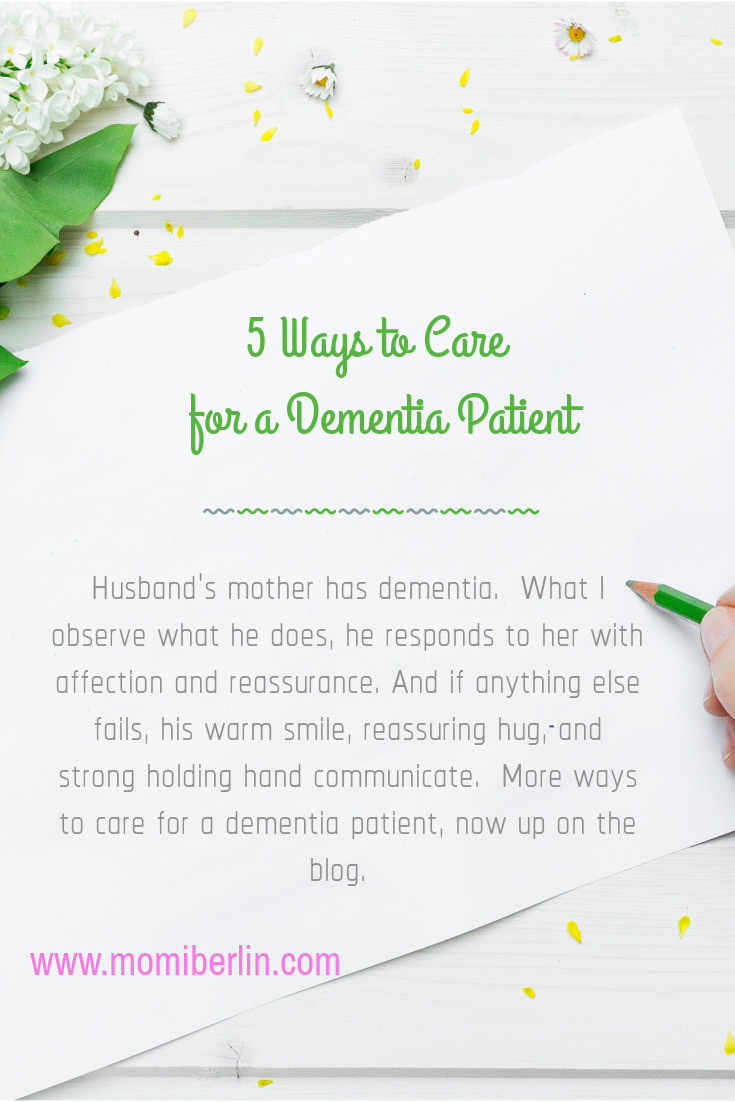 You went to the office and did your usual stuff.  When you got home, the food on the table was still there, untouched.  You called your aging parent, and there was no response.  After a few minutes, your neighbor knocked on your door with your father by his side.  He saw your parent wandering around the park, too clueless about the things around him.
You scheduled a doctor's appointment, and after a series of tests, you learned your parent has dementia.
Dementia is not a specific disease.   It is a collection of symptoms associated with a decline in memory.  Because that person's thinking skill is severe enough, it reduces his ability to perform even the most mundane of tasks.
Caring for someone with dementia can be both physically and mentally exhausting. If unmanaged, you, too, may feel stressed and even depressed.  After all, you also have your own needs, which you and others may overlook when you are caring for someone else.
Momi Berlin prepares a few essential pointers in caring for a person with dementia.
Ask for help
Even if you are considered your peer's Superman, you still are a lone person.  Ask help if you need it.   Perhaps you could request your siblings to do their part as well if the person with dementia is your parent.  But if you do not have their support, you may look for communities willing to give their services.  There are many voluntary organizations or communities sending support for families and individuals with dementia.  Sometimes, more than the need for an extra hand, it is the moral support that you need from them.
Remember, though, bottling up your concerns will all the more make things and even your feelings worse. Confront it by again, asking help.
Prioritize and know what's important
Aside from caring for your loved one with dementia, you still have your own needs to tend to.  Put first the things you consider the most important.  If you still have the energy and time for the other stuff, give them time.  But also remember to take a rest and breathe.
You must know your limits.  After all, you are only one person, and there is only so much that you can do.
If health and grooming are your priority for your loved one with dementia, then you may opt to get a nurse who could look after him.  The caregiver will feed, bathe, and put him to sleep.
If you think the most important thing is to be by his side to remind him of his family continually, then you might consider leaving your corporate job.  Start a home-based business so you could get to spend more time with your loved one.
Accommodate the behavior, not control it
Remember, a person with dementia has a brain disorder that shapes him to who he has become.  If you try to control his behavior, there will only be resistance.
Accommodate the behavior.  There are episodes wherein a person with dementia cannot remember his present, but he has memories of his past.  He used to sleep on the floor before, thus prefers to do so every night.  Do not argue with him.  Let him sleep on the floor, but provide a mat or put the mattress on the floor.  That way, he could at least have a more comfortable sleep.
What you have control over is your behavior.  By changing the way you behave, it may somehow result in a change in your loved one's behavior.
Allow them to be productive
The behavior has a purpose.  Individuals with dementia may suddenly grab his bag and pack his things.  You may wonder why.   He may not know either.  It is most likely he wants to be productive.
His brain functions may be failing him, but he still has hands to use.  Give him easy tasks like folding laundry or making the bed.  Give him that feeling he is still needed and useful.
Communicate and connect
Most patients with dementia may not remember what happened 30 minutes ago.  But they can vividly remember the first 30 years of their lives.  In communicating then, avoid asking questions what he did yesterday or just a minute ago.
Talk about the beautiful memories of the past instead.  Use the names of people and places; avoid pronouns as those may bring confusion. Introduce yourself and again remind him of who he is in your life.
Use facial expressions and let your gestures talk as well.  Most importantly, listen.  Listen with your ears, eyes, and heart. Be attentive to his responses that may go beyond words.  Respond with affection and reassurance. If everything else fails, let the warm smile, a reassuring hug, or strong holding hands communicate and respond.
When your loved one has dementia
Caring for someone with dementia entails compassion, patience, and understanding.  Those, though, aren't addressed only to the loved one who has dementia.  You must give those to yourself as well.  As you provide plenty of reassurance and comfort – both in words and in touch – to a loved one with dementia, it is also essential to care for yourself. Remember that you are only one person and you cannot do everything.  Do not be too hard on yourself, especially about issues you can't manage.
As your patient's condition progresses, his needs change, too. Learn to adjust and accept those changes.  It may be challenging to see your loved one struggling, and all the more that you need to remain strong.  Focus on what he can still do and not on things he is having difficulty with.  Remember, you can't control his behaviors as he may all the more be stubborn.  What you have to control is your behavior.  By changing the way you accommodate, accept, and adjust,   you are also influencing a change in your loved one's behavior.  But if all else fails, perhaps you may both find comfort in each other's hug, touch or smile.
* My husband's mother has dementia.  Husband is so sad that for more than a month now, he can't see and visit his mom at the province because of the extended Enhanced Community Quarantine.