Maintain Fidelity in Marriage
Have you noticed how an old couple look at each other while walking hand in hand along a beach or a busy mall? They seem to share a secret. Their years of ups and downs made them that way. Time has tested their relationship. They have proven everyone that they are capable of keeping their vows toward God and each other.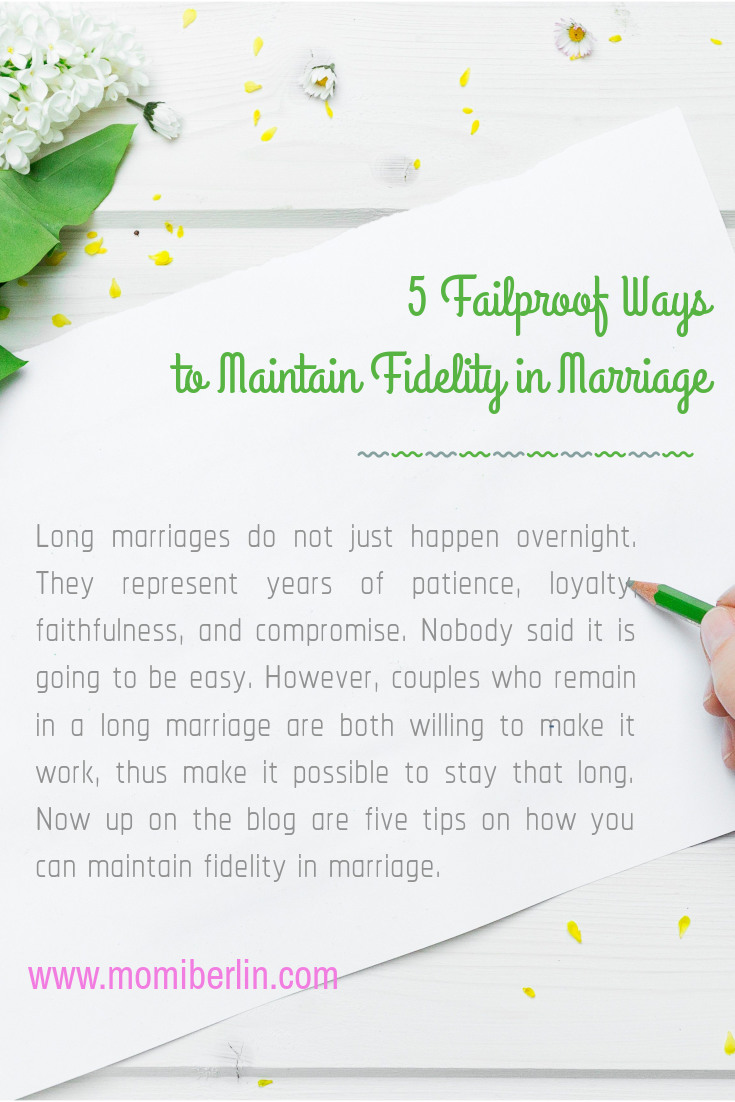 Long marriages do not just happen overnight. They represent years of patience, loyalty, faithfulness, and compromise. Nobody said it is easy. However, couples who remain in a long marriage are both willing to make it work, thus make it possible to stay that long. Momi Berlin shares five tips on how you can maintain fidelity in marriage.
Set your mind
Fidelity is being faithful to a person, cause, or belief. It is demonstrated by continuing loyalty and support. It is the foundation of any union. Without it, the marriage fails.
When you set your heart and mind that you will remain faithful, it will happen. That is the law of attraction. Do not think and act like you are still single. You now have a partner you need to consider in most of your decisions
Trust your spouse
Trust is essential in any relationship. A relationship without trust is like a vehicle without ignition switch – you can stay all you want, but you are going nowhere.
Nurture your relationship
The danger when it comes to marriage is that sometimes, we lose the intimacy because of too much familiarity at home. Be intimate with your spouse as soon as the opportunity arises. Loving gestures like hugs, kisses, and sexual affection are all vital in nurturing your relationship. Go on a "kid-free" date or a short getaway. It will not hurt if you surprise each other. Also, know your partner's love language, and tell your companion how much you love him or her as often as you can.
Stay away from temptation
Temptation itself is not a sin. What makes it one is when you dive into its lure. Before you even fall for it, leave! Cheating is a gradual process. If you do not guard yourself, you will eventually make that mistake. Think of its consequences and risks to your loved ones.
Communicate often
We are not mind-readers. Talk to your mate when there is something wrong.  You just cannot assume that your partner already knows the reason you are upset. Communication is vital in every relationship. Discuss it with your partner, no matter how small you think it is.
Maintain Fidelity in Marriage
A successful marriage is tough but achievable. Your love for each other is what made you decide to be tied together, forever, in the first place. Take care of that love; do what is right by prioritizing, respecting, and staying faithful to your spouse. Following these steps will help you and your spouse obtain a happy and blissful union together.
Also, it helps that you always remind yourself of your commitment. Your wedding ring is a beautiful reminder of your constant dedication to your relationship. Moreover, wearing your ring means you acknowledge your commitment publicly. Thus, it helps if your marriage band is made of quality material that can last a lifetime. Just like the wedding rings from Zöey, the Philippines most liked Jewelry shop; theirs are beyond the elegant design that truly speak of love.
Symbol of love
Every time I look at our One Stone Inlay ring, I could very well remember our vows 18 years ago.  Though this plain titanium ring displays simplicity, it, on the other hand, symbolizes our eternal love and compassion.  The center stone defines the single, yet the most important reason for our union – Love.  Its anti-rust, anti-fade, and nickel free properties all the more make our ring last a lifetime just like the love we have for each other.
Well, 18 years may still be a short time to attest our dedication to this family, but what we are sure of is this – our feelings continue to grow deeper over the years. We know because every day, we strive to do things that move us to love, and everything follows.
Momi Berlin Directory
Zöey Website | Facebook | Instagram