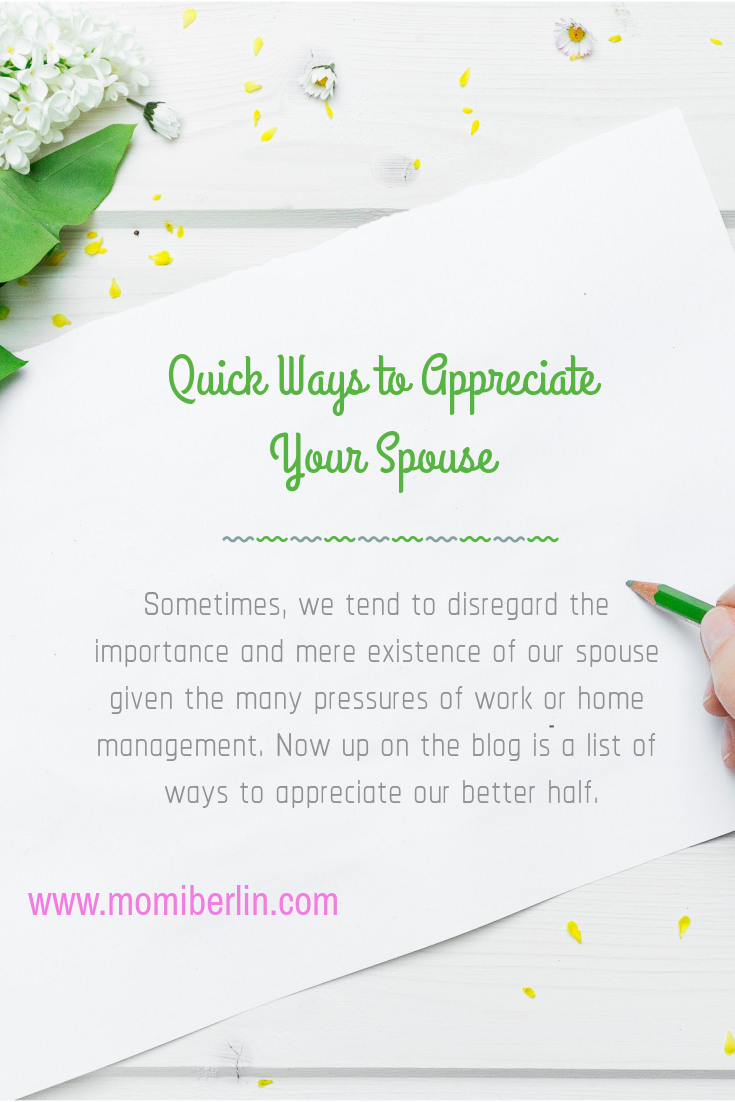 You've been married for more than 17 years now and it feels like you're living together just for the sake of the children.  Or maybe after being in the relationship for so long, you've just got the hang of it. Perhaps it's time to look at your spouse again and simply appreciate him/her. Sometimes, we tend to disregard their importance and mere existence given the many pressures of work and home management. Momi Berlin gives you a listing on how to show appreciation to your better half.
Never belittle your spouse
Never put your partner down especially in front of your kids.  A parent – or the mother, for instance – left at home, is most likely the one to discipline the children too.  Belittling her in front of your kids would make the children doubt their mother's authority.
Verbalize your appreciation
Saying "thank you" aside from "I love you" is a nice way to show your appreciation to your partner.  Though you've been together for years, verbalizing your sincerest gratitude will surely be valued. Communicate your gratitude clearly rather than let them assume they know it already.
Exercise consideration
You have seen your partner a little tired. Perhaps you could take charge of the babysitting even for a few hours. That short time to look after the baby is indeed a big help already.
The same is true with making decisions – big or small.  Always consider your spouse in every decision to make. Let your wife, for example, know she is part of your life by sharing with her your decisions about the company business and even your schedules. That shows you care and respect her.
Show courtesy
Pretty strange that we could be the most courteous person to friends and even strangers.  But we cannot extend the same courtesy to our partner. We treat them instead with rudeness, often giving reasons that we are tired or lacking sleep.
Another classic example would be not paying attention to your partner during a conversation.  Instead of listening to his/her stories, your eyes are all fixed to your gadget and mobile phone.
Be sensitive
There are certain house rules that need not be reiterated.   Simple things like tidying the bed, putting the towel in proper places are a big help.  Sometimes, these small favors are what make living harmonious and maintain peace inside our own household.
Respect boundaries
Though they say you are one after marriage, there is still personal stuff you would rather want to keep for yourself. Checking on cell phones, wallets, and bags is one practice you should avoid doing.  Surely you also would want the same respect to be extended to you.
Protect your partner
There are some plights your partner faces.  Support him/her rather than be another enemy.  All the more that the third party would have the guts to bully your loved one because he sees you not supporting your spouse.   Never compromise your partner's physical or emotional well-being.
Appreciate your spouse
In any marriage, it is but sensible to focus on the good attributes of our spouse.  That way, we fall more in love with them. Let us gently guide them in realizing their flaws if there's any, and together let us live harmoniously.  Most importantly, it wouldn't hurt if we look at them lovingly and appreciate their efforts. Sometimes, too many responsibilities make us too preoccupied.  Remember, we got into the relationship in the first place because we appreciated even the simplest things they did for us before. Now that we have children, it is but proper to show appreciation.  Now how about start by saying "thank you" when you return home?