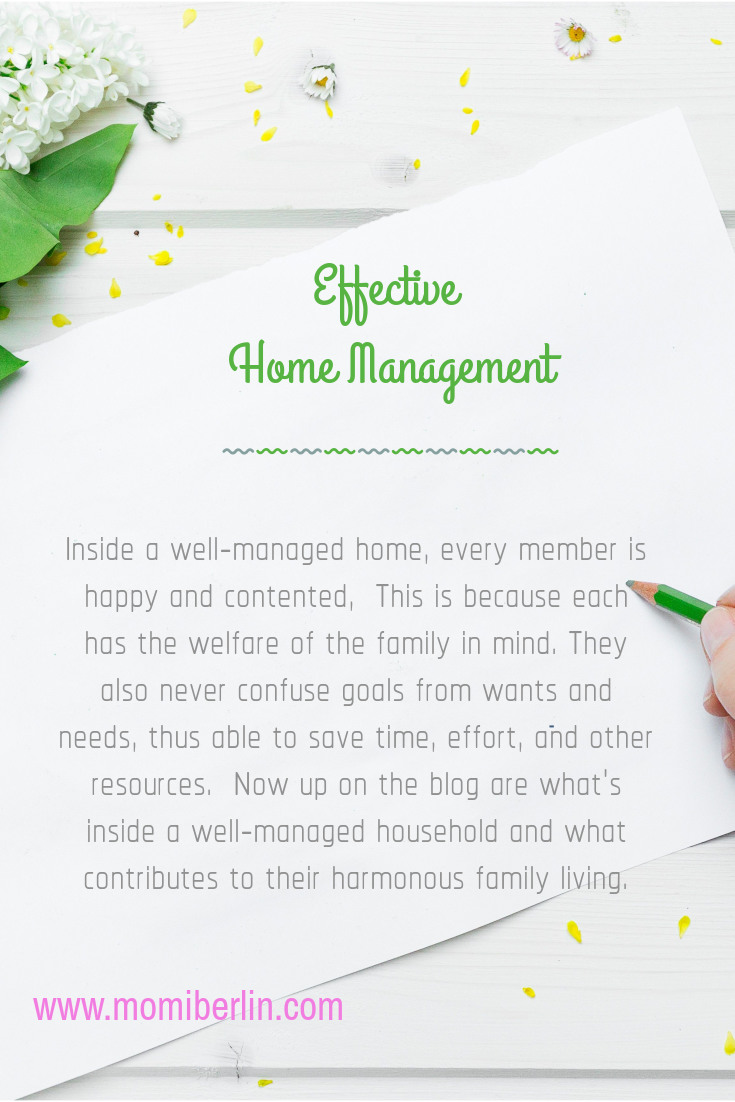 Managing the family's resources and household is a big responsibility for a mother to handle, especially if she also works to bring food to the table.  However, with the help of family members, such a task can be effectively carried out with ease and fun.
What is effective home management?
A well-managed home has family members who cooperate and support each other.  They use their resources wisely to finish tasks on time. It has a parent who acts as a supervisor to oversee that the family's health, safety, and good working habits are practiced for effective results.  Its family members cooperate and contribute to the group's common goal.
Inside a well-managed home, every member is happy and satisfied. It is because each has the welfare of the family in mind.  They also never confuse goals from wants and needs, thus able to save time, effort, money, and other resources. Let us take a peek inside a well-managed household and check what contributes to their harmonious family living.
Goals
A family who lives in harmony has a set of goals. This goal is what inspires each member to contribute to the common good of all.  Either short terms or long term, these goals guide the family in its decision.
Short term goals are cute inspirations like a Christmas family out-of-town.  A long term goal, on the other hand, is finally acquiring that dream house and lot, for instance.  Both kinds of goals push the family to work together in achieving those targets. They give direction to their actions and inspire them to move forward.
Values
Values are intangible and tangible things that each member of the family gives high importance.  Each has his own set he puts high regard on. The children, for instance, place value in their education.  A father values his work, while a mother considers a pleasant home as something important. Values may be ideas, a thing perhaps, and even a person that one deems very important in his life.
Needs
Needs drive a family to sacrifice, work, and persevere.  These should be met as they are essential for the family to survive.  These are food, clothing, and shelter.
Wants
Wants make life comfortable and enjoyable.  They are not a necessity but bring comfort and enjoyment.  Sometimes, wishes are what push a member of the family to all the more do his assigned task.  It is because wants often provide pleasure. Though a family can live without them, some aim to bring home a few wants, like installing an air conditioning unit or buying a huge television set.
Resources
Resources are what enables the family to achieve their goals and get their wants and needs.  These are money, time, work skills, and knowledge. Because of these resources, one can fulfill his obligations, responsibilities, and assigned tasks.  Resources may be given or a result of hard work like money; or something innate and further enhanced like work skills and knowledge.
Effective home management
Effective home management is often the task assigned to the mother of the house.  As the father is the one who brings food to the table, and the children act as support, a mother often willingly does the home management.  She is referred to as the home manager. However, that doesn't mean she works solo, as the cooperation of her family members is crucial to achieving success.  Because at the end of the day, the home manager aims to maintain unity among members and for them to live in harmony, peace, and love.