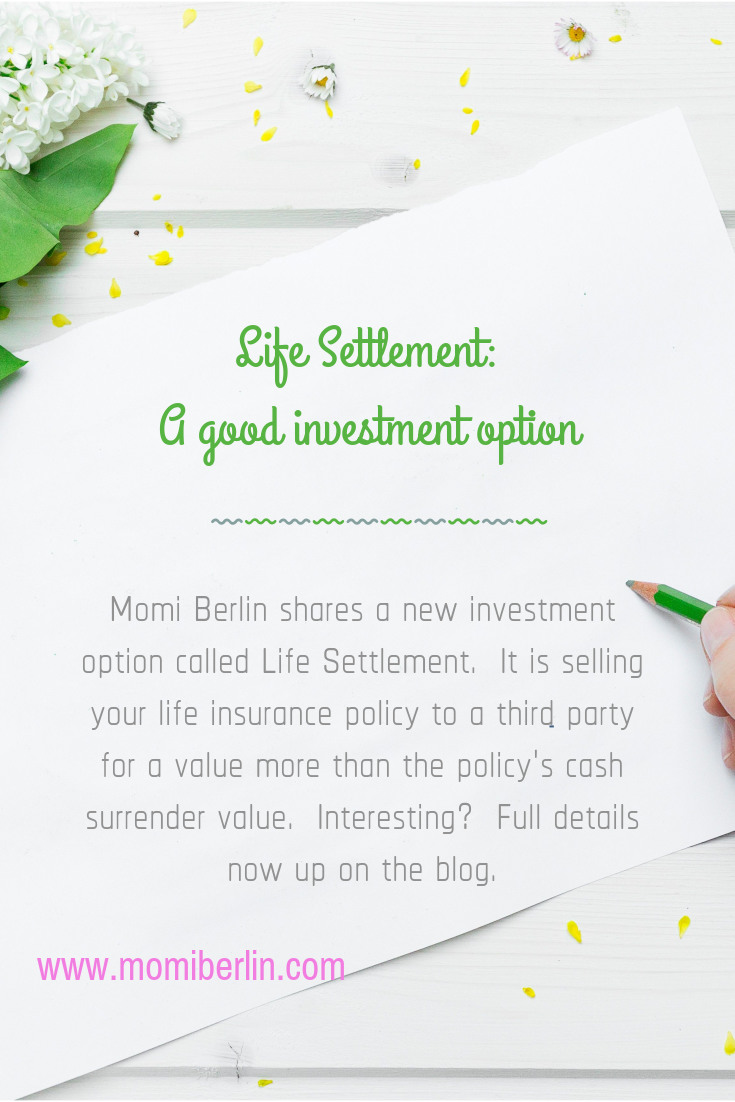 Momi Berlin shares a rather new investment option for her, Life Settlement, as part of a sponsored post with Mason Finance.
At age 23, I got life insurance from a financial advisor. I find the need for a contingency plan. This contingency plan is to pay for my final expenses and save my family from any financial burden my death may bring. I also thought of my future kids. Though still single that time, I imagine myself having a family and kids. And I want to make sure my children are well taken care of and can afford a quality college education. The money from my life insurance would cover such need. Of course, I also thought of using the money for my retirement and somehow enjoy the last few years of my life traveling. I would want or my family to enjoy the money I invested and at the same time keep me covered for life as long as I am paying my premium contribution.
By the way, I got my insurance from a friend's friend. She introduced me to her financial advisor pal.
Life Settlement
After a few years, this friend needed to pay for long-term health care expenses. She left her husband, and she has no heirs whom she can leave her assets and investments to. At that time, cash is more prudent than an insurance policy. She wished to trade her death benefit for a living benefit and thrive in her remaining years. That's when she related to me another good alternative investment in the form of a life settlement. She mentioned she has to look for realiable life settlement companies for this purpose. Major financial corporations, multi-national banks, and pension funds are just a few institutions that purchase life settlements.
Having heard her plan, I encouraged her to surrender her policy instead. But she enlightened me the benefit of a life settlement transaction. As she sells her policy to an investor, she will receive a lump sum payment which is more than the policy's cash surrender value. That amount would be more than enough to cover her medical needs plus still have significant money for her final expenses.
The investor, on the other hand, or the person who or institution that bought the policy needs to maintain the policy, pay any premiums, and collects the death benefit when the insured passes.
A win-win settlement
I find such a transaction a win-win arrangement for both parties. The insured gets to have the money, higher than the expected value of the policy's living benefits. Reports have it that on average, most seniors who sold their policy received as much as four times their cash surrender value. The investor, on the other hand, gets to collect the considerable death benefit of the insured once the latter passed away. And again, that is one huge amount compared to the value one invested in the policy.
As I study this option, I have no doubt I might also opt for this kind of investment especially if I don't have any beneficiary to enjoy the money I am yet to leave. Same with investing in life settlement should I have my boys to leave after my death.  The funds will bring a huge amount to them compared to the money we paid for the policy.
For me, getting a life insurance policy is a significant investment. The money grows, and by the time I or my family gets it, it may help us meet our long-term goals. But in case I opt not to continue with it, I am now aware of a new option, and it is called life settlement.