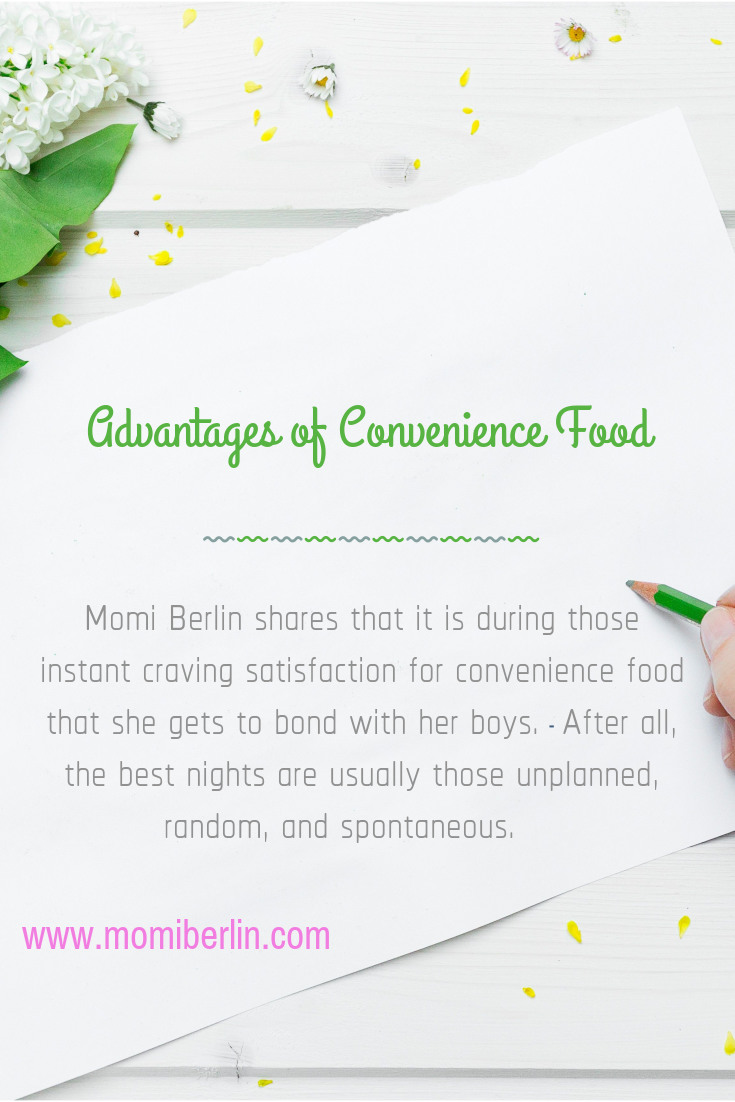 I find this time and age as very responsive to our needs.  I mean, most of us tend to be in a hurry and so to solve hunger even when we are on the run, for instance, there is instant food to satisfy us. 
Though many claim that ready-to-eat food is harmful, it has its set of advantages, too.  The important thing is that we keep our regular diet and take some of this instant satisfaction in moderation. If you are to ask me, what is worse is to skip a meal and not eat at all.  
I allow my boys to toss inside our shopping cart instant food when we do our monthly grocery.  I, too, have my list of instant beverages, sauces, and food to make my life easier.  
And speaking of benefits, allow me to share with you what I consider as the advantages of ready to eat products.  
Saves time
Convenience food helps us save time.  Because it is already cooked, the preparation time is likewise cut to several minutes.  Best, it is readily available for consumption.  
Easily available
Many ready-to-eat products are readily available in convenience stores and even supermarkets.  Scarcity issue, I believe, is never a problem. 
Gives nutrient value
Not all instant meals are bad for the health.  There are some that have preserved nutritional value, thanks to today's technology and innovation. 
Convenient and practical
Also referred to as convenient food, such kind of product is the practical way to give immediate satisfaction to one's craving or hunger.  Sometimes, it is the sensible choice, too, for those facing difficulty cooking or preparing breakfast, lunch or dinner.  
Maya Happy Mug
One favorite grocery item my boys so love recently is the new Maya Happy Mug.  This brand new Maya product is an instant treat for someone craving for delicious cakes.  It comes in a single serving that is ready to mix- just microwave for two minutes and a warm, tasty cake is readily available in your hands.  To all the more satisfy one's appetite, one can top the cake with marshmallows, cereals, chocolate pieces, and even fruit slices and chopped nuts.  Available in Chocolate and Caramel, this convenient little mug cake also comes with its own rich and delectable sauces.  
Advantages of Convenience Food
Well, I caught my two boys creating their mug cakes one evening.  Though we already had our dinner, they told me they can't sleep and so they will just have a quick chess match.  And to make their game extra fun, they will microwave  Maya Happy Mug. They even asked me if I want one and I happily nodded.  They also made me arbiter for their game. 
I believe, more than the time saved and convenience to prepare, it is the immediate satisfaction these ready-to-eat products give that make them appreciated, well-received, and loved.  As for this momi, it is during those instant craving satisfactions that she gets the chance to bond more with her boys.  After all, the best nights are usually those unplanned, random, and spontaneous. 
Momi Berlin Directory
The Maya Kitchen Website