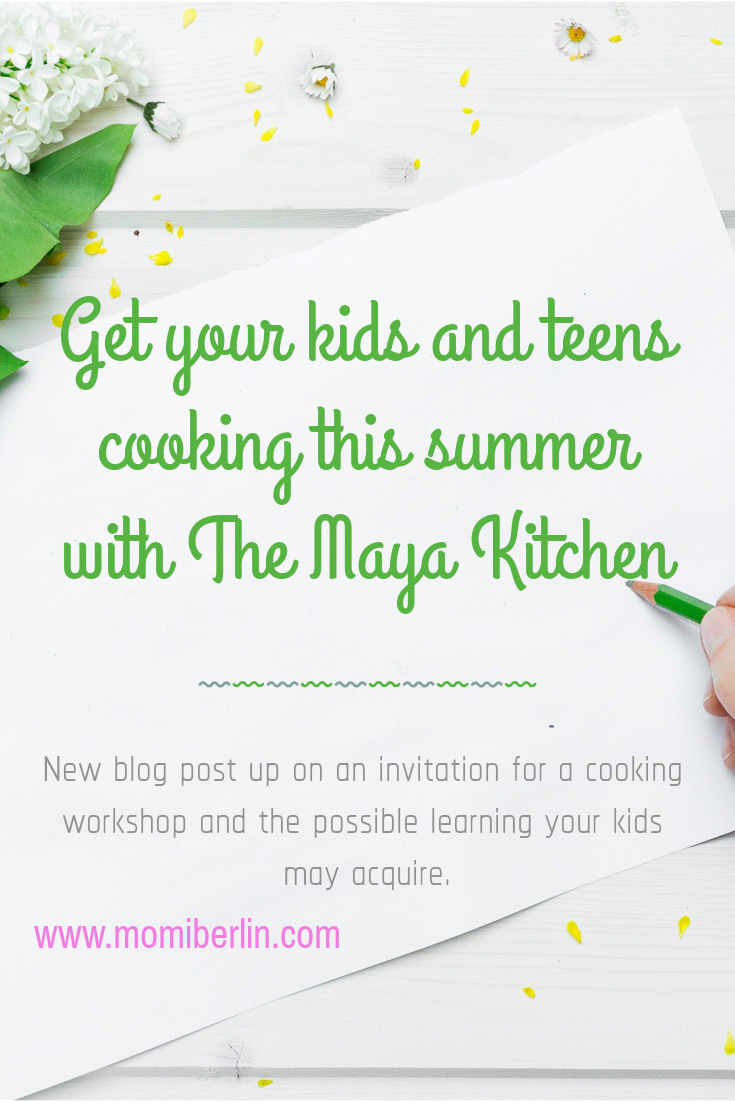 It was also summer two years ago when we got to attend our first Maya Kitchen Baking Workshop.  I remember that my then 10-year old boy was so stressed out because we were late.  And he hates to be late for anything and everything he does.  Anyway, the workshop not only taught us how to bake; we learned valuable lessons we can take with us wherever we opt to go.  These are a cupful of confidence, trust, patience, and preparation.  You may check the full narrative here.  
Get your kids cooking this summer at The Maya Kitchen
Thus, whenever Maya Kitchen announces a cooking or baking workshop, we would readily go, that is if our schedule permits.   And if you are still looking for a fun, productive activity to fill your children's break from school, I suggest you let them learn how to cook.  In The Maya Kitchen's Kids Can Cook classes this summer, kids try their hand at appetizing culinary basics they'll enjoy cooking as much as they'll like digging into them. The classes are also an excellent way to introduce them to healthy eating and taking on more responsibility at home. Classes for kids aged 6 to 12 years old will be held from May 15 to 18 and May 29 to June 1, 9 AM to 1 PM. Registration is at P6,000 only.
Get your teens cooking this summer at The Maya Kitchen
For those moms with teenagers, you may like them to take their life skills up a notch at The Maya Kitchen. This summer, direct your teens towards independence by signing them up for The Maya Kitchen's Teens Summer Cooking Series. Over the course of four days, participants will master how to whip up recipes perfect for sharing with their buddies and family, from game night snacks to Italian dishes and even Samgyeopsal (Korean pork belly) barbecue. If your youngsters are between 13 to 18 years old, enroll them in the May 22 to 25 classes, 9 AM to 1 PM for only P7,000.
Get your kids and teens cooking this summer at The Maya Kitchen
I would repeatedly encourage you to enroll your kiddos.  The Maya Kitchen Cooking Workshop not only teaches food preparation.  It opened myself to new challenges I never thought would define who I am today.  I love baking but I never tried it.  But with the series of workshop we've attended, my confidence grew and now, I could serve my family homebaked cookies, cakes, and pastries.  As for my boys who also had their share of baking and cooking lessons, I have seen in them the appreciation to finish the food served to them.  We could also request them to help in the kitchen and even prepare our breakfast or lunch.  Of course, invaluable lessons about discipline, precision, and confidence were also achieved. 
The Maya Kitchen is located at 8F Liberty Building, 835 A. Arnaiz Avenue (Pasay Road), Makati City.  For more details, check Momi Berlin's directory.
Momi Berlin Directory
Maya Kitchen Website | Facebook | Instagram | Twitter