Momi Discovers Human Nature Jiggly Bath Jelly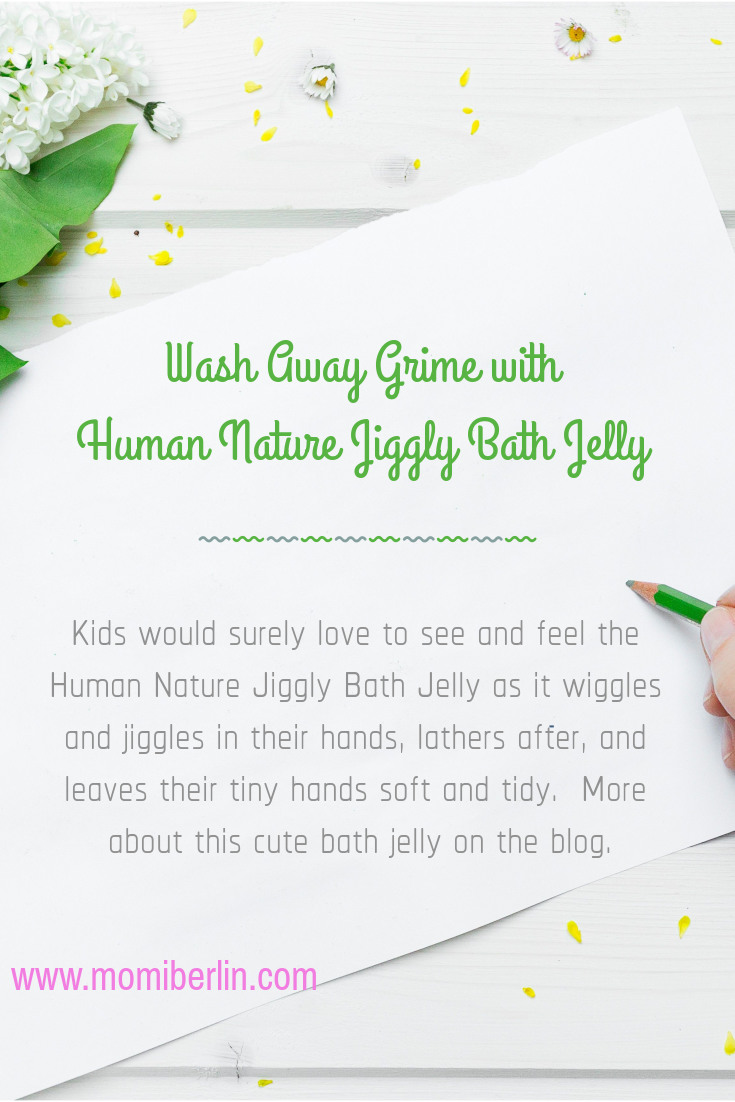 Hand washing is something we always promote at home.  With the many viruses, germs, and bacteria that bring illnesses, we do not want to remain complacent and be victimized by our careless judgment.  It wouldn't hurt as well to spend just a few minutes and wash our hands. And to encourage our little boys and the big kuyas to make hand washing a habit, we introduce to them one of our latest discoveries.
Human Nature Jiggly Bath Jelly
Twinkle, bubble, wash away grime, 
Wiggle and jiggle and smell sublime, 
From head to toe and all in between
Lather and splash 'till you're soft and clean! 
The Love for Jelly and Slime
We attended a family reunion about three months ago.  The organizers know how to make the kids tame and busy.  In one room was an expansive pool of clay which kids could use to form castles, stars, and just anything they love.  
Fast forward to last week when we went to a toy shop.  My little three-year-old got a complete set of clay and molders.  At first, I hesitated to buy it as I know the house will be a mess with all the clay all over the place.  But after seeing how excited and determined he was with bringing home the clay set, I gave in. 
Indeed, he was so happy with the new toy that he made a lot of funny figures out of his clay.  
They were of different colors and felt like jelly.  After tossing a few pieces, it was like squeezing a soft chewing gum. It was relaxing and yes, weirdly satisfying. 
Perhaps, that relaxing and satisfying feeling is what makes jelly clays a hit among kids.  They love how soft the clay can be and even how flexible it can be to form different shapes.
The Love for Human Nature Jiggly Bath Jelly
Just our luck that we were able to discover Human Nature Jiggly Bath Jelly.  It is a bathwash in a jelly form.  It smells insanely good and looks pretty tempting to scoop a handful or more. And just like the jelly clay my son played with, the Jiggly Bath Jelly is relaxing and satisfying to touch.  
Now, imagine putting that container by your bathroom sink? Surely the boys would be encouraged to all the more wash their hands.   The texture of Human Nature Jiggly Bath Jelly is temptingly fun to dab on the palm.  I always hear my two little ones giggle as they wash their hands with the bath jelly. 
The Love for All Natural Ingredients 
If we can always go for natural and organic, we do so.  Whatever we eat or put on our skin is readily absorbed into the body.  The side-effects of chemicals in cosmetics and fragrances aren't too impressive.  Most chemicals leave our skin irritated, others weaken our immune system while a few bring hormonal disruptions and even respiratory stress.  This is because the dermis easily absorbs the chemicals found in the products we apply to our skin.  As some substances enter the bloodstream and is carried to different parts of the body, some are accumulated in our fatty tissue.  Though the magnitude of their potential adverse effect is still unknown, their long-term effects on health are what scare me the most.  Thus, if we could feed our body with all natural ingredients, we then go by the natural and organic.  It is also something we, as parents, promote at home for our boys to embrace and carry in their own homes as they build their family in the not so near future. 
The Human Nature Jiggly Bath Jelly is made with coco-derived cleansers and vegetable-derived glucose and glycerin.  It looks like jelly and even jiggles as one.  Its scent is enticingly refreshing with a hint of strawberry.  Indeed, it is a fun way to flush away dirt and germs, and also keep the skin moisturized and feeling refreshed.  
The Love for Savings
Unlike my boys' favorite jelly candy, this bath jelly isn't as resilient.  However, it's easy-to-crumble formulation makes it effortless to crush on my boy's bath scrub and build a soapy lather.  The crumbled jelly on my son's palm makes it also easy for my youngster to rub the jelly into his hands and again, build a smooth lather.  We only need a few scoops to clean either the children's hand or body, thus making this product last longer than a bottle of hand or body wash. 
To encourage your little ones to all the more wash their hands or even take a longer shower, the Human Nature Jiggly Bath Jelly is one happy alternative.  It makes my boys love hand-washing even more. Surely, your youngsters, too, would see the fun as the Jiggly Bath Jelly wiggles and jiggles in their hands until it leathers and leaves their tiny hands soft and tidy. 
Momi Berlin Directory
Human Nature Website | Facebook | Instagram