Momi Discovers Red Rice for Weight Management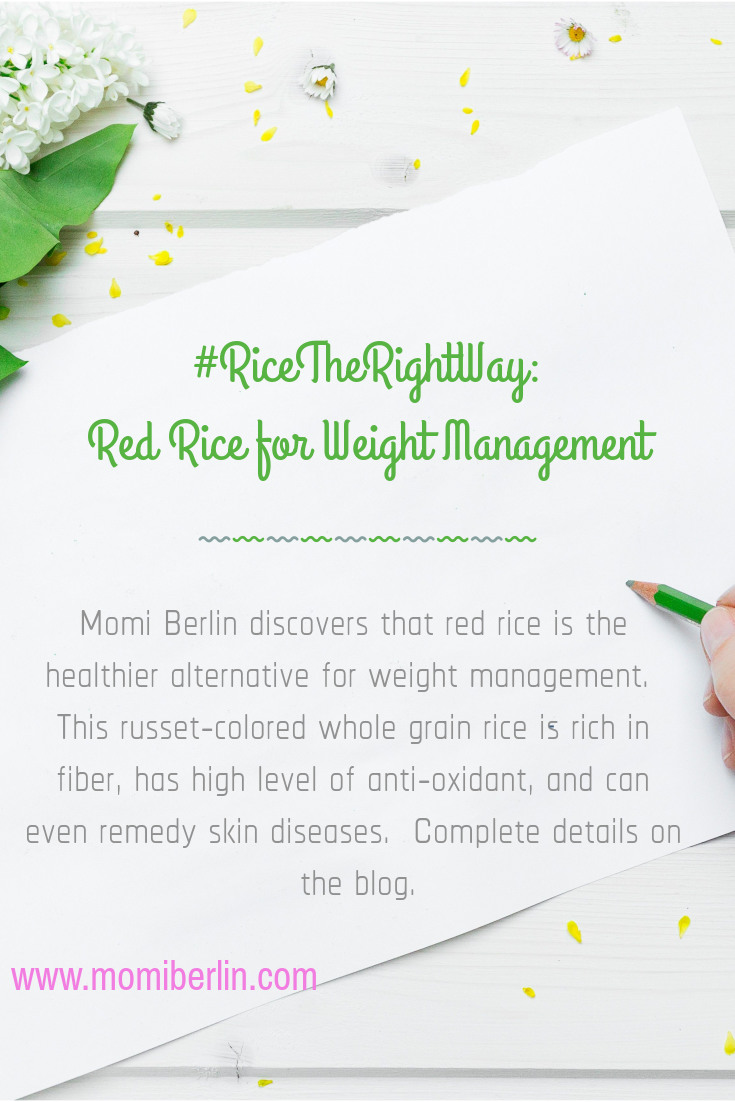 We had several photo shoot that day. Those were for a favorite chocolate treat, a laundry detergent brand, and a healthy drink.  Though the lighting and the set up were pretty much perfect, we had a hard time choosing what photo to use for the brands we represent. On all the fine prints, this mother weighs double her size a decade ago.
I need to lose weight.  Not only to look good on the pictures but for my health.
As most friends recommend that I stop eating rice, I can't do it.  For one, I am breastfeeding two toddlers, and I know I need rice as my great source of energy.  We know that rice is a rich source of carbohydrates that fuels our body to perform everyday tasks. This mother is also used to eating rice even on merienda, plus she often feels less fulfilled without rice at every meal.
The Red Rice
But I've learned that not all rice is created equal.  Some variants have incredible health benefits. Plus there is also that helps with weight loss such as the red rice.  And so the determined me acted before I ever lose the drive to finally break my usual lifestyle. I am opting for a healthier me.
The russet-colored whole grain has a soft texture and a nutty flavor.  It goes well with either fried or soupy viand.  It also blends well with most meats and vegetables.
Rich in Fiber
When my cousin visited us last weekend, we served him red rice for dinner.  He immediately mentioned we're having a great source of fiber because of the texture of the red rice.  Yes, this whole grain rice retains the red husk and the bran which makes it high in fiber.  And just like any food rich in fiber, red rice aids in preventing digestive health problems.  It also makes one feel easily satiated with only a few spoonfuls on the plate.  This makes this unhusked whole grain rice excellent for weight management.  All the more that it helps lower the risk of obesity.  Such an excellent choice then for this momi who aims to lose weight and become fit.
High Level of Antioxidant
Aside from fiber, red rice is also a great source of  B vitamins, calcium, iron, zinc, and many other nutrients.  But what makes red rice a truly healthy alternative to the usual white variants and even its brown counterparts is it being fully packed with anthocyanins.
Anthocyanin is a natural red colorant that acts as an antioxidant to help fight damaging free radicals in the body. Anthocyanin can lessen the spread of cancer cells and stop tumor formation. More than that, this natural red colorant is known to remedy visual disorders, liver dysfunction, and skin disease among other illnesses.
Have I mentioned skin disease? I just love this anthocyanin as research says that this natural food colorant prevents skin aging and UV-induced skin damage. Plus, anthocyanin has anti-inflammatory properties.  How great is that!
Jordan Farms Red Rice
Making the switch from white to red rice is not a difficult act.  Even my boys love the colored rice we have on the table.  They enjoy the nutty flavor and the soft texture.  They all mentioned to me that they quickly feel full but not bloated in the two weeks that we've been eating red rice.  My kids also happily related to their mom that they now enjoy regular bowel movement.
Red rice is found in many Asian countries and is available in supermarkets and even health food stores.  The brand we prefer is the Jordan Farms.  It is organically grown; thus the negative connotation that red rice isn't good for pregnant and breastfeeding moms can easily be dismissed.  From research, I've found out that red yeast rice contains lovastatin.  This supplement is naturally produced when the red yeast rice is fermented.  Lovastatin is not good for either pregnant or breastfeeding mom as it may include possible adverse effects on infants. However, organic red rice like that of Jordan Farms doesn't have the side effects present in red yeast rice, making it a healthy choice for lactating moms, pregnant ladies, and even kids.
#RiceTheRightWay
I must say, making the switch from white to red rice is a better choice for our family.  This mother is seeing the positive effect it creates on our eating habits. My boys and I also enjoy fewer bowel problems since we made the switch.   And so for this mom and for others concerned about weight management, we don't need to quit rice at all.  As long as we eat red rice in moderation with the right portions, we will achieve that dream weight soonest.