Momi Shares her Family's Practical Guide to Making Better Decision
I am a homemaker and a mother to five boys.  I must admit our life isn't a bed of roses.  We've been through a lot of difficulties, but with faith in the Lord and our wise judgments, we survive.
Making choices isn't new to us.  But making that decision a smart one has always been what we aim, and so far, we learn from our earlier mistakes.
I always find decision making as a fundamental life skill.  One way or another, anyone – at some point in his life – needs to present a choice.  Some options are way too easy to handle because they have been already presented.  Other decisions are the unpopular ones, but lead to what one aims as the desire of his heart.  In our many experiences, we've learned that the best way to make a choice is to use a good decision-making process.
Define the Goal
From simple to complex decision-making, we always set our goal.  As we do our grocery, for instance, we aim for significant savings.  With that in mind, we opt for family-sized shampoo and toothpaste.  We buy detergent powder in volume instead of in sachets because we are a big family.
Create  Alternatives
Concerning brand, we always try new offerings and compare it to the brand we've been using.  It isn't that we don't have brand loyalty.  In this time that prices of commodities are skyrocketing, we always look for better alternatives or options at a lower price.  One example is choosing the boys' favorite hazelnut spread.
Go Double, Go Smart
For years, we've been buying their favorite hazelnut spread.  There are times, though, that we skip it because of its expensive price tag. Until one day, our Firstborn saw a new offering on the market.  We tried it and we all concluded that we get the best hazelnut spread on a relatively half the prize.  More so, with our new choice – Goya Double Hazelnut Spread, we get double the hazelnut in less the price.
Evaluate the Output
Even with its lower price tag, we still have more satisfaction and indulgence with the Goya Double Hazelnut Spread. Not only that we use our new favorite spread in making sandwiches, but we also experiment and use it in baking our favorite cookies. The boys so love it's thick cocoa consistency and flavor.  Of course, the hazelnut flavor is so rich and satisfying my kids would really want to have it in every sandwich, cookie, and pastry.
Smart Choice
I am a homemaker and a mother to five boys.  I have learned to make the wisest of all choices because often, our decisions are very crucial for everyone's comfort and happiness.
I am no longer the naive little lass who dreads making options.  From tough to no-brainer choices, I do not let myself worry about the judgment of others.  Nevermind what others think of us, as long as my family and I are happy with our picks and choices, we always go what our heart – and in the case of our favorite hazelnut spread – our taste say.  Because it is only when my family is at its happiest that I know we made the smart choice even how mundane it can be.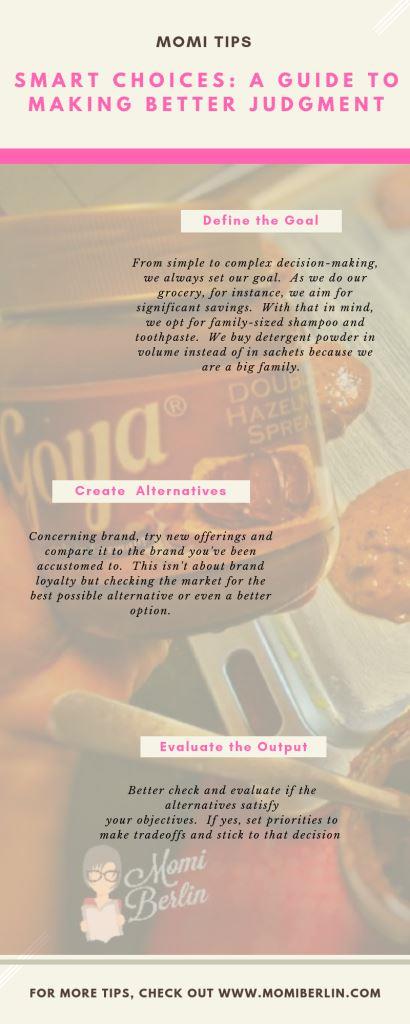 Momi Berlin Directory
Goya Chocolate Facebook | Instagram