MOMI DISCOVERS Pancake House's Classic Pan Chicken Solo Plates Now until August 31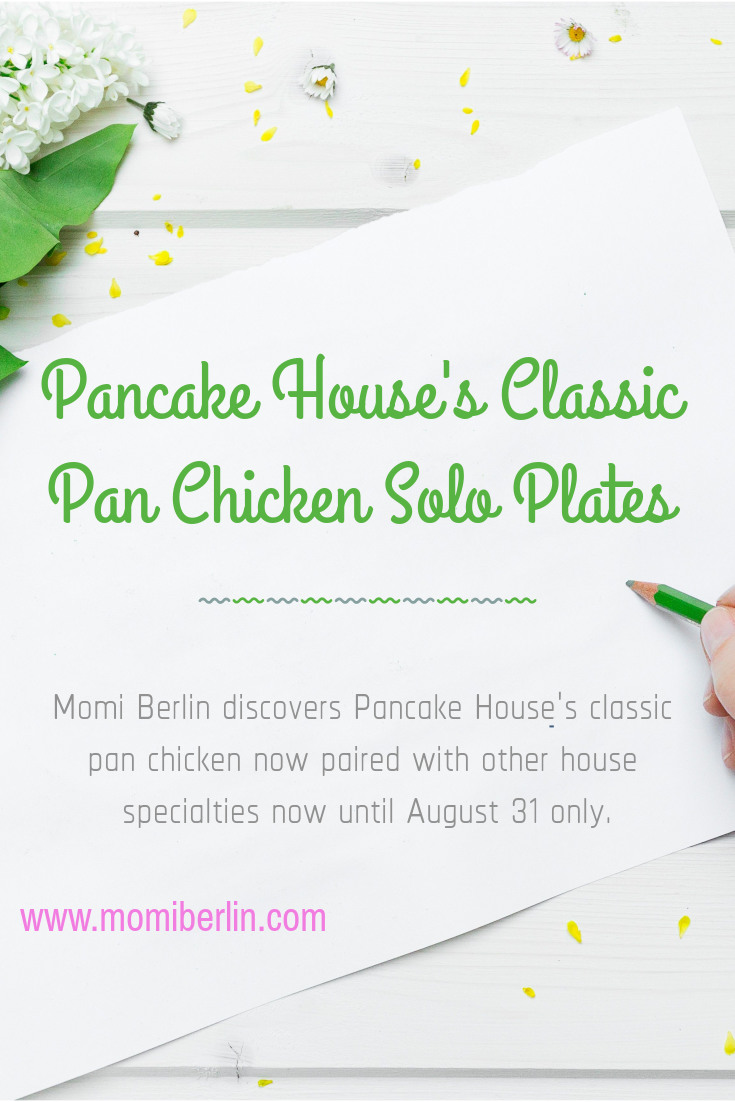 My Firstborn's favorite comfort food will always be a blueberry pancake.  I remember when we had his vaccination, he cried almost a bucket of tears.  We dropped by Pancake House, and he ordered a blueberry pancake. Since then, whenever we go out, Pancake House has become our go-to place for that filling breakfast, lunch or dinner.  The place has likewise captured my two younger boys' taste buds.  Though this four-decade-old diner is known for the homey goodness of its classic pancake, Pancake House also serves the best tasting chicken and tacos in town.  And that's the preferred order of my two younger children.
This afternoon, together with a few blogger friends, we visited Pancake House to check on its Classic Pan Chicken Solo Plates NOW made more affordable.  I like the idea that Pancake House puts on one plate its Classic Pan Chicken paired with six delectable other favorites.  And this will be available at a limited time only from July 16 to August 31.
Classic Pan Chicken Solo Plates
Now, diners can relish Pancake House's other delicious meals like tacos, waffles, soups, salads, and desserts, and get the ultimate satisfaction, whether in the morning, at lunch, dinner or anytime in between.  It also takes pride in its top-rated wide selection of sumptuous and loaded main course meals, practically, all the yummy dishes hungry customers would eat to satisfy their stomachs.  
I like it that Pancake House firmly believes that we diners deserve nothing but perfection.  It strives hard to give the perfect food and reliable and efficient service.  It continues to improve and expand its classic line up of food to entice and satisfy its customers.  For one, beyond pancakes and waffles, Pancake House serves heavy meals for those with the big appetite. It also has its classic Filipino meals like the tinapang bangus that moms like me love so much.  And now, it pairs its Classic Pan Chicken with other favorites like Spaghetti, Taco, Golden Brown Waffle, and Mashed Potato.
Great classic comfort food
Whenever we go out, and the kids can't answer where they would want to eat, we always head to the nearest Pancake House. I guess classics are still a good choice.  They perfectly blend with other signature dishes of Pancake House.  And now with the Classic Pan Chicken Solo Plates, opting what to have for breakfast, lunch or dinner or anytime in between, will never be too complicated at all.
Momi Berlin Directory
Pancake House Website | Facebook | Instagram | Twitter