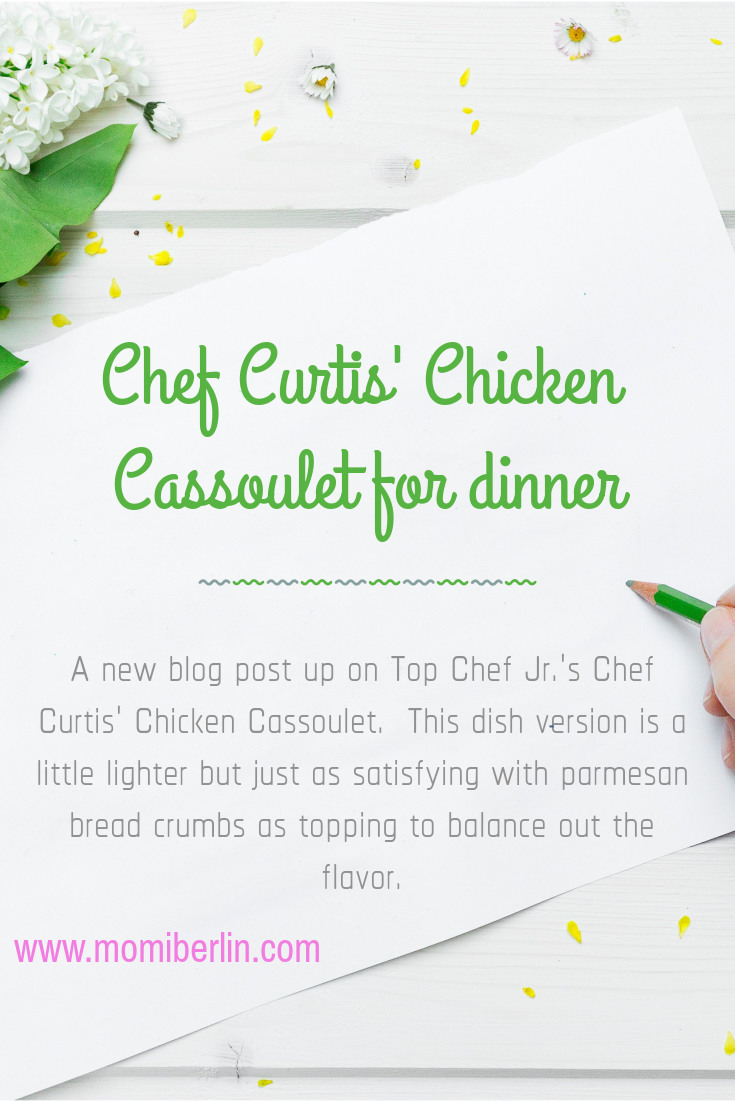 One of the nice things about school break is that I could stay a little longer in bed. I could even play with my little one for a few more minutes before getting up and cook breakfast.  Or I could even ask the boys to do the cooking as I give our baby or our toddler a bath.  Yes, thank God the boys know how to cook.  Whenever we need help in the kitchen, they lend hands or volunteer.  Plus, they also enjoy watching cooking shows with us.  And one favorite is  LIFETIME's Top Chef Jr. 
Speaking of Top Chef Jr., its head judge Chef Curtis Stone is dishing out recipes that both the kids and their parents can try together.  We've shared with you before Chef Curtis' Mac and Cheese with Gruyere, Cheddar, and Bacon. Now, let us try his equally sumptuous Chicken Cassoulet with Fennel and Bacon.
Chef Curtis' Chicken Cassoulet with Fennel and Bacon is proven to be a great dinner minus the complication.  Although a cassoulet, it is light and easy on the stomach because Chef Curtis made use of chicken, bacon, and a Parmesan bread crumb topping to balance out the flavors.
Chicken Cassoulet Ingredients
4 whole chicken legs (thighs and drumsticks; about 10 ounces each), excess fat removed

2 teaspoons olive oil

Kosher salt and freshly ground black pepper

4 slices bacon, coarsely chopped

1 yellow onion, finely chopped

1 fennel bulb, trimmed, cut into 1/2-inch pieces

1 carrot, cut into 1/2-inch pieces

1 tablespoon finely chopped fresh rosemary

1 tablespoon finely chopped fresh thyme

4 garlic cloves, finely chopped

2 teaspoons fennel seeds, ground with a mortar and pestle or spice grinder

1 cup reduced-sodium chicken broth

One 15-ounce can cannellini beans, drained, rinsed

1/2 cup panko (Japanese bread crumbs)

1/3 cup freshly grated Parmesan cheese
Chicken Cassoulet Directions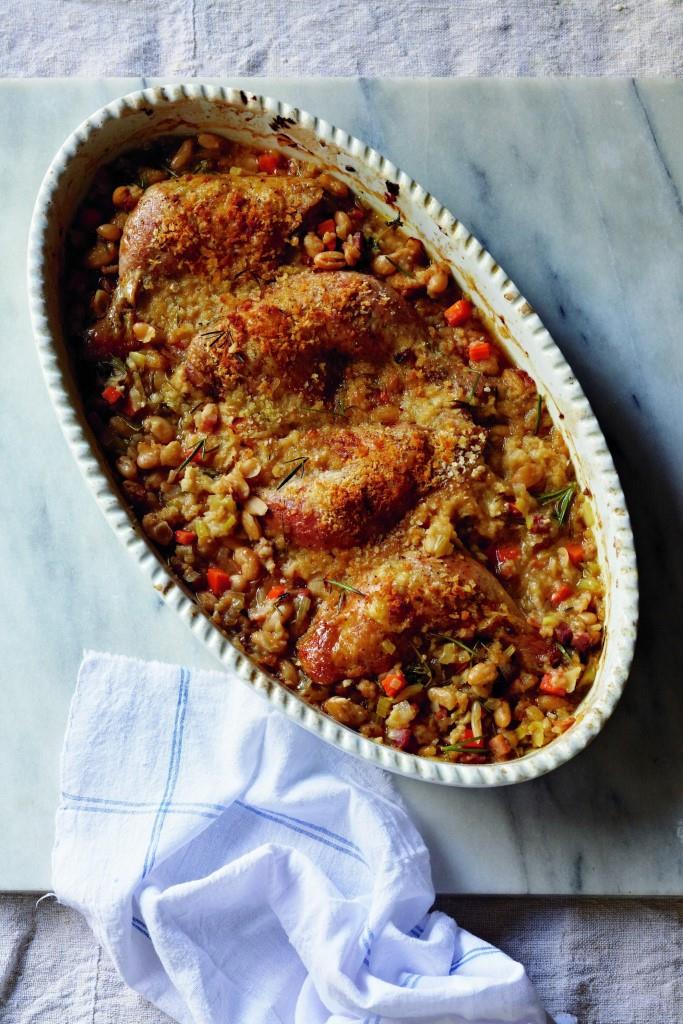 Preparation Time: 25mins
Cooking Time: 1hour 20mins
Serves: 4
Make-Ahead: The cassoulet can be assembled (unbaked) without the bread crumb topping up to 4 hours ahead, cooled, covered, and refrigerated. Sprinkle the bread crumb topping over the cassoulet just before baking and allow a bit more baking time for the cooled cassoulet.
Preheat the oven to 375°F.
Coat the chicken legs with olive oil and season with salt and pepper. Place the legs on a large heavy rimmed baking sheet and roast for about 40 minutes, or until they are golden brown and barely pink at the bone when pierced with the tip of a small sharp knife and much of their fat has been rendered. Remove from the oven; leave the oven on.
Meanwhile, heat a large heavy skillet over medium heat. Add the bacon and cook, stirring occasionally, for about 8 minutes, or until crisp. Add the onions and cook, stirring occasionally, for about 5 minutes, or until tender. Add the fennel and carrots and cook, stirring occasionally, for about 5 minutes, or until tender. Stir in the rosemary, thyme, garlic, and ground fennel seeds and cook for about 2 minutes, or until fragrant. Stir in the broth and beans.
Transfer the bean mixture to a 13×9×2-inch baking dish. Nestle the chicken legs in the beans. In a small bowl, mix the panko and Parmesan cheese to blend. Sprinkle most of the panko mixture over the beans (don't worry if the juices are soaked up by some of the crumbs) and the remainder over the chicken.
Bake for about 40 minutes, or until the bean mixture is bubbling all over and the panko topping is crisp and golden brown. Then let it stand for about 15 minutes before serving.
Top Chef Jr. Chef Curtis' recipes
There you have it.  Hope you are able to try this as well in your home.  For more tiny chef inspiration, tune in to Top Chef Jr. on LIFETIME from Tuesdays to Thursdays at 8 PM. Watch some of the most talented young culinary masters from around the US prove that they've got what it takes to be the next generation of Top Chefs.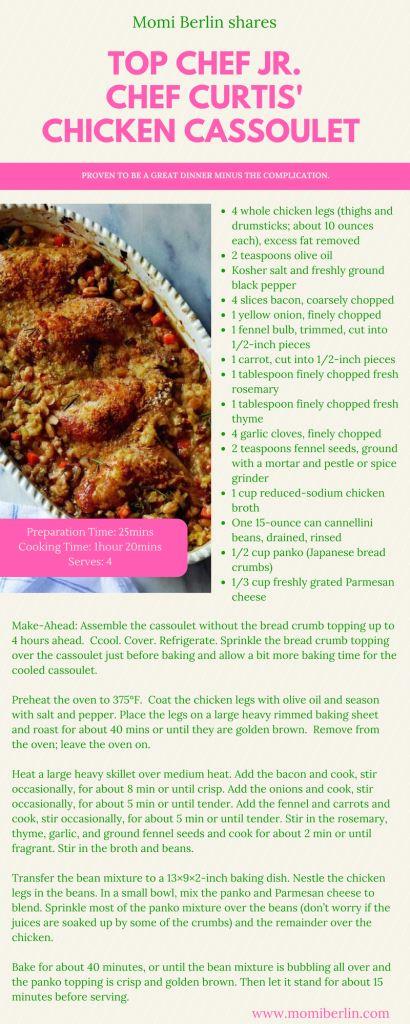 Lifetime™ is available on SKYCable Ch 65 and Lifetime™ HD Ch 199; Cable Link Ch. 223; Dream Satellite Ch 28; Destiny Ch 44.