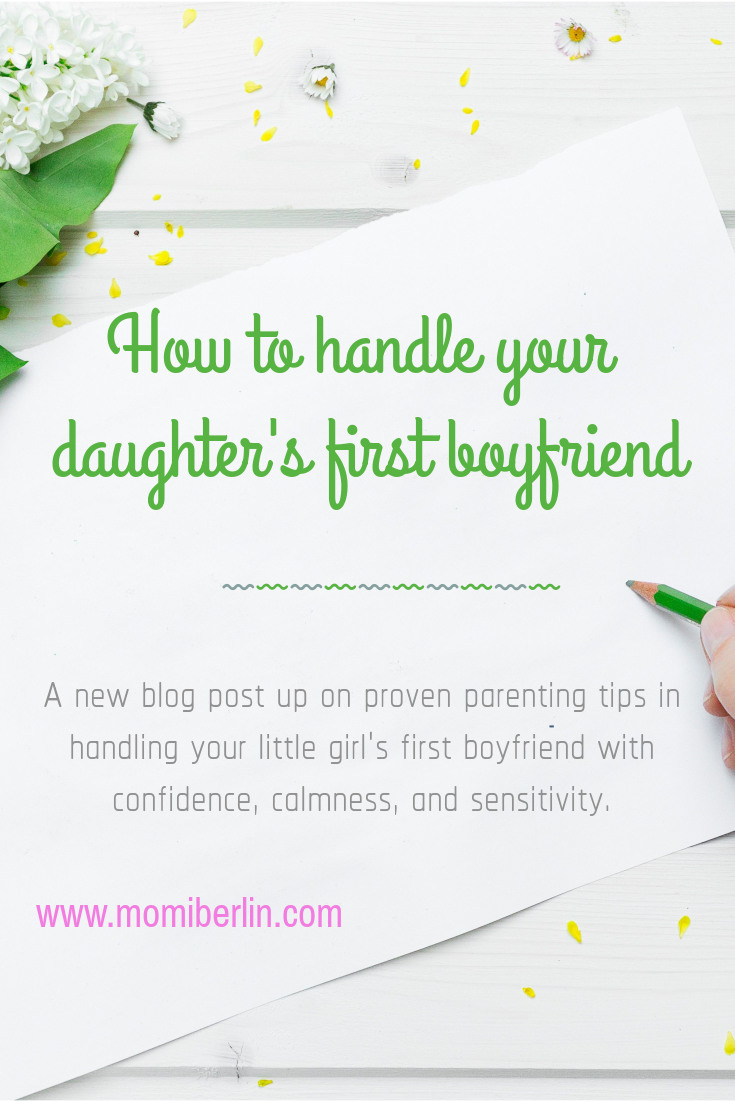 Most young ladies would go through many milestones in life, having that first boyfriend included. For them, it is pretty much exciting, perhaps overwhelming. But have you ever thought how parents deal with such kind of news? For the moms and dads who already had their first love and first romantic relationship, they may most probably be overprotective of their princess. But such overprotectiveness may boil into strict orders and misunderstanding. Momi Berlin then shares ways on how parents may handle their daughter's first boyfriend.
Be yourself
Do not pretend to be likable when you're not. Neither don't be too intimidating when it's only an act. Just be yourself.
Allow the boyfriend to socialize with you as one way of knowing him is letting him into your house, into your life. Let him also be himself by not pressuring him to be what you would want him to be.
Demand respect by giving respect
You consider your daughter your precious one so do not agate the boyfriend. Doing so may backfire on you and the one you would hurt the most is your princess. Show to your daughter that you respect her decision by being polite to the guy.
Demand respect by giving respect. A man with sincere intention would see this kind gesture as an act of parents who truly value their daughter and do not interfere with her choices. But along with respect is firmness that you stand by your rules and you would appreciate if they also go by your rules.
Encourage her to open up
You wouldn't want secrecy. You most probably dislike sneaking around as well. Then do not show any clue you dislike the union. Allow your daughter to talk about her boyfriend. Encourage her to be open about her adventures with the guy. If she does not open up, it wouldn't hurt if you ask casually how the two of them are doing. Make this as casually as you can. Do not appear to be prying as your daughter might hide some details from you.
Listen up
A young lady would surely open up if she sees you open to listen as well. Show to your girl that you are a listener. Avoid scolding her and don't be tempted to be angry when she relayed something against your will. Most likely, she will not open up again. Instead, discuss lovingly about proper social behavior. Share stories how you were able to do it with her dad. Narrate anecdotes about your tipping to drinking experiences and those moments you got a little cozy and romantic in private and in public with her dad. Doing so, you will surely earn her confidence to share issues that may be more sensitive and serious.
Give space
Young lovers need space. Give them that. But always remind your daughter you are just there should she needs your back. Learn how to strike a balance between too little space and too much. An example would be allowing them to have time together in the living room but never inside a bedroom.
Be an ally
Do not discipline your daughter in front of her boyfriend. Nor should you argue with her and question her choices when the guy is around. Let your girl know you are there for her and not someone who would make her feel she made the wrong move. Just make her feel that you respect her decision. But be firm, too, to reiterate you see her as a responsible and careful lady.
Should her first relationship led to a breakup, again, be there for her. It is better you're there for her than let her run to others for comfort.
Handle your daughter's first boyfriend
Your little girl went home one day and told you she's got a boyfriend. Handle the situation with calmness, sensitivity, and confidence. The fact that she introduced to you her man means she cares about you and your relationship.
Be there for her by giving constant guidance. But strike a balance between too little space and too much. Avoid comparing her relationship with your own. But share anecdotes on how you were able to handle your own relationship. Your narratives may inspire her.
Lastly, accept the fact that your princess is now a lady and someone loves her perhaps not as much as you do but enough to put a smile on her face. It might be too early today but it will still happen in the near future. Just be grateful you've known about the news from your daughter herself and not as a surprise or mistake.
This was originally published on PSST.ph. We've republished this with the publication's permission. Momi Berlin wrote this as well as a plea to her son's future in-laws.