I've read the story of The Lion and the Dolphin to my Little Man months ago.  I could not relate it to any real life situation thus banked it instead.  Recently, though, the husband and this wife had a misunderstanding.  And then she remembered the story of the Lion and the Dolphin.
The Lion and the Dolphin
A lion roaming by the seashore saw a dolphin lift up its head out of the waves, and suggested that they contract an alliance, saying that of all the animals they ought to be the best friends, since the one was the king of beasts on the earth, and the other was the sovereign ruler of all the inhabitants of the ocean. The Dolphin gladly consented to this request.
Not long afterward the Lion had a combat with a wild bull and called on the Dolphin to help him. The Dolphin, though quite willing to give him assistance, was unable to do so, as he could not by any means reach the land. The Lion accused him as a traitor. The Dolphin replied, "Nay, my friend, blame not me, but Nature, which, while giving me the sovereignty of the sea, has quite denied me the power of living upon the land."
The husband and the wife
The husband and the wife made a pact.  The husband would work hard for a living to send his three boys to school and bring food to the table.  The wife, on the other hand, would take care of the family and the household chores.
The wife gave birth to their fifth son making her unable to function fully as a mother and a wife.
The husband continued his part, leaving the wife's part her sole concern.  The wife felt helpless and denied of love and understanding. In the process, it was the children who suffered much.
Let every one stick to his own element
The story of The Lion and the Dolphin taught us that we indeed have limitations.  Inasmuch as the dolphin would want to help the lion, he still can't as he could not by any means reach the land.
Perhaps it is what the husband thought as well.  His responsibility as the provider is just too much to accommodate the task of his wife.  They, after all, made a pact and they should stick to their own elements and responsibilities.
Work together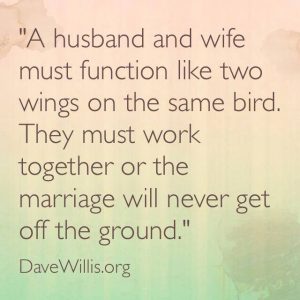 The wife, though, believes otherwise.  It is especially in this most trying moment that they should help each other.  After all, they are one family and they should work as a team.  If one is able and the other is injured, the more that the able one should give rescue as the time he spent to help is not his lost but his family's gain.
Or perhaps this mother is just experiencing some postpartum blues.