This morning, I read to my son the story of The Sparrow and The Farmer.  It is such a beautiful story about self-dependence and something the boys could surely relate when I retell the story to them.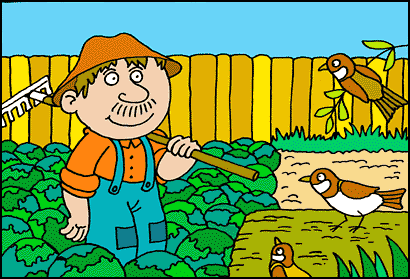 Mother sparrow had built a nest amidst the crops of the field. She lived there with her two newborn babies. The little sparrows were happy in their nest. Slowly they grew up and learned flying. Time passed and then came the harvest season. The little sparrows were keenly observing the harvest taking place in other fields. They said to their mother, "Mom, now we should fly away from here. The farmer of this field will also be coming for reaping his crops. The mother replied, "The farmer is not ready. We need not fly so early."
After few days, the farmer came in the field with his neighbor. He discussed the harvest and requested him to come tomorrow to help him in the harvest.
The baby sparrows again asked, "Mom, should we fly now?" The mother replied, "No my dear, the neighbor will not turn up tomorrow in this busy harvest season. There is no need to fly."
Next day, the farmer came to his field. He said to himself, "Nothing to worry. If my neighbor has not come, I will call my relatives to help."
The babies were anxious. The again asked their mother whether it was the right time to fly. But experienced mother told them to be patient.
A few days later, the farmer came to farm alone with a sickle in his hand. The mother sparrow said to her children, "Come on my children!  Let's fly from this field. Today, the farmer has decided to harvest the crops himself." And they flew away.
The Mother and The Three Boys
It is vacation time.  Sadly, I haven't enrolled the boys in any summer class as husband and I are saving for the children's tuition and also for my upcoming child delivery.  My mother is kind enough though to finance Firstborn's piano lessons.  The two boys, though, are not interested so they stay mostly at the small house helping their mother with some household chores.
One day, the father came home rather early from work.  He checked the rice cooker and it was empty.  The boys did not cook rice.  I always depend on my boys to do this errand for me. Often, though, I still need to remind them as they tend to be so overwhelmed playing online games or watching movies.
Moral of the story
Self-dependence brings certainty.
Just like the farmer, I should not depend on others to do the task I should be doing myself.  I could not blame the boys if they forgot cooking the rice or other household chores.