Today, I read to my 18-month old the story of the Lazy Donkey.  I also plan to read the same story to my three boys tonight before bedtime.  There are times they prefer to be like the lazy donkey.  I would want them to know what happened to the poor animal because of its dishonesty.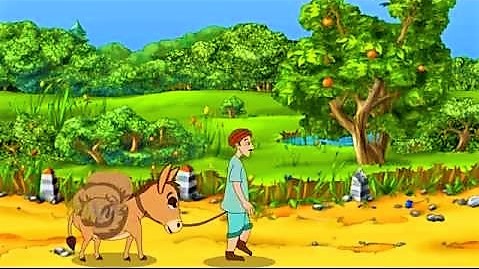 Bhola owns a donkey called Khandya. Bhola is a very tolerant and kind master. The donkey is lazy and is always finding ways to avoid work.
Once while returning with loads of salt on his back, Khandya falls in the river. He realizes that the fall has lessened the weights of the sacks as the salt has dissolved in the water.
The next few days Khandya purposely falls into the water everyday. Bhola is unhappy at the way Khandya is behaving because he is losing money in the process. He decides to teach Khandya a lesson.
The next day instead of salt bags he loads Khandya with bags of cotton. Khandya is unaware of the change. As planned, he falls into the water and gets the bags wet. He is surprised to find the load unbearable. His otherwise master also starts beating him.
Khandya learns his lesson and starts behaving.
The Lazy Boy
I found out yesterday that my 13-year old boy is hesitant to carrying his lunch bag.  So he would leave the bag in my mom's car every morning and put his packed meal inside his school backpack.  If his food has a heavy sauce, he will leave it in my mom's car again.  He either buys food at the school cafeteria or prefers not to eat lunch.
Out of frustration and also to teach him a lesson, I told him that beginning this morning I will no longer wake up early to prepare food for him.  I will not give him money either to buy food.  Faithful to my words, I woke up a little late.  I saw him reheated a leftover and ate in silence.    He also filled his small jug with water and left when my mom beeps her horn repeatedly to signal that she's there.
The firm mother
We haven't talked yet.  He could use his savings or ask money from my mom to buy food.  I just want him to appreciate my effort of waking up early to prepare his breakfast and school lunch. I also felt betrayed.  But then, I also understand his concern.  He feels embarrassed carrying a lunch bag with him.  He does not like it either when I use plastic spoon and fork for him.  He is in High School already, and image is important to him.  I have seen how he dresses and how he puts effort to make himself presentable.
Anyway, I hope as he returns home from school today, we will settle this little misunderstanding.  I just hope he approaches me first.  Or is it my pride already?  I need some advice from you, please.