As I clean my old blog, I found these writings about my Big Bunso.  A few were about his school achievements while some were just everyday conversations with him.  Nonetheless, this compilation somehow makes me believe that I am raising a fine gentleman.
Big Bunso is determined
December 5, 2014, 9 yo
I am one proud and excited mother.
My nine-year-old boy is his school's representative for the ISAAL Inter-School Math Challenge this coming January 2015.  Last year, he was also his school's Grade 2 representative.   He placed 4th among 32 competing schools.
Though his kuya Second Son didn't make it in the eliminations (the Grade 5 representative got 24 points while Second Son got 23), we plan to make him his brother's coach at home.  That way, the victory of his brother will likewise be his own.
So boys, let us prepare for the ISAAL Math Challenge 2015.  We can do it!
Big Bunso is kindhearted
January 11, 2012, 6 yo
This is Big Bunso's baby pillow.  He sleeps with his baby pillow and often smells it.  At night, he would wake up if he feels baby pillow isn't by his side.  He takes comfort and strength in his pillow.
And he shares baby pillow with the little green bear his kuya got last Christmas.
Big Bunso is ingenious
August 24, 2012, 7 yo
Big Bunso has a best friend in school.  They have been friends for two years now.  And he gave his best friend a  pencil case.
He made the pencil case with compartment ideal for two pencils and a separate room for the eraser.  On the side was a cut and pasted paper bearing his name.  Why his name and not the name of the best friend?  So the best friend would constantly be reminded that Big Bunso is available for him anytime.
Bunso relayed to me the following day that his best friend returned the pencil case to him.  The best friend's mother allegedly told the friend to dispose of the gift.  She wasn't happy with "too many trash inside his son's bag."
I was deeply saddened by Big Bunso's story.  But the little boy's spirit wasn't totally torn.  He gave the pencil case to me and even promised he would make another pencil case with my favorite color on it.
Thank you, Big Bunso.  Mama will keep the pencil case FOREVER.
Big Bunso is understanding
October 2, 2013, 8 yo
It was a fruitful and fun Intramurals at the kids' school last week.  However, I missed how my Big Bunso played speed stacking. Thankfully, there were momi friends who documented the event for me.
Yesterday, Big Bunso went home with a gold medal around his neck.  He didn't remove the medal all day because he would want to hand it over to me — personally.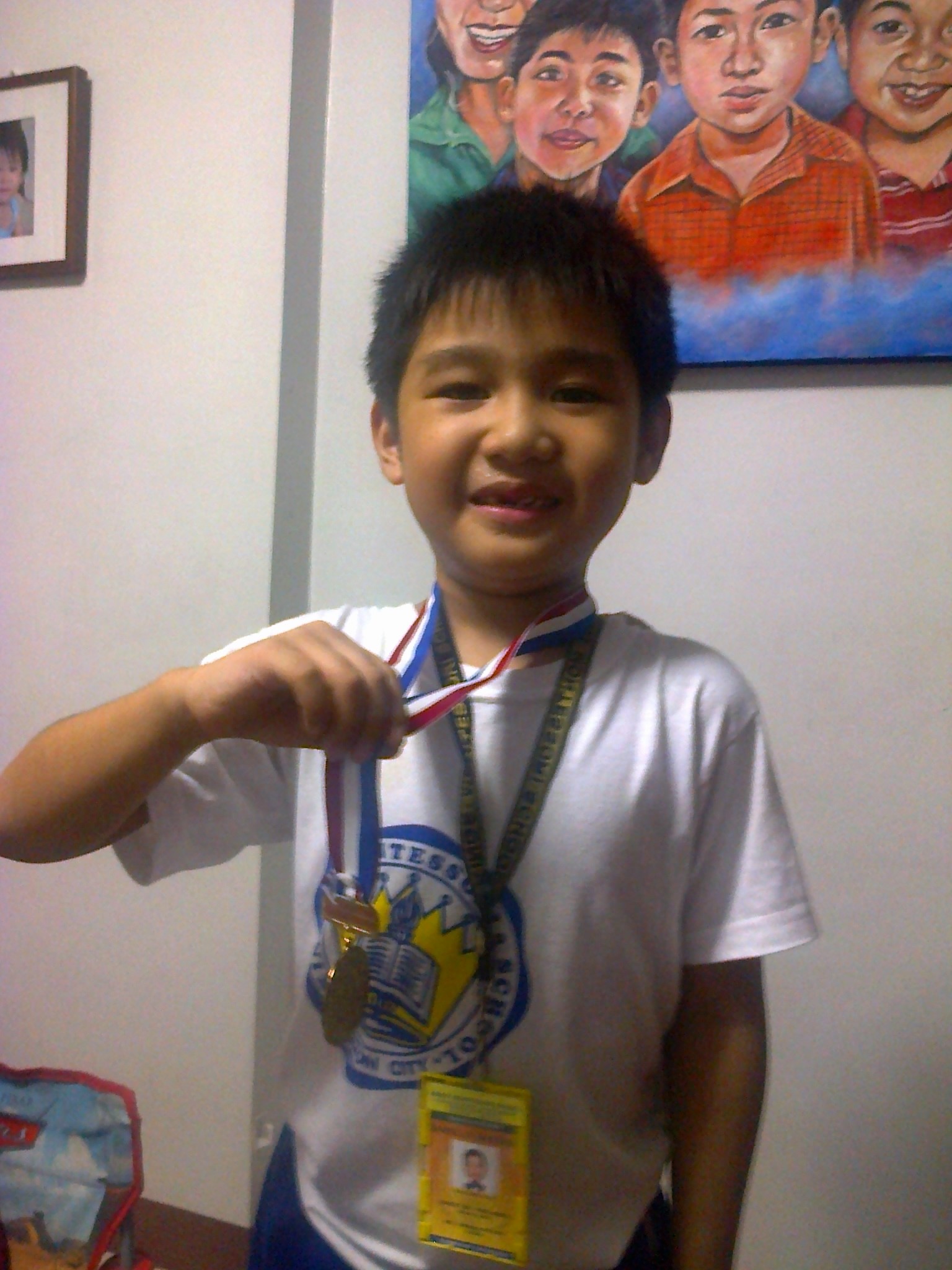 He got the speediest speed stacker award for his level.  He made an awesome record of 3 seconds in stacking those plastic cups.    And so from your very proud parents–

Big Bunso is committed
December 20, 2014, 9 yo
Our Big Bunso got his Christmas present from tita Smash. He proudly showed me his growing collection of the "Diary of a Wimpy Kid."
Though an amateur in book collection, our Big Bunso already showed great value and love for books.  At first, he would read his brothers' books.  Then one day, he discovered "Diary of a Wimpy Kid" on his own when he chanced upon it on our bookshelf.  And from there, he would request a new book by Jeff Kinney.  He told me he wanted to complete his books.
Our Big Bunso's collection, though little in volume, undoubtedly occupies a prominent space in our library.  And my boy plans to continue his collection one book at a time.
So to my eager Big Bunso, thank you for showing keen interest in reading.  May your books entertain and teach you life's lessons.
Big Bunso is tactical
October 7, 2014, 9 yo
What a pleasant surprise from my nearly nine-year-old boy.  A gold for his dama (checkers) quest.
Congratulations, our Big Bunso!