The best age for kids to learn is up to 4 years, which is also considered the age for early childhood development or ECD. This age as per research is well known for the time when the brain starts to take shape and form its own thoughts and learn new tricks that can make a wonderful base for future learning of kids. As kids learn alphabets and numbers and speak up fluently, it is interesting to teach them how to write their names too. If you are a new parent or your child has just entered kindergarten or preschool, you may try the following fun tricks to help them learn their names and spell them with confidence.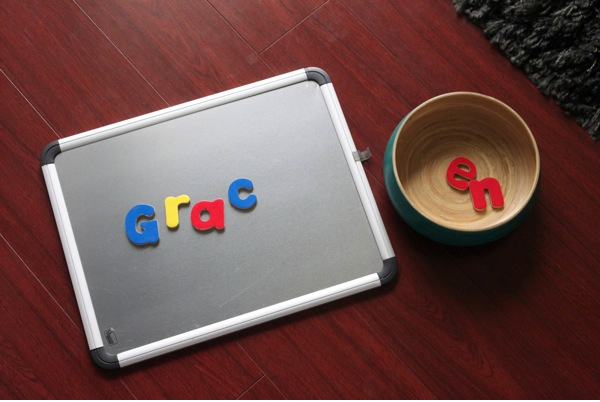 Ask Kids to Repeat Their Names after Yourself
As kids learn to speak, the time when should a child learn to write their name approaches. Asking them to listen to a parent or a teacher, can be effective towards how to teach a child to spell their name. As kids learn and repeat their names, they learn by differentiating different sounds that relate to every single letter in their name. If you are still studying while teaching your kids, you can save a lot of time with college paper writing services.
Using Legos
Legos have always been the favorite toy for kids. There can be various designs that can be formed with these Legos and using them to make letters and learn how to make your name, can be fun for kids. Kids already use Legos to form houses and cars; they can be used to teach them how letters are formed. As a kid sees the design, they learn through pictures that are framed in their minds.
Using Name Stamps
Stamps have always been used as the go to stationary to sign documents. The same stamps with individual letters can help kids make writing name practice fun. These letters can be stamped with different colors on a cardboard or a sheet of paper.
Using Highlighters
Write the name of your child on a piece of paper or a cardboard by using a highlighter can be an easy way teaching a child to write their name. Then ask your child to trace their name by using a different color pencil. Use a light color highlighter so that kids can see a pattern forming themselves. Repetitively doing this will help kids learn both the letters and the spellings for their names.
Using Worksheets
You can use worksheets that have letters already printing on them to help kids learn invidious alphabets first. Ask your daughter to fill in a pink or a purple, or your son to use blue, or any color as they suit in every letter that forms their name. Moreover, all children can be given these printed worksheets and asked to fill colors in the alphabets that form their name.
Using letter Bricks
Using a toy brick for your baby can be a good way to help them look at letters if they are younger than the usual preschoolers are. Bricks with names can be made up of plastic and can be changed near their cradle, or where the kid sleeps so that they can look at them and learn their name and spelling by watching those bricks. Kids need images to remember and learn, hence, it makes them look at something and form images in their brains.
Using a Computer Application
Recently, the use of technology has made it both interesting and easier for kids to learn new words and letters. There are various apps that parents can install on their smartphones and tablets, and then use them to help kids learn the sound of an alphabet simply by clicking on the screen. Kids can also draw their name, and color their names to learn. Moreover, many videos and activities have animated content, which helps kids better engage with the characters that start with the letter of their names. These techniques are more widespread now and help kids better connect with the digital world. However, care should be taken as extended use of digital products can have a negative effect on children eyesight.
There can be several other ways to make kids learn how to spell their names and letters in them. Using paintbrushes, magic slate, glitter pens and chalks can be some of the materials that parents can use to help kids experiment with different ways to learn their names at my early age.
* Note:  Momi Berlin would love to introduce Lisa Griffin to you.  She is an educator, tutor, and reviewer.  Her passion is feeding kangaroos in Australia.   She also enjoys camping at Alps.  She is Momi Berlin's special guest writer.  They both share the same love for  writing and imparting knowledge along the way.