This mother was heartbroken.  Everyday, she would wake up at 4:30 am to cook breakfast and prepare the baon of her boys.  She learned though that her two boys didn't eat the pancit sotanghon she cooked for their recess.  The Bunso didn't even open his lunchbox.
She felt so unimportant and disrespected.
The following day, she didn't rise early, on purpose.  She also went home late that night.   She didn't make herself available to help the kids with their homework.
She arrived home that same night pretty glum and not talking.  And then she found a note on her bed.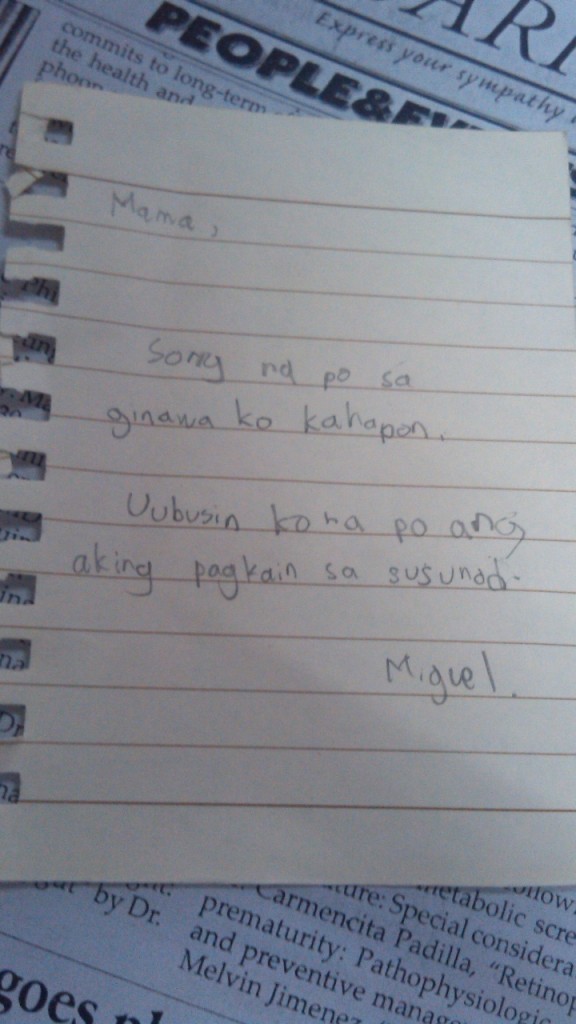 Though still feeling a little depressed, it's but funny to realize that sometimes, we need to limit our  availability to people we care about the most.  That way, it somehow raises our value in their eyes.  This mother was even told by her husband the next morning that the boys even texted him at 7:30pm telling that "mama isn't home yet."  
There would be days that we feel under appreciated and a little taken for granted.  It's but normal anyway.  Though I personally do not expect anything in return  from my boys, it's still nice to know that we are appreciated.  It's our relationship with our family members that enrich our lives and makes us going.  Perhaps what I would appreciate very much that my boys do is to finish the food I prepared for them or tell me honestly if they don't like it so I could improve on it.
And for you young man who gave me this sorry note, I appreciate the gesture.   Though may be a little hard for him to utter those words, he approached me the following morning and blurted out "I'm sorry, mama.  I will finish my food from now on."
You are always forgiven, my son.
* January 24, 2014