With a not-so-busy mom like me, the boys have more chances of visiting art museums, theme parks, and malls even on weekdays.  And so, two Thursdays ago, we took a day off from our "office work" and visited Art in Island, the largest 3D museum in Asia.  It opened last Christmas 2014 and is located at 15th Avenue in Barangay Socorro, Cubao, Quezon City.
Art in Island is a museum with visually awesome 3D artworks one can interact with. Founded by a Korean named Yun Jae Kyoung, he partnered with other Korean artists and worked for 120 days to complete the 3D masterpieces.
Finding the place isn't all that hard since I am quite familiar within the vicinity having stayed there for almost five years.  The boys are so clueless of what the museum has to offer though, thus are not showing too much eagerness.  It's only when we got inside that my children started jumping and literally rolling and sliding on the floor.  They just cannot hide their awe and admiration.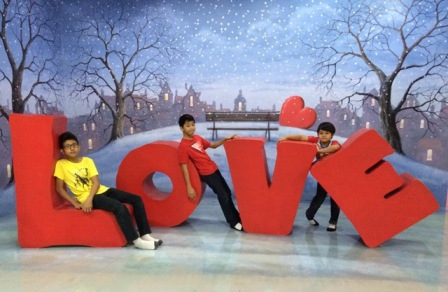 In each masterpieces, the boys can be part of the artwork and may play with the art.  They may invent their own poses or copy others'.  And because they can really interact with the art, they have this overwhelming feeling of excitement.
One needs to be imaginative though of his poses with the artwork.  Before visiting the place, this mother checked out photos of other visitors so she may have an idea on how to direct her boys.  Good thing there are photo samples, too, on the walls for inspiration should one becomes so clueless of his pose.
Also, there are camera angle guides on the floor where photographers can stand up and shoot.  Museum staff are also everywhere and they can readily give assistance should one asks for it.
The Art in Island encourages its visitors to be part of the artwork thus, contrary to other museums where touching and taking pictures are not allowed, everyone at Art in Island may use his camera– mobile phone camera or DSLR —  but strictly, no flashes, please.
One will be asked to deposit his footwear before going in.  I required the boys to wear socks and I brought my own socks, too, because I read in some blogs that the floor is quite cold.
At P500.00 for adults and P400.00 for students, one can tour the place for as long as they want.  With three boys in tow, we are  able to tour the museum for about three hours. Reminder though, students should bring their IDs for proper identification that they are indeed students.   Birthday celebrants are free of charge if they visit the place one day before or after their birthday.
Here are a few of my boys' playful interaction with the art.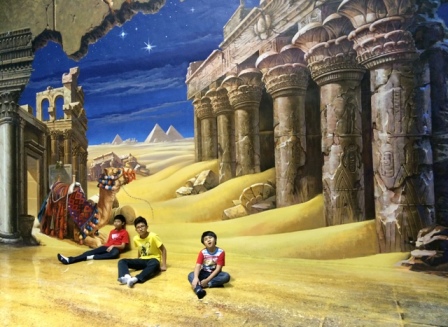 Address:  
175 15th Ave., Brgy. Socorro, Cubao, Quezon City, 1109 Metro Manila
Thank God for a hardworking husband who rather wants his wife to stay at home and look after their growing children.
* This Art In Island tour was last May 2015, a birthday treat to our firstborn.  We visited the place again last January with our baby Yael in tow.