Ain't no mountain high enough
I first heard of the song "Climb Ev'ry Mountain" from the movie "The Sound of Music."  Wikipedia says it is an inspirational piece to push an individual to take every step towards attaining his dreams.
In the movie, the Mother Abbess sang "Climb Ev'ry Mountain" to encourage Maria to face her fear. Maria ended up marrying the captain, the life she was meant to live.
My boys – then at the tender ages of eight, seven, and five – literally climbed a mountain on a Holy Wednesday.    More than fear, it was curiosity that enveloped their minds.  Their confidence was even hyped knowing their parents were behind. They hiked up Mt. Maculot and discovered that:  (1)  there is a store on top of the mountain; (2)  there is a yellow bug living on top of the mountain; (3)  there is no snow on top of the mountain.
Traveling Backpack on the go
6 am, April 20 
Each with his traveling backpack to carry, husband, the three boys,  and I left home to board a Lipa-bound bus at Cubao.  Along the way, the kids kept on asking for our itinerary.  Husband let them read a Mt. Maculot info he printed from his research.  Still, that didn't stop the kids from asking questions.
7:30am
With less than two dozens on board the Cubao-Lipa Philtranco bus in front of Alimall, we left Manila to start our Mt. Maculot journey.  In one bus stop, vendors would climb the bus to sell snacks and drinks.  My three eager boys would loudly utter "uy donut!" or "wow hotdog."   This left me with no choice but to pay for the snacks and even chase the Mister Donut man to buy a box of his product.
Bus Fare is P135 each.
9:00am
We arrived at Lipa in Batangas, took a jeep going to Lemery and alighted at Barangay Cuenca.  From the arc, the scenic view of Mt. Maculot was an instant attraction and provided an enthusiastic push for us to begin the hike.
Jeepney fare:  P24 per head
We ate at a local carinderia and tasted one of the most refreshing sago drinks ever. After, we hired a tricycle to take us to the jump off point.  The tricycle driver detoured us to the barangay outpost to register.  Husband wrote our names, ages and contact details.  He likewise paid P20 pesos per head.  While waiting for husband, the tricycle driver explained to us that the registration is mandatory.  Once, there was a mountaineer trapped from a tree branch and the people from the registration table were the same peeps who rescued the poor man.
Tricycle fare:  PhP 7.00 each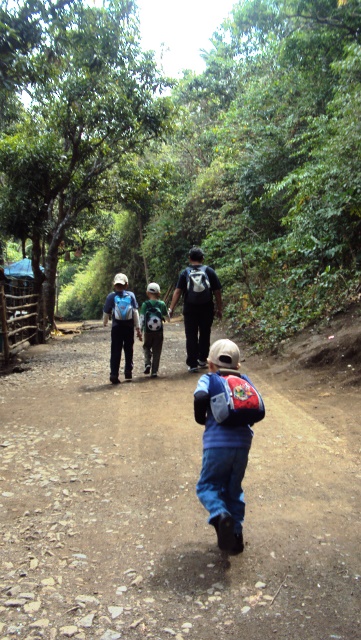 At the start, bunso did a lot of catching up. We all thought he would never make it. But he proved us wrong.
Climbing with our traveling backpack
9:50 am
Said to be one of the highest and most prominent peaks in the province, Mt. Maculot is a favorite hiking haven for mountaineers.  It is also defined as a good training ground for starters.  It might be the reason then that husband preferred Mt. Maculot over Mt. Makiling, another famous destination during Holy Week.  With him on that climb were four individuals who never had any hiking experience; two even have asthma.
Before the climb, we prayed first asking the Lord for guidance and safety.  We started our trek and looked for walking sticks that would help our ascend.  And before we could reach the foot of Mt.  Maculot, each had his walking stick.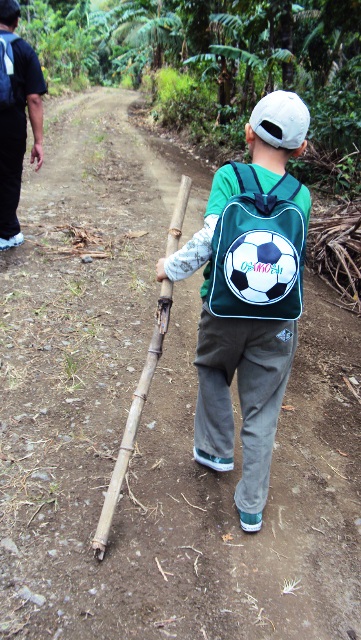 Second son and his rather too big walking stick. Too big and heavy that he dragged it instead.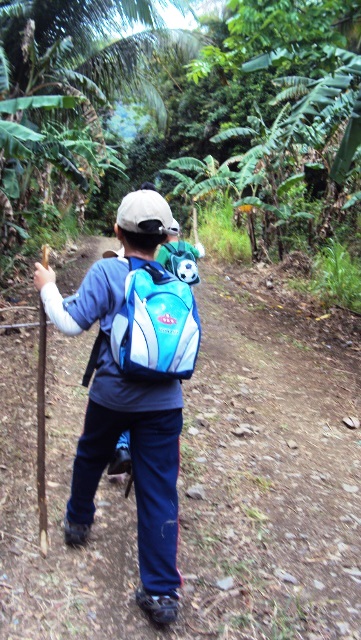 Firstborn seemed like skiing with two sticks on hand.
There were directional signs and from time to time, we would bump into locals going up or down the mountain. We've learned that these were vendors with makeshift stalls selling buco juice, candies, and chips.  These stalls were made of bamboo and behind each stall were makeshift benches also made of bamboo.  We rested for few minutes in each makeshift bench, devoured on our jelly ace baon and wiped off dirt and sweat.
 Along the way, there were small signages that promote the love for nature.  One that truly let me pause and read was
Leave nothing but footprints.  Take nothing but pictures.  Kill nothing but time.
That I will forever teach my kids.  It saddened me though to see so many snack wrappers, disposable cups, and cigarette buds scattered everywhere. Mt. Maculot let these explorers study her and yet some of these adventurists did not give due respect to mother nature.  How insensitive others may be.
From our second stop, we met a group of young hikers.  This inspired our bunso to go on and even encouraged us to minimize the 'sitting' and 'resting' and instead start 'hiking.'  The new group would, from time to time, help us carry a boy or two upon our ascend. They became our mountain buddies.  A few candies were shared.  We also exchanged a dozen of encouraging smiles. And a number of praises and admiration were said towards the boys, particularly to bunso.
At first, husband was uncertain of bunso.  He recommended that we leave bunso at home for he doubted if our five-year-old boy could make it.  Bunso, on the contrary, amazed us with his determination to reach the peak.  He fell a number of times from his attempt to climb, but he never cried.  He just brushed the dirt off his pants then went on again.  My little guy would look at me and say "I am just ok, mama. I am not hurt."
His kuyas as well were just as amazing.  "Hold on to the branches," "Hold tightly to the rock," "Slide when in doubt" were a few of the surprising words we heard from our eight- and seven-year-old boys.
12:05 pm
After two hours of trekking, we reached the campsite where a few mountaineers had already set camps.  The kids' initial reaction was, "there is a sari-sari store on top of the mountain!"
A 1.5-liter coke cost PhP 105.  A cup of halo-halo was offered at PhP 25.00.   Hard-boiled egg and a cup of rice were at Php 10 each.  We ordered salted eggs (PhP 20 each) for lunch.
With a glass full of ice, the 105-peso drink was a good buy. Plus, these vendors likewise climbed to bring these refreshments on top of the mountain.
Once on top, we were rewarded with such a beautiful view of the Taal Lake.  The city of Batangas and the sea that separates Mindoro from Luzon were also a few of the unobstructed views that we've seen. We've learned to appreciate small things also like the jelly ace and chocolate bars.  Now, I  label them as trekking food essentials.
A makeshift toilet was also set up at the campsite.  A canvas was used to make up the four walls and a deep hole served as the toilet.  At Php 5.00, anyone can use the toilet.  Curiosity led me to investigate what was inside.  The sight and smell disgusted me. These locals made a big hole, maybe about six feet long, where anybody can release nature's untimely calling.  From the hole, I could see several soft drink plastic containers.  About three to four big and too noisy houseflies surrounded the hole as well.   There was no water container inside.
The sight of the makeshift toilet was what affected me most.  Even if these locals were too accommodating to let us rest for a while in their shed, still I hate them for providing a substitute comfort room because that toilet wasn't a comfortable one and second, it will never be temporary.  It poisons the mountain.
4:00 pm
Husband told us it was time to say good bye to the mountain.  The boys bid their farewells. "Goodbye mountain," they chorused.  It was a touching scene.  Even just for a few hours, Mt. Maculot has been a good friend and teacher to my boys; taught them about the trees and rocks, the bugs and the wind.  Mt. Maculot let my kids experience freedom.
The trek down was rather steep and more difficult.  This time, I saw a little uncertainty from bunso.  During our ascend, second son and bunso were my buddies.  Husband, on the other hand, was in charge of firstborn.  This time, I requested husband to look after our bunso while I take care of second son and firstborn.  As usual, second son can manage by himself, often leading the way, either going up or down the mountain.
Resting our traveling backpack for while
5:40 pm
We were again, at the foot of Mt. Maculot.  The sentimental in me would like to bring home my walking stick. But I have realized it might be of great help to other so I left it instead at the "this way to Mt. Maculot" signage where for sure other hikers would stop for picture-taking.  It will surely be of service to another soul.
We stopped by at Mountaineer's Stop over and Store.  We had halo-halo to pep up our tired souls.  The store likewise offered shower rooms and souvenir t-shirts.
On our way back to Manila, we took the Jam Transit bus from Lemery and got off at Kamias.  As usual, Jollibee was a delightful sight to the boys.  Though sleepy, they each managed to finish a two-piece burger steak and a large glass of drinks.
For those who would like to try Mt. Maculot, summer is the best time to discover this mountain.  Way up and down tends to be very slippery during the rainy season.  Light yet long sleeves is a must to protect one's skin from the sun's rays.  I used an arm warmer (PhP170 at SM department store) which is rather convenient.  I could take it off whenever I want during the trek.
What's inside our Traveling Backpack
Hope our lists would be helpful should you want to have a close encounter with mother nature:
jelly ace
chocolate bars
bread sticks
a liter or two of water
packed lunch (e.g. adobo, tocino.  avoid gata or easily spoiled food)
canned food (e.g. pork and beans, tuna, sausage, liver spread)
disposable spoon, fork, plate, and cup
extra clothes (1 for descending and another for travel back home)
small towel
plastic bag (1 for dirty clothes, another for wet or sweaty clothes, and another for your trash)
multi-function pocket knife
lighter
headlight / flashlight and batteries
alcohol, powder, wet ones, tissue
iPod (if you want your kids to be busy playing angry birds than play with the sand)
—
Was it worth it?
The next morning, my legs ached. What did I get then from climbing Mt. Maculot?  Was it worth all?
Maybe it was the rare moment to let the wind blow against my face, whipping through my pony-tailed hair while standing on top of a mountain and where everything from below looked too small.  I felt freedom.
From firstborn's statement "Ang galing ni Bunso, nasa taas na agad sya" only confirmed husband's hunch that his eight-year-old boy will be a humble citizen, thus likewise taught this father humility.
The boys kept their trashes inside our plastic bag. They never picked flowers or leaves.  They held on stones and branches with respect.  I believe, husband and I have taught the kids the proper way to respect nature as well as their fellowmen.
Our hike somehow gave me a chance to commune with nature and experience even just a few hours of PEACE.
It was also the very few seconds that I saw my three boys lovingly adore the lake of Taal Volcano while being so high up and the wind embracing their little bodies.  From then on, I am confident that the three will live independently but will always know they have brothers to share the highs and lows of life.
My boys have experienced the wilderness.  They have uncovered the mountain's mystery.  They saw bugs and insects of different shapes, sizes, and colors.  The kids smelled flowers and plants of various kind.  They swung on a tree branch.  They met locals and foreigners.  I know they will never be fooled by anyone.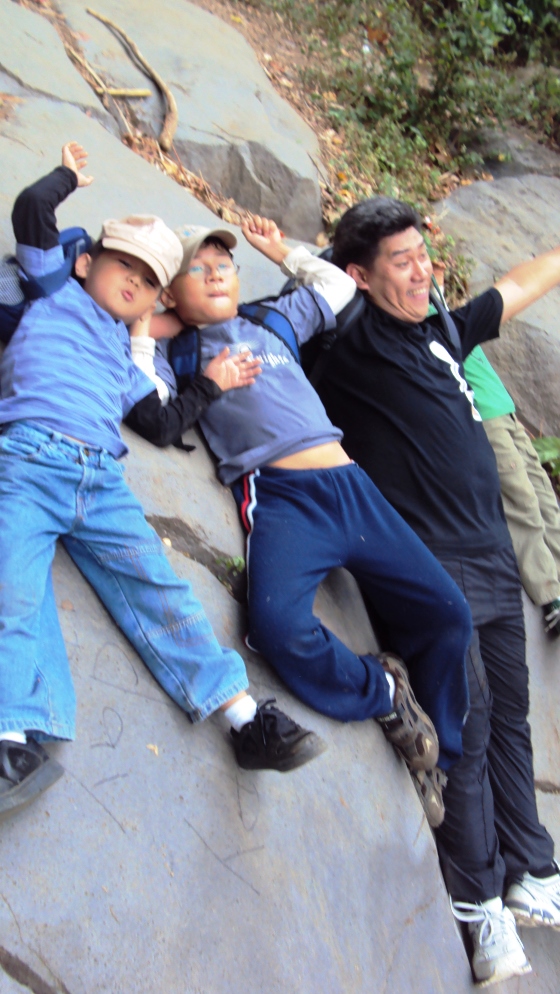 Many times the boys and even this mother would slide down from the trail, but we have managed to reach the top.
As we made our descend, flashbacks of our hike up played on my mind – the steep trail, the edgy rocks.  We survived them all.  And I felt so alive.  We are all alive and life is beautiful.
Should be given a chance to hike again, I will join husband and still bring with us the boys.  Why?  Because Mount Maculot has taught our three little kids the value of patience, the love for nature, the moment to be alone, and the importance of a family being together.  And yes, the hike was worth the effort and time.
My first and last climb with the boys was April 20, 2011.  The boys still climb every Holy Week with husband's Mapua and Filinvest friends.  This year, though, I doubt if I could join them again as I have a six-month-old boy to look after.  Anyway, I know that with or without their mama, the lessons learned from each climb will still be the same.