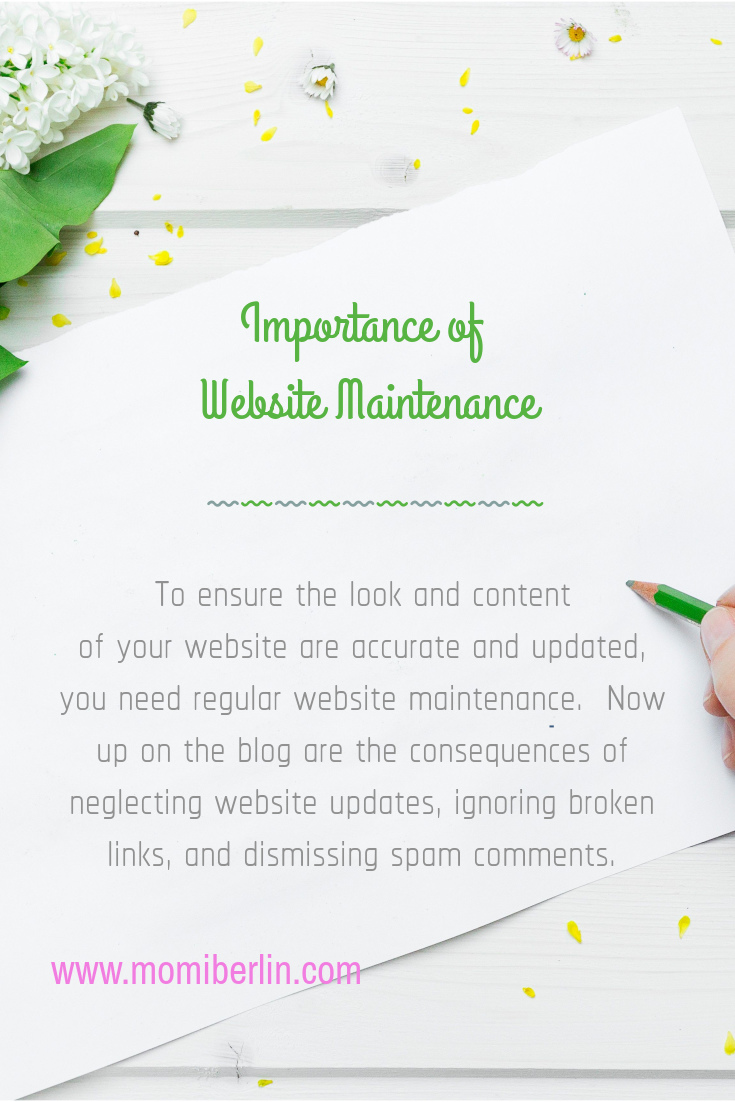 A friend called our attention one Saturday night. She mentioned that she's reading one of our blog posts and chance upon a comment not totally related to the post's topic. 
We checked and went back to her after a few minutes.
"It was a spam comment," was what we told her.
This incident made us question the status of our website Momi Berlin? When was the last time we checked our website's traffic growth and security updates? When did we last deleted spam comments and reviewed each page for improvement?
We couldn't remember it anymore, or maybe we haven't done anything yet.
Just like a car that needs monthly maintenance, blog sites like ours also need its regular website maintenance services. This is to ensure that the look and content of the site are accurate and updated.  We remember when we were starting our blog, we accommodated a lot of press releases. We need to check each copy and review if the content is still timely and relevant. That includes, too, checking on each post and making sure that the infographics and photos are all clear. We also need to review if each copy ends with a call to action.
As we navigate Momi Berlin, we made a mental note to contact our web host provider.  We encountered several 404errors, and we need to relay to the team what those errors are. Perhaps, it is timely as well to ask help on resolving any search visibility issues and help us understand website statistics. They may also help us with updating our core plugins and also check for broken links.
It is only now while we're processing all these that we've come to a realization.
Website is a reflection of your personality
Our website Momi Berlin, is the window to our not so visible self. As most visitors do not know the person behind the blog, the choice of color, font style, and layout all reflect our personality. It is also through the website that visitors – followers, fellow content creators, and brands – create an impression if the site offers useful content. After all, all these visitors are only after one thing – get something of value to the website.
We somehow ignored our website's health for a long time. And this neglect resulted in an accumulation of several issues, broken links included.
Website maintenance means positive customer experience
Indeed, regular site maintenance leads to a positive customer experience. We want our visitors to be our regular followers. And if they experience slow load times, broken links, and encounter spam messages every minute or two, then most probably, they end up annoyed. They may never revisit the website to avoid the hassle.
So if you are to put up a website or a blog, remember that it doesn't start and end with getting a domain and hosting alone. Just like having a car, it needs to be oiled regularly. If it operates smoothly without any broken link, no soiled content, and blurred images, then visitors are more likely to be happy with the experience of visiting the website. This will lead to improved traffic, register a good impression, and may translate to additional revenue. Have you imagine your readers becoming your promoters, spreading the news about your website free of charge?
It is always a smart choice to find the time and invest in web maintenance services. This will ensure your website remains healthy and reputable. Otherwise, just like neglecting your car, you will only end up surprised the investment and resources you've put in your vehicle are all gone to waste.