Momi Recommends Jolly Claro Palm Oil for Deep Frying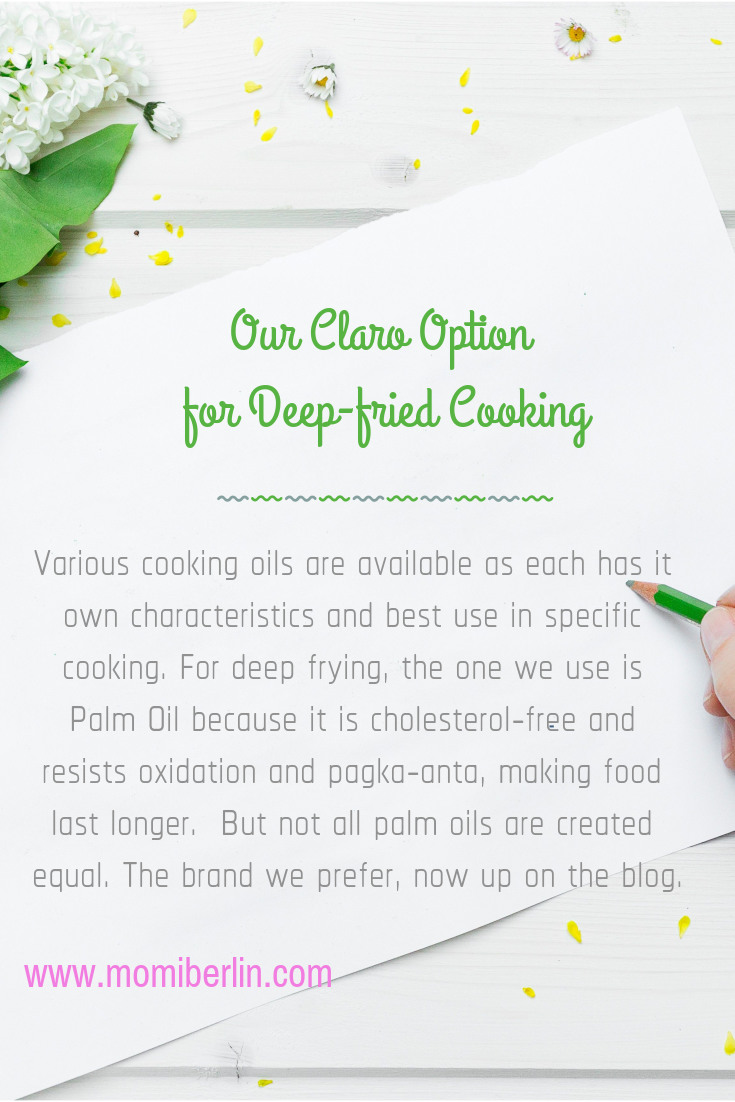 This mother loves it best when she sees her family complete and share food on the dining table. More than nourishing our tummy with delicious food, the same dishes are what fill and warm our heart. After all, each meal is carefully planned and prepared with heart.
Deep frying is now always unhealthy
One of my boys' favorites is deep-fried meat from lechon kawali to chicken lollipop, rellenong bangus, and pork chop. Sometimes, though, we limit such kind of cooking as my mom would always comment that deep-frying is unhealthy.
I have come to learn though that deep frying isn't always unhealthy. It mostly depends on the kind of oil we use and how we use it.
Yes, various cooking oils are available as each has its different characteristics and best use in specific cooking.
Healthy cooking oil isn't always the healthy choice
I know for a fact that deep frying isn't the healthiest way to cook. Sometimes, though, I still serve deep-fried food as such kind is my boys' favorite. More than the crispy outcome, the meats' fat adds flavor along with the crunch. And so I thought of using extra-virgin olive oil (EVOO) for deep frying as I heard it is the healthy choice. Our fried chicken turned bitter and charred.
This is because the smoke point or temperature of EVOO is lower than other types of oil. Using it for deep frying isn't ideal nor does it make food healthy. Such kind of oil is best for drizzling over salad or used as a dip. The oil that is most stable at high heat or deep frying is the palm oil.
Palm Oil is Best for Deep-frying
Palm oil is extracted from the palm kernel, making it cholesterol-free. It also resists oxidation and rancidity (pagka-anta), making food cooked in palm oil lasts longer. However, not all palm oils are created equal.
With the health of my family as a priority as well as considering factors like affordability, one palm oil that fits the bill is Jolly Claro Palm Oil. From years of cooking, Jolly Claro has proven to remain clear or claro even after several uses. The oil's smell stays good, and even the taste and texture of the food isn't maanta or ma-oily. I love it too that our chicken thighs do not look dry and unappealing. They remain juicy, savory-sweet glazed chicken drumsticks fried to tender perfection.
Jolly Claro vs. other Palm Oil
From readings, I've learned that Jolly Claro undergoes a five-step unique process — refined thrice, filtered twice — to remove the oil's impurities. That perhaps explains its claro look despite deep frying a set of chicken thighs three times. With other cooking oil, there's a noticeable change from clear to a dark oil. Even the cooked chicken skin turned oily that the grease transfers to your fingers. The food also looked dry even if I fried it with the same minutes as the one using Jolly Claro Palm Oil.
As palm oils are known for its semi-solid state at room temperature, I also found out from our regular supermarket visits that Jolly Claro Palm Oil does not jell easily on cold temperature, unlike other oils. Hardened cooking oils in grocery shelves are likely to be compared to chewing gum clogging the drain pipe. With the solid particle clogging the kitchen sink, water cannot be quickly and properly drained.
Final thoughts
This is not to convince you to change your cooking oil to Jolly Claro Palm Oil. I want to point out that there is an abundance of oil options that can confuse to the point of pinpointing the healthiest ones to use. Again, the use of cooking oil largely depends on how we use it. The coconut oil, for instance, makes for a delish substitute for butter in baking cookies, cakes, and bread. Aside for baking, coconut oil is also ideal for low-heat roasting and sautéing veggies. As mentioned earlier, EVOO is best for drizzling and dip while palm oil is appropriate for deep frying. And for a practical homemaker like me, I find the brand Jolly Claro fitting the bill as an affordable and healthy option.
Let me end this post with a sample of how clear Jolly Claro Palm Oil remains despite using it multiple times for deep frying.
https://facebook.com/momiberlin/videos/272310110098431/