It was November of last year when I won from the quick Facebook contest of Mommy Levy.  We took home 10 packs of Pampers Premium Care diaper.  It was not until this month that we got to try this brand.  I recently gave birth to a nine-pound boy and the timing is just perfect.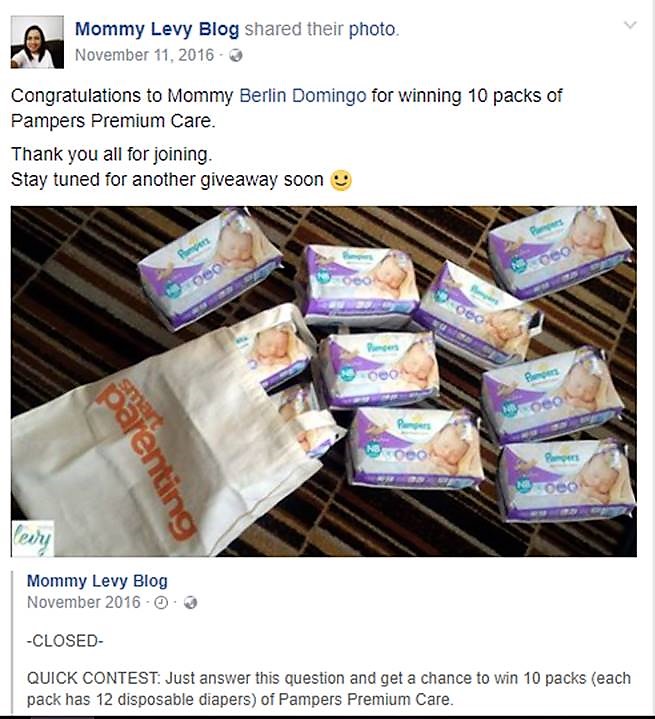 We all know that most Filipino moms want nothing but the best for their babies.  The same reason that pushed Pampers to introduce Pampers Premium Care to the market.  This new line of Pampers is said to be designed with babies' healthy and happy development in mind.  The brand promises babies' superior skin protection plus ensures restful sleep and happier mornings.
As I understand it, Pampers Premium Care features diaper innovations that offer 5-star skin protection.  It has magic gel channels, unique to the Pampers Premium Care line, that allows equal and fast absorption of pee.  Because of this revolution, moms are assured that there will no longer be wet and saggy diapers which tend to make the babies uncomfortable and wake them from the middle of their sleep.
Momi Berlin tries Pampers Premium Care for her newborn
On average, for the first three weeks, we change his diaper every three to four hours.   This is equivalent to five to six pads in a day. I am impressed that indeed, there is no sagging diaper for us.   And possibly because of the gel pads, it quickly absorbs the pee resulting in a leak-free sleep.  Currently, now that my son is one month old, we are able to stay the majority of the night with less diaper change. I am so skeptical about leaky diapers as it may turn one peaceful sleep into a chaotic mess.
Pampers Premium Care also has skin protection lotion feature which wraps babies in silky softness.   The newborn and small size variants come with a specially designed top sheet called the Absorb Away Liner.  This quickly absorbs runny messes, and helps reduce the risk of skin irritation.  I like these features as my son's bottom never felt and looked dry nor had diaper rash since day one.
Husband and I are happy with Pampers Premium Care. We are, however, still open to trying other brands.  Just like any parent, we only want the best for our baby and we wouldn't want to miss the ultimate brand if we still haven't found the one.