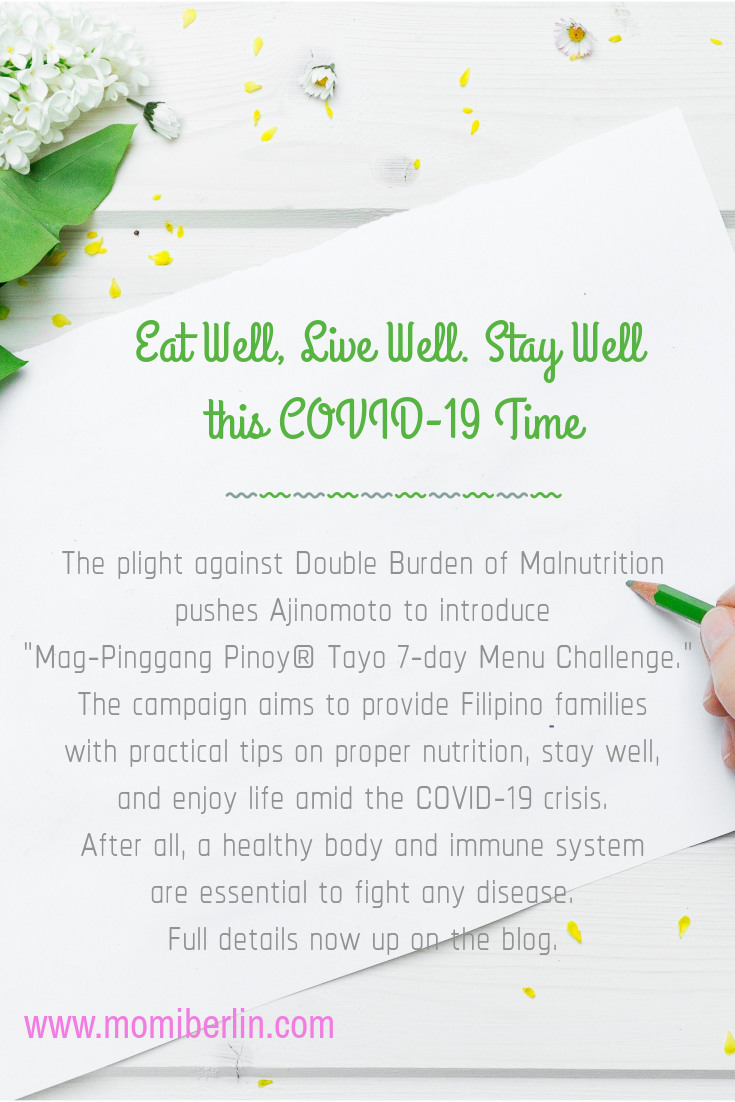 The consequences of the coronavirus 2019 (COVID-19) pandemic for the destitute Filipinos seems more devastating than the disease itself. More so, the crisis intensifies the country's battle against Double Burden of Malnutrition. 
Double Burden of Malnutrition
Double Burden of Malnutrition, as defined by the World Health Organization (WHO), is the dual burden of under- and overnutrition. With the limited distribution and access to food, low-income families face grinding hardship almost every day to sustain the required nutrients through healthy meals.  Those who have the money, on the other hand, try to cope up with the boredom of home quarantine by overeating or consuming food with empty calories. 
Mag-Pinggang Pinoy® Tayo 7-day Menu Challenge
The plight against Double Burden of Malnutrition pushes Ajinomoto Philippines Corporation to introduce "Mag-Pinggang Pinoy® Tayo 7-day Menu Challenge."  The campaign is to encourage homemakers to serve a variety of balanced meals for their families. As part of the company's "Eat Well, Live Well. Stay Well" drive, the 7-day menu challenge aims to provide Filipino families with practical tips on proper nutrition, stay well, and enjoy life amid the COVID-19 crisis. After all, [tweetshareinline tweet="a healthy body and immune system are essential to fight any disease" username="SPk3(ad*e(5d4@pEwem@tnlADFb9ZZc8:1:1″].
Ajinomoto's 7-day menu plan is comprised of complete meals for breakfast, lunch, and dinner. Each meal presents recipe suggestions for Healthy & Delicious Pinggang Pinoy® Recipes that are easy-to-do and affordable. These recipes are simple solutions to serve enjoyable Pinggang Pinoy® meals.  Homemakers are encouraged to use widely available and inexpensive vegetables to complement rice beyond the usual supply of canned goods. Ajinomoto's recipes make common ingredients more palatable like tofu sisig, meaty pechay picadillo,  ensaladang talbos ng kamote, and many more. Access the menu plan at www.ajinomoto.com.ph and facebook.com/CookmunitybyAjinomotoPH.